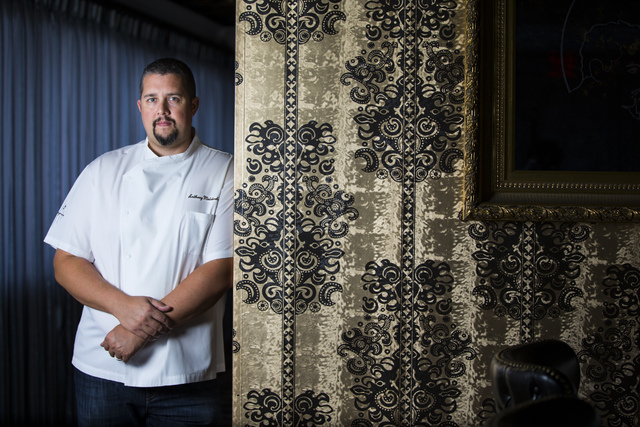 Anthony Meidenbauer is executive chef for the Block 16 Hospitality Group, whose Las Vegas restaurants include Holsteins Shakes and Buns, Public House, Haute Doggery, Flour & Barley and The Barrymore, which just marked its fifth anniversary at the Royal Resort. A native of upstate New York, he studied classic French gastronomy at the Niagara Falls Culinary Institute and is a veteran of 20 years in the industry. He moved to Las Vegas in 2000 and worked at Wynn Las Vegas and Mandalay Bay before joining Block 16.
Review-Journal: Always in your fridge?
Chef Anthony Meidenbauer: Always yogurt.
RJ: Currently obsessed with?
Meidenbauer: Barbecue — smoking meats. Whenever I get a chance and get time off, I pull out the chips — different types of wood — and different types of meat, because you always get something different. It's fun.
RJ: Newest Las Vegas discovery?
Meidenbauer: There's a Kneaders, which is a chain I'd never heard of, that opened near my house. It's pretty good. It's convenient; I've gone there a few times with the family. Baked goods are great, sandwiches, breakfast items.
RJ: Favorite indulgence?
Meidenbauer: Peanut M&Ms
RJ: I never eat …
Meidenbauer: Smoked salmon. I hate it. Ugh.
RJ:Favorite brunch at home?
Meidenbauer: Fried chicken and waffles.
RJ: The Barrymore kind of flies under the radar, tucked away in the Royal Resort on Convention Center Drive. The economy's been pretty challenging. What is it about The Barrymore that has enabled it to survive?
Meidenbauer: What we've always tried to bring forward to our guests is value. You're going to get the same caliber of food that you'd get at one of the Strip properties at a much cheaper price because we don't have the high overhead. It's gotten us great reviews with different types of (web) sites.
RJ: Best tip for home cooks?
Meidenbauer: Try stuff. It's just food; have fun with it. With the holidays, they get so stressed out cooking something. Why? It's supposed to be fun. If it fails, guess what? You can always run down the street.
RJ: What are you working on?
Meidenbauer: The opening of our Waikiki, Hawaii, location of Flour & Barley.
Have an item for Off the Menu? Email hrinella@reviewjournal.com.