January 23, 2009 - 10:00 pm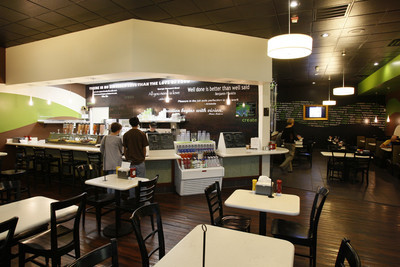 If ever there were a time for burgers, that time would be now.
They're cheap, and we need that. They're comfort food, and we need that, too. And, thanks to the burger revolution that started with haute-cuisine chef Hubert Keller and has spread across the country like mayo on a really big bun, they are (or at least can be) more than a match for the increasingly sophisticated tastes that we as a populace have acquired in the past couple of decades. So it's no wonder that Create was positively packed on the weeknight we visited. It's a counter-service restaurant, and the line waiting at the counter extended nearly to the door.
Before I get much farther, I'll address the concept of Crave, and high-concept it is. First, there's the arty theme that justifies the name. There are some swirly green and brown things on the wall that reminded us of a Cricket store, a word mural that teams "create" with all sorts of themes (and, sort of incongruously, a dairy-products company) and a really cool, picture-framed flat-screen that runs a continuous loop of famous works of art.
Then there are the burgers. Like most of its successful brethren, Create straddles the you-design-it/we-design-it line with a few pre-ordained burgers and nearly endless possibilities of you-pick variations. So yes, you can get mayo on your burger, but meh. Because you also can get grilled pineapple, feta cheese, a fried egg, alfalfa sprouts, Asian sesame dressing or hickory-smoked ranch, if you'd rather. (They have little clipboards at the counter to make this part easier for you. And them.) And you can do it all in four different sizes from mini (21/2 ounces, and also known as a slider) to modest (1/4 pound), majestic (1/3 pound) and monarch (1/2 pound), and as a lettuce wrap or on a white, whole-wheat, Hawaiian or onion bun.
If they can straddle, so can we: We went with the Impressionist (majestic, $6.99 as a combo), and a monarch combo ($8.49) with the burger on a whole-wheat bun with blue cheese, roasted red peppers and blue cheese dressing.
The Impressionist is a spicy little number, designed to make an impression — get it? — and it did. The Cajun seasoning, atomic mayo and pepper-jack cheese actually were pretty mild, but the profusion of sliced jalapenos managed to make a point. The fries were shoestring-style, and since they were properly fried, that meant they were nice and crisp, yet slightly soft inside.
We thought we did a pretty good job of the burger we designed ourselves — but then we would, wouldn't we? — because the flavors were quite appealing to us, but the generous amount of pepper and cheese and judiciously ladled dressing made it all work. We had sweet-potato fries with this one, and they were the same crisp shoestring cut.
As we were waiting for our burgers, we noticed a runner approach a nearby table to ask how the recently served burgers were, to be told they were overcooked. To his credit, a manager soon made his way to the table, asked if the counter person had asked the preferred degree of doneness (she hadn't) and offered to buy them both some of Create's homemade frozen custard. Then the counter person came to the table to make her apologies and deliver a mea culpa.
All of which was impressive, but we had the feeling ours would be overdone, too, because she hadn't asked us, either. The Impressionist was still just slightly pink — not the medium-rare we would have ordered, but not bad — but the monarch was basically charred, both burger and bun. We hadn't thought to specify a degree of doneness, because so many nanny companies will only give you medium or more these days, so it's nice to know Create is willing to cook it to a lesser degree, even if they don't tell you that.
We also had a scoop of vanilla frozen custard ($1.99), because vanilla and chocolate were all they had left, having run out of coffee and watermelon. It was very good. Approaching us after dinner, the extremely friendly owner asked if we didn't want some custard, and when we said we had before dinner, he said, "I like your style!" Well, thanks, but your server brought it then, and since we didn't want it to melt, we spooned away.
One other thing about the extremely friendly owner and his staff: If you're a fugitive, or a guy out with his particularly buxom and particularly air-quoted niece, be prepared to give an assumed name, because they ask — and they remember. They also tend to greet you on call-waiting if you phone in.
Big Brother in the burger business. Who knew?
Las Vegas Review-Journal reviews are done anonymously at Review-Journal expense. Contact Heidi Knapp Rinella at 383-4676 or e-mail her at hrinella@reviewjournal.com.
Review Create 7290 W. Lake Mead Blvd.; 586-0430 Overall B Food B Atmosphere B Service B Pluses: They'll cook your burger the way you like it. Minuses: They may not tell you that.