Creative cuisine makes for a dinner of high notes at Aria's Sage
February 25, 2011 - 2:06 am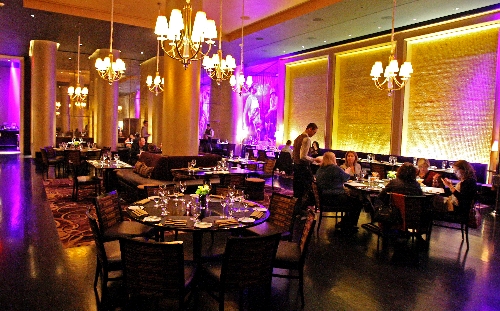 What to make of Shawn McClain's fascination with absinthe?
I'm not sure, to tell you the truth. I like the Green Fairy as much as the next foodie (and even have a bottle, with appropriate glasses, in my bar) and I understand why McClain felt obligated to put "recently legalized" on the menu of his Sage restaurant at Aria, because there probably are a few people out there who don't realize that government regulators OK'd it a few years back. But it still seems unusual to offer an absinthe menu of a half-dozen or so brands and to highlight it on the dessert menu.
So is it a gimmick? Well, that's obviously a possibility; gimmicks certainly have been used a time or two in our fair city. But if that's the case, there's no need. Because McClain's food is creative enough to be drawing attention all by itself.
His embrace of the offbeat was clear from the moment rolls were offered. The only butter on the table was lavender-flecked (with sea salt on the side), which went very nicely with the chewy, slightly tangy sourdough rolls — probably less so with the bacon rolls, but then those didn't need any embellishment, because, well … bacon!
The amuse-bouche was a nice little treat, and again showed McClain's deft use of surprises: A bit of fairly traditional country pate had been topped with pear puree for a bright flavor contrast, with a pickled haricot vert balanced on the top like a little sword bearing a dash of color and a burst of sweet and sour.
Wagu beef tartare ($18) started out pretty classic, its texture appealingly coarse. All of the traditional accoutrements were there, but the egg yolk, instead of being mixed with the beef, was slow-poached and served on top so that, when burst with a fork, it trickled down gently. The capers were crushed into a silken aioli, and the mustard seeds were pickled. And there was an extra touch: Strewn across the plate was what the menu called "crispy chocolate," which was impossible to identify aside from the fact that it was indeed chocolate, and indeed crispy. It added earthy and slightly sweet notes that brought even more life to what was already a successful party.
Bluenose grouper ($36) was characteristically firm, meaty and neutrally flavored, and simply sauteed. What added a great deal to this plate were several charred baby leeks and a profusion of very mildly marinated, gently yielding chanterelles.
When we ordered the Iberico pork loin ($42), our capable and pleasant server told us it was one of the house specialties, which made sense because McClain made his name in Chicago and this seemed like a decidedly Midwestern dish. And it was, but it wasn't; the loin itself was as moist and flavorful as we had expected, but the crispy confit shoulder was an absolute delight. And smoked dates? Fantastic.
I'd say we finished on a high note with the rich, warm brioche bread pudding ($10) with brown-butter ice cream, but this was a dinner filled with high notes.
And we definitely didn't need a glass of absinthe to make it a transcendent experience.
Las Vegas Review-Journal restaurant reviews are done anonymously at Review-Journal expense. Contact Heidi Knapp Rinella at 383-0474 or e-mail her at hrinella@ reviewjournal.com.
Review
Sage, Aria at CityCenter, 3730 Las Vegas Blvd. South; (877) 230-2742
Overall — A
Food — A
Atmosphere — A
Service — A
Pluses: An elegant atmosphere, friendly, efficient service and fine, creative food.
Minuses: That we can't dine there weekly.