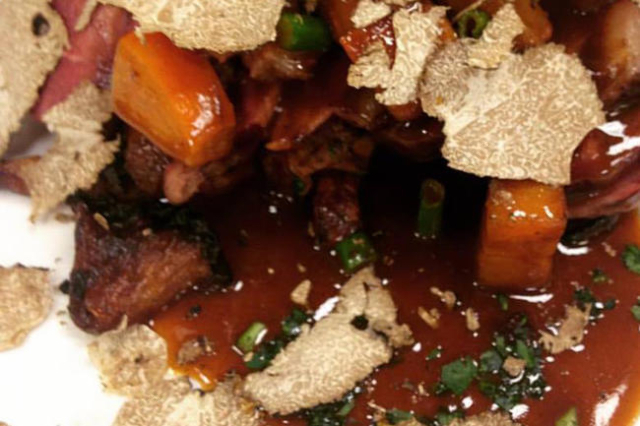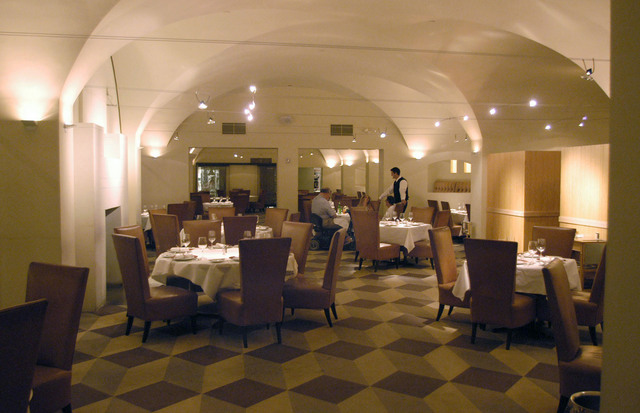 White truffles may retail at $1,900 and up — and up, and up — but Ronnie Rainwater, executive chef at Delmonico Steakhouse at The Venetian, says some customers come in specifically for the restaurant's annual Truffle Week.
Delmonico's Truffle Week, which started Monday, continues through Sunday with a special menu of dishes featuring both white and the less-expensive black truffles, priced at $13 to $70. Rainwater said the annual celebration started about five years ago, when Sean Roe, culinary director of Emeril Lagasse's Las Vegas restaurants, was executive chef there.
"We wanted to start doing some fun events here — soft-shell crabs, lobster and truffles," Rainwater said. "It's really picked up some momentum."
The most popular dishes seem to be the simplest, such as lobster risotto with white Italian truffles and fresh herbs and escargot over wild mushroom puff pastry with fresh black truffles, he said. Also on the menu are dishes such as braised veal cheeks with mascarpone polenta, roasted vegetables, fresh black truffles and hazelnut gremolata, and desserts: white truffle ice cream or a goat cheese crepe with blood-orange caramel and fresh black truffles.
"A lot of people like to just add on truffle," he said. "They'll have some truffles over their steak."
Of the two, he said, white truffles are more popular even though they're more expensive.
"I think the white are definitely the jewel," he said. "That's what people associate with the whole truffle thing — the aroma, the flavor. There's such a short window for them."
Papaya King is considered — by experts who have included Julia Child, Anthony Bourdain and Martha Stewart — the jewel of the hot-dog world, and now this New York icon is set to open a location in Las Vegas. The branch of the 84-year-old restaurant known for its snappy hot dogs and tropical drinks will open this fall at 4505 Paradise Road in Harmon Square, which is across Harmon Avenue from the Hard Rock Hotel.
Austin "Chumlee" Russell of "Pawn Stars" and Mirage headliner Terry Fator will be dancing chip-to-chip during at Nacho Average Throwdown at 10:30 a.m. Tuesday at the Three Square Food Bank demo kitchen, 4190 N. Pecos Road. It's part of a campaign Nacho Daddy, which has three valley locations, has been running all year to raise money for Three Square. Chumlee and Fator will compete to create the best nachos, with the winner getting 5,000 meals donated to the food bank in their honor and a spot on the Nacho Daddy menu.
Sightings: Comedian George Wallace at Lazy Dog Restaurant & Bar in Downtown Summerlin.
Have an item for Kitchen Confidante? Email hrinella@reviewjournal.com.