Does Tom's Urban even have ribs? — PHOTOS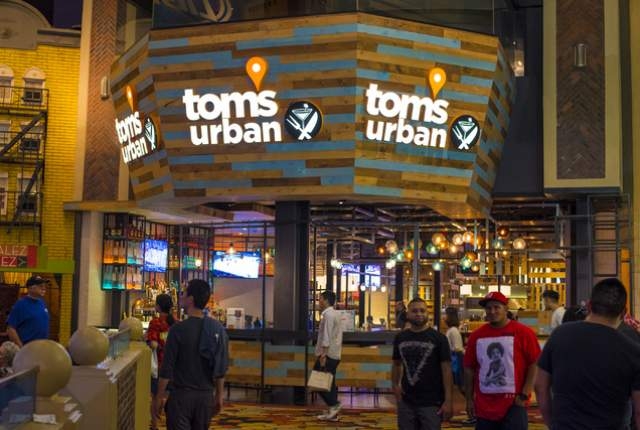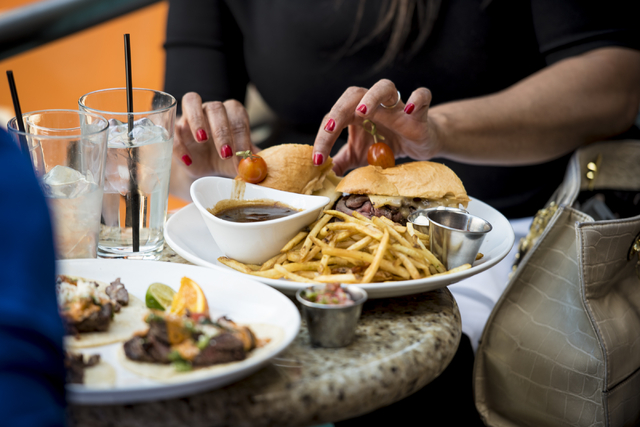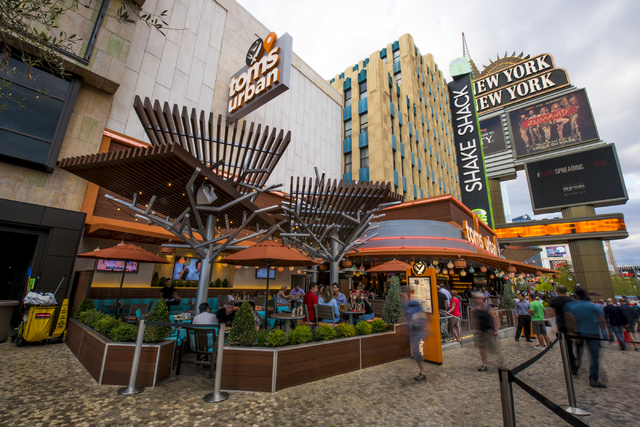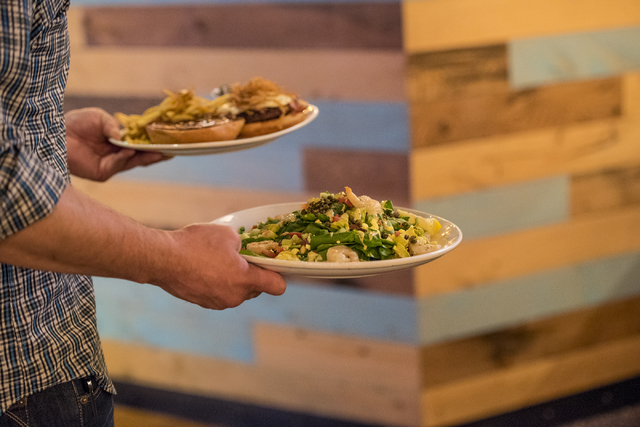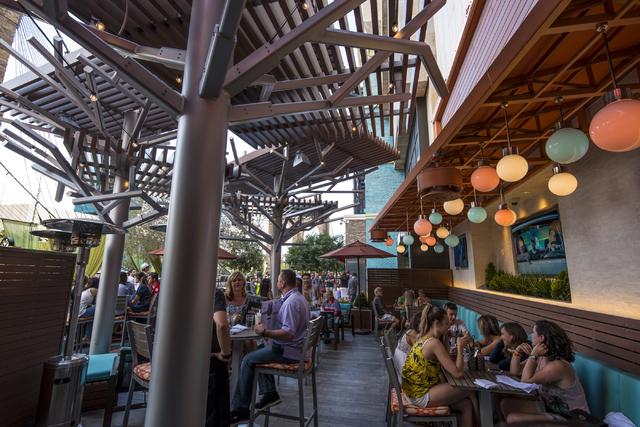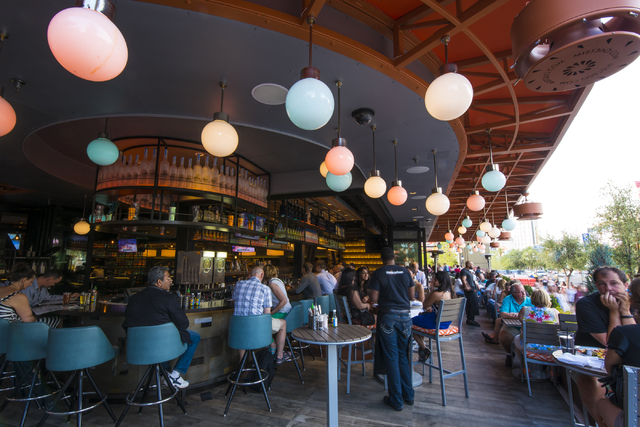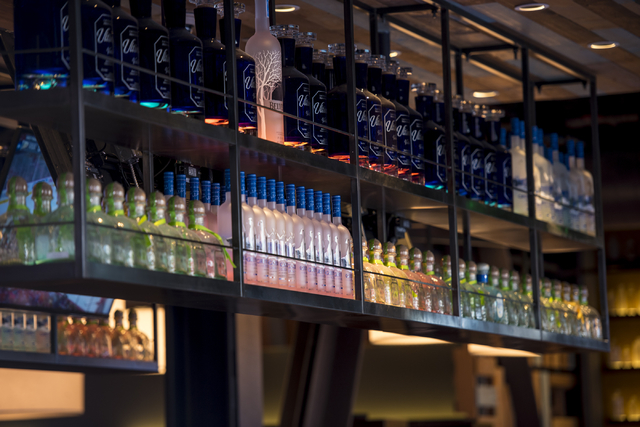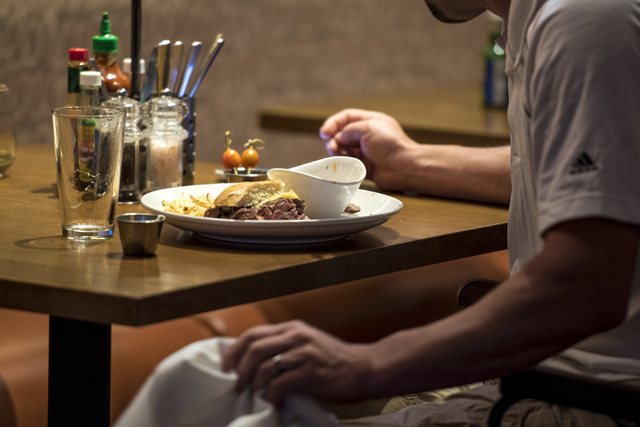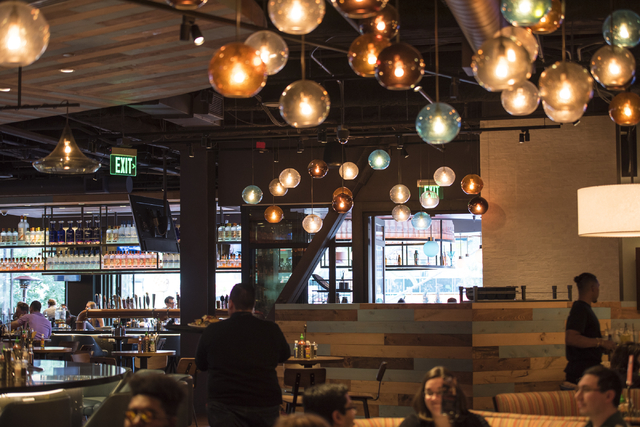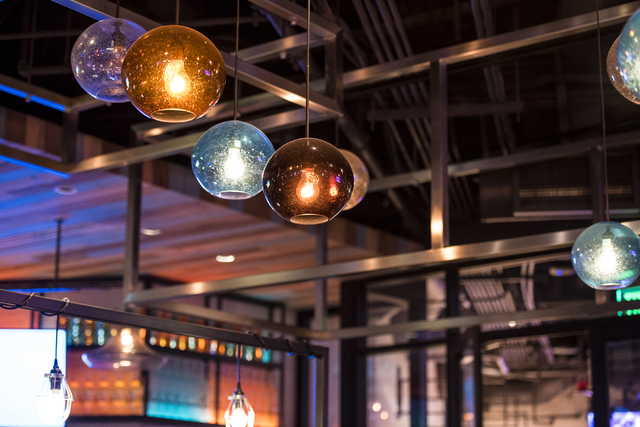 Talk about hiding your light under a bushel: Why would you not list one of your specialties on your menu?
Yet that was the case at Tom's Urban at New York-New York. As I often do, I'd checked things out online beforehand, zeroing in on Tom's Big & Sticky Rib Rack. When you click on "entrees" on the restaurant's website there's a juicy, full-color image of the ribs, complete with detailed description. But when we got to the restaurant there was no sign of them on the menu or anywhere else.
So I asked our server if they were still available. Sure, she said, they were on a menu insert, all of which had somehow disappeared.
We bit anyway, and the barbecue gods rewarded. These weren't the baby backs we usually encounter, but St. Louis-style ribs, big and meaty; we had a full rack ($35; half-racks are also available) and it was of Flintstonian proportions.
Nothing cartoony about the flavor and texture, though. The house-made sauce was smoky but also deceptively sweet, and the ribs were both glazed with it and napped with it. Tons of flavor, nice and tender, so why these ribs weren't on the menu was a mystery to us.
We also decided to try a few small plates, mainly because almost all of them sounded offbeat — in fact, it was tough to narrow down our choices. What we found out first was that, at least by local standards, these small plates were large. They were also well conceived and very well executed.
The grits part of the Lowcountry Shrimp and Grits ($10) were the creamiest I can ever remember tasting, and the shrimp atop them were grilled perfectly.
Chicken wings are all over the place, but duck wings are a novelty, as in Tom's Urban's XiangXiang Crispy Duck Wings ($13). The four wings were huge, about the size of chicken drumsticks — not surprising, I guess, when you consider the size of a duck — and they were indeed crispy, meaty and enhanced by the hoisin glaze and the big mound of Asian slaw on the side.
Sticky Belly Steamed Buns ($4) were the most commonplace of the bunch but equally well executed, the bun dough flattened into ovals and wrapped, sandwich-style, around well-sauced pork belly.
The only dish I wouldn't recommend was a side, the avocado and cheese mashed potatoes ($6). The potatoes were creamy (although not as creamy as the grits), the melted cheese atop them reasonably flavorful. But there was a disconnect involving the avocado. Tiny flecks of it had been whisked into the potatoes, so the main avocado presence here was in the big chunks that were spaced around the border of the dish, tucked under the blanket of potatoes — yet another example of the futility of the concept of separate but equal.
Service throughout was fine, our server patiently wading through all of our questions. The atmosphere is streamlined and sort of inoffensive, right down to the music videos, which ran the gamut from Creedence Clearwater Revival to Pitbull before most of the multitude of video screens were switched to a ballgame.
Tom's Urban, which opened in February, definitely has a few bugs still to be worked out, but they don't have much of a direct effect on customers.
Unless you like good barbecued ribs.
Las Vegas Review-Journal restaurant reviews are done anonymously at Review-Journal expense. Email Heidi Knapp Rinella at Hrinella@reviewjournal.com. Find more of her stories at www.reviewjournal.com and bestoflasvegas.com and follow @HKRinella on Twitter.
More of the Best of Las Vegas