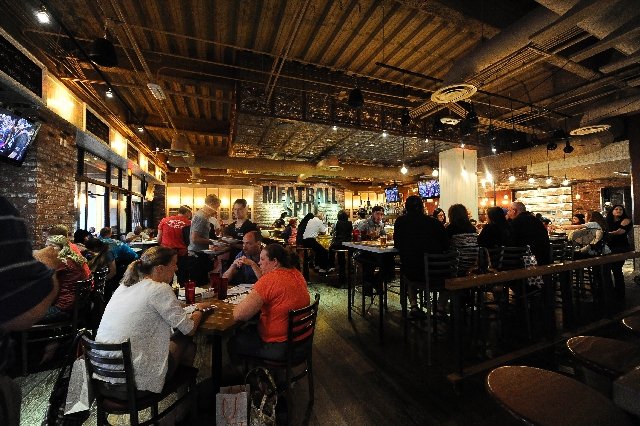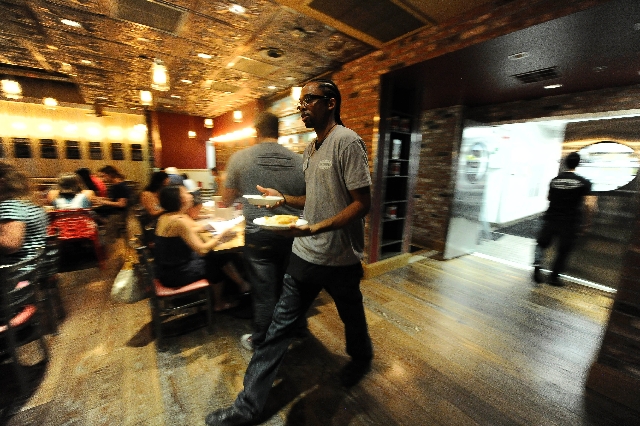 I have the utmost respect for Chef Carla Pellegrino and the work she's done locally, formerly at Rao's at Caesars Palace and currently at Bratalian in Henderson. I thought the Meatball Spot at Town Square was a brilliant concept and have heard tons of good things about it.
So you might understand my surprise that the meatballs were the most disappointing part of our dinner there.
We went to the Meatball Spot on one of those magical evenings that occur only in the spring in Southern Nevada. We clearly weren't alone in our appreciation of the weather because the shopping district was packed on this weeknight, with teens and 20-somethings making their way among the movie theaters, shops and restaurants, parents watching their little kids playing on the faux sod at Town Square Park and multigenerational families in the cars pulled by the rubber-wheeled trackless locomotive as it tooled around the square. We had a table on the Meatball Spot's patio, relaxing in comfortable red chairs for a front-row view of the action.
Service was great right from the beginning. A management type who didn't look the part (at first I thought he was another customer) was quick to greet arrivals, and a very friendly hostess led the way to our table, with the waiter appearing shortly thereafter.
Life was good and got better when our salads arrived. We had a half-portion of both the caprese ($6.99; $10.99 for full) and the Caesar (ditto). What we got: wedges of nicely ripe red tomato and segments of fresh mozzarella with the first, plus a nicely balanced dressing of extra-virgin olive oil and balsamic vinegar, with chiffonade (slivers) of fresh basil. The Caesar was another nice rendition, equally classic, the torn romaine crisp, the croutons fresh and the shaved Parmesan plentiful, the dressing creamy and carrying the tiny hint of salty sharpness that comes from the judicious uses of anchovies.
But this was, after all, the Meatball Spot, so we were pleased that we could sample all six of the restaurant's signature meatballs. They're all offered on the Meatball Sampler Platter ($17.99), which also comes with all of the restaurant's sauces. You can get melted mozzarella or Provolone or a fried egg ($1.50 each), but we wanted to try them au naturel. When they arrived, our waiter identified each for us, and we tried hard to remember which was which.
First, the beef, which turned out to be made with very finely ground meat. It was dry, but I wasn't all that concerned; all-beef meatballs can have a tendency to be dry, which is why most Italian cooks use a mix of meats. And so we moved directly to the classic, which we figured would be a mixture and certainly tasted like it was. Problem: Although not as dry as the beef, it was still too dry.
We moved on to the chicken, then to the turkey, with its Parmesan and herbs. Tasty both, but they needed moisture. I didn't hold out much hope for the "healthier choice" vegetarian, with its veggies, lentils and herbs. Again, good flavor, but dry, and this one was really, really finely textured.
Surely the pork, seasoned with fennel and herbs, would be more like what we were looking for. This was the best, and the one I'd stick to on a return visit, but even it wasn't as moist as I would've expected.
But what about those sauces? Sure, they added moisture to the exteriors, and even more flavor, because they all were very well executed. The menu promised that the classic tomato "tastes like home!" and indeed it kind of did, long-simmered and savory. The spicy meat sauce wasn't overwhelming and also had good flavor. I didn't think I'd like the mushroom gravy but I did, mainly because it wasn't as rich as I would have expected. The flavor of the pesto wasn't as concentrated as I would've expected (which is a good thing), and the Parmesan cream nothing short of transcendent.
So where does all this leave us? With, I think, a simple case of overcooking, for the most part. Even the Agriculture Department has backed off somewhat on some of its temperature recommendations, and while nobody wants to be served pinkish poultry, this was a long way from that.
Because the upshot was a whole lot of food that was packed with truly exemplary flavor, but signature items that were drier than they should've been.
Las Vegas Review-Journal restaurant reviews are done anonymously at Review-Journal expense. Contact Heidi Knapp Rinella at 383-0474 or email her at hrinella@
reviewjournal.com.
Review
Meatball Spot, Town Square, 6623 Las Vegas Blvd. South; 641-7768
Overall B+
Food B-
Atmosphere A
Service A
Pluses: Great flavors.
Minuses: Dry meatballs.