Eureka! brings all-American fare to downtown Las Vegas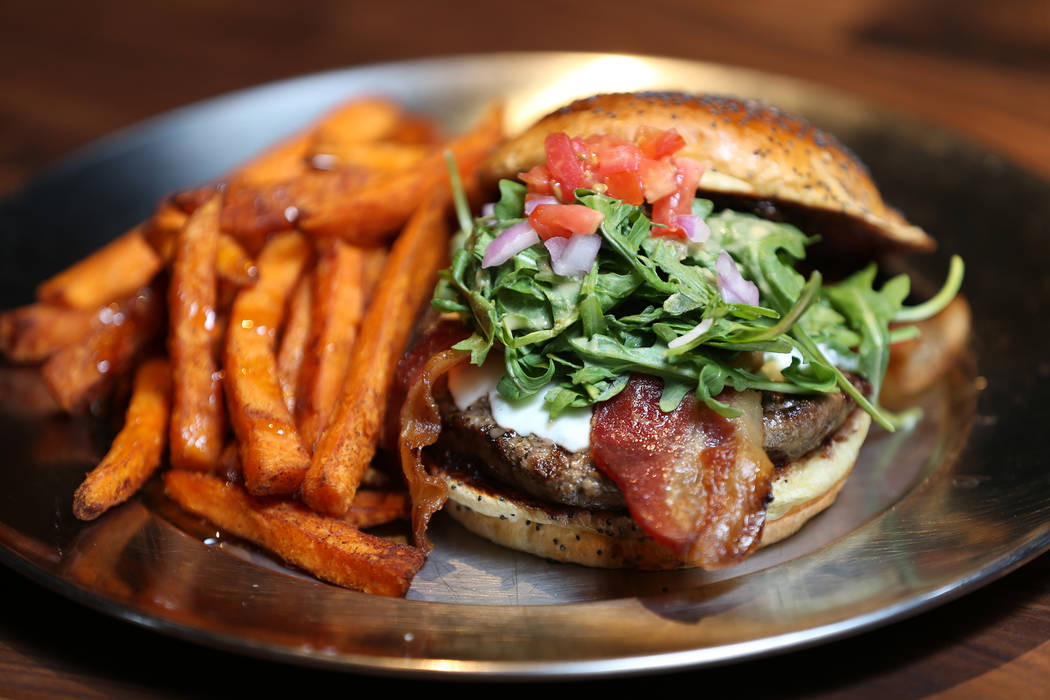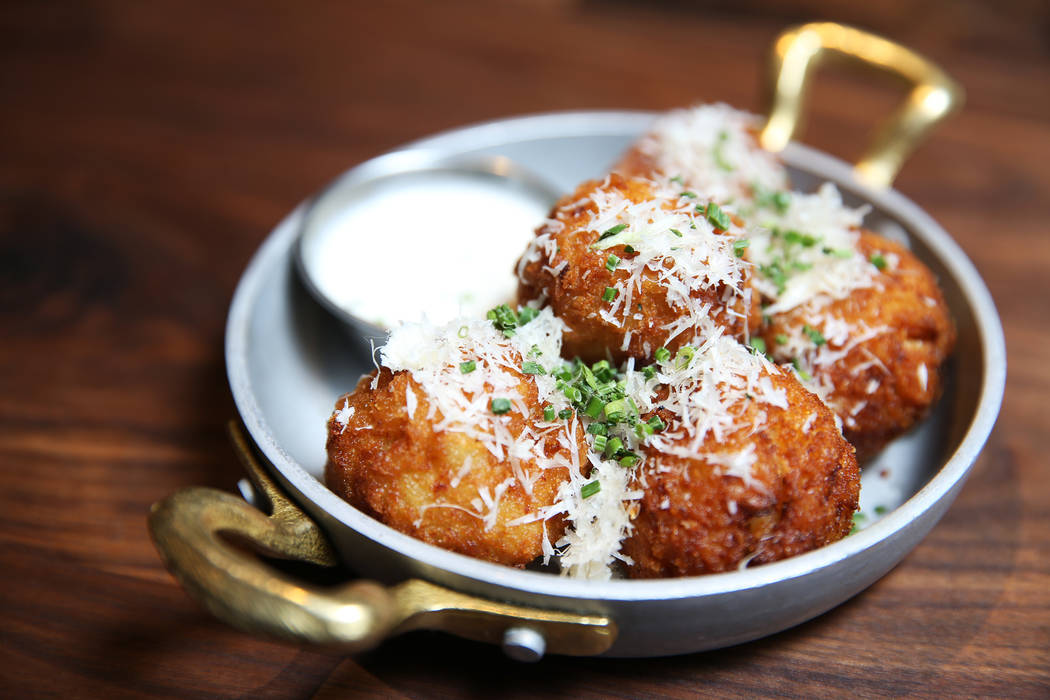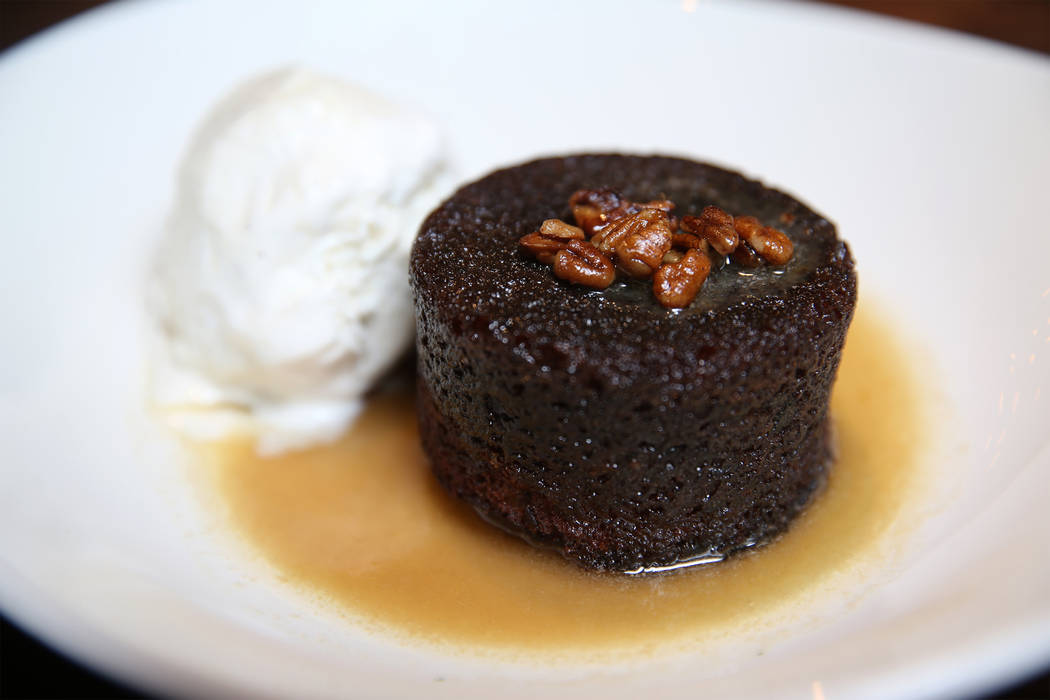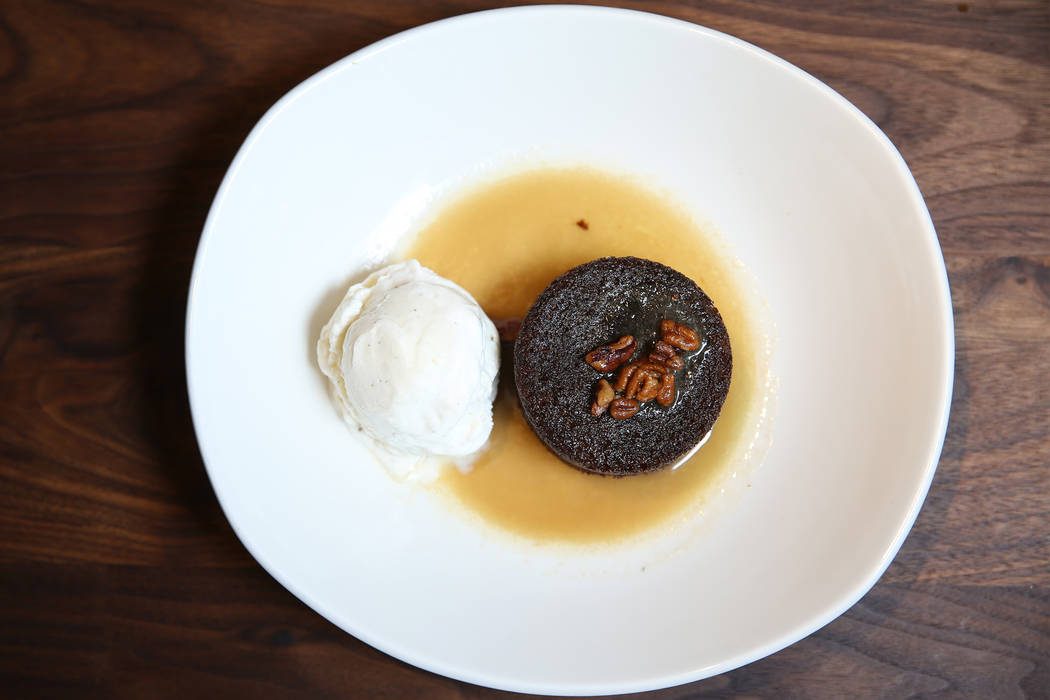 Eureka! is a chain, but its sole Nevada outpost is an apt reflection of downtown Las Vegas, sliding right into the district's restaurant portfolio.
Despite the name (and punctuation!), Eureka! isn't so much about striking out for new culinary ground as it is about exploring what the company calls "American craft." What better example of that than the burger, which for the past decade or so has been examined and experimented with, celebrating and in some cases nearly reaching an art form.
It's fitting then, that the menu is focused on the patty. The Fresno Fig Burger ($13.50) is artfully done, with sweet fig and gamy melted goat cheese, which share a natural affinity, burnished with the bright, vegetal notes of tomato and red onion, smoky-saltiness of bacon, pleasant bitterness of arugula and a jolt of spicy mustard.
Like most of the burgers at Eureka! that one is beef; the Bison Burger ($16) is an appealing alternative. Bison is being widely farm-raised and becoming more popular with restaurants for its comparatively low fat level and flavor only slightly more earthy than beef. The broiled green, red and yellow bell-pepper strips and grilled red onion that topped it provided a fresh balance to the meat; the bacon-jalapeno jam overshadowed the rest, although it was easily scraped off.
Perhaps it should have been scraped onto the blackened fish tacos ($12.50). Blackening has, since Paul Prudhomme popularized it, always connoted a fiery touch that was lacking here. The whitefish promised on the menu tasted more like bluefish or too-long-in-the-freezer fish, so strong as to be unpleasant. Where blackening seasoning didn't do the job it might seem that the mango salsa, avocado-tomatillo salsa and shredded cabbage would come to the rescue but alas, the strong-tasting fish overwhelmed them as well. Fries were included with these; for $2 you can add a side such as crispy-edged sweet-potato fries, which were worth it, or cole slaw, which tasted almost solely of cabbage, and was not.
Eureka! is a social place, evident from the large tables and bar and the number of offerings on the sharing/starters menu, which equaled the burgers. Mac 'n Cheese Balls ($7.50) consisted of al dente macaroni mixed with chives, Fresno chiles and flavorful cheeses, fried to a crispy finish and served with a beer cheese sauce for dipping. Osso Buco Riblets ($9.50) might have been more aptly named osso-not-so-buco riblets, since they were neither veal nor shank bones. Nonetheless, they were quite tasty chunks of pork that were meaty and crispy-edged and complemented by a spicy aioli.
A dessert of Bourbon Barrel Cake ($8), was oddly dry, though the caramel sauce and candied pecans were tasty.
Eureka! prides itself as much on the craft of the American cocktail as American cuisine, and the Holy Smokes! ($15) was a fine example: Kentucky bourbon was kissed with maple and chocolate and a whole lot of smoke, which lent authenticity as well as flavor.
Eureka!, in the old Emergency Arts building on East Fremont Street in downtown Las Vegas, fits right into the neighborhood with its dark, quasi-industrial decor with Edison-style lightbulbs, punched-metal lighting fixtures and barnwood in widespread use including a herringbone pattern over the bar.
There's patio seating along Fremont, with a view that is by nature a mixed bag. So, it seems, is Eureka!, but if you stick to the red-blooded burgers and cocktails, it just might make you proud to be an American.
If you go
■ Eureka! 520 E. Fremont St.; 702-570-3660 or eurekarestaurantgroup.com
■ The essence: A celebration of all things American, with a few missteps.
Las Vegas Review-Journal restaurant reviews are done anonymously at Review-Journal expense. Contact Heidi Knapp Rinella at Hrinella@reviewjournal.com or 702-383-0474. Follow @HKRinella onTwitter.
Eureka! 529 E. Fremont St.; 702-570-3660 or eurekarestaurantgroup.com
The essence: A celebration of all things American, with a few missteps.