Five Guys Burgers and Fries fantastic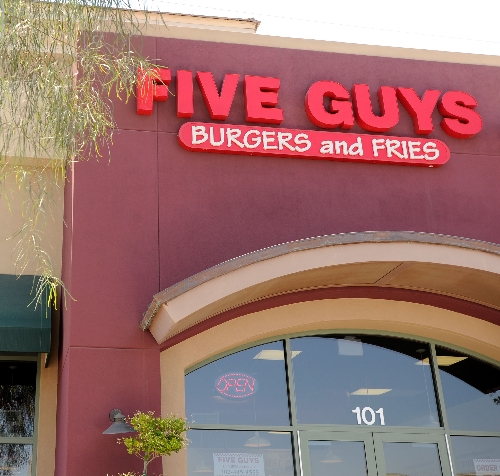 I have a new favorite burger.
While I certainly enjoy the best of haute cuisine, I also have always known and appreciated the simple joys of a well-prepared burger. This has led to shifting alliances over the years, from my own (with peanut butter) to the dress-your-own pleasures of Fuddrucker's to upscale burger palaces like Burger Bar.
And then I discovered Five Guys.
When the Five Guys chain came to town, some of my East Coast ex-pat friends were nearly overcome with joy, and now that the first local one on Eastern Avenue in Henderson has been joined by three other (and two more coming soon!) outlets in the valley, I've asked more than a few of them just what the appeal is. The answer, pretty unanimously: the fries.
Well, maybe I just don't have sufficient appreciation for the finer points of a deftly prepared french fry, but now that I've finally experienced Five Guys myself, I respectfully beg to differ: It's the burger.
Five Guys has a simple menu, limited to burgers and fries and hot dogs, plus a couple of veggie options and a grilled cheese. One way in which the chain stands out is that all toppings – mayonnaise, lettuce, pickles, tomatoes, grilled onions, grilled mushrooms, ketchup, mustard, relish, raw onions, jalapeno peppers, green peppers, A-1 Steak Sauce, barbecue sauce and hot sauce – are, as the menu says, free, or, more realistically, included in the price of your burger (or dog, if you're philistine).
As a newbie, I figured the bacon cheeseburger ($6.89) sounded good, and asked for it to be topped with mayo, lettuce, tomatoes, raw onion and jalapenos. And then we took a seat in the diner-esque red-and-white dining room surrounded by banners touting the goodness of Five Guys' "$5 burger" (the banners are dated, to the chain's credit) and shared some of the complimentary peanuts in shell. Then our number was called and we picked it up.
When I unwrapped my burger, I realized why our order prompted the counter clerk to call out "four patties" to the cooks: a regular burger comes with two patties of meat, although a single-burger Little Hamburger option is available. With two patties and cheese and the specified condiments, this was one thick burger. And then I bit in – and heard the angels sing.
Well, maybe not quite, but this was one heck of a good burger, juicy and moist and with lots of good beefy flavor, the specified condiments in perfect proportion, the cheese copious enough that it drizzled onto the paper, the bacon slices thick and crisp. And the bun was substantial enough to stand up to it all until just before the very end.
Across the table, a hamburger ($5.39) with pickles, tomato, grilled onions and barbecue sauce met with approval that would've been silent except for the well-muffled and barely discernible sounds of chewing.
And the fries? They were very good, skin-on, thick and perfectly cooked, with more character than those at In-N- Out, but I think part of the attraction is that they give you enough to feed a developing nation for a few days, at least. We had the small ($2.99) size; I can't imagine what large ($4.99) looks like, because small is a paper cup full of fries and another cupful thrown into the bag after them. The Cajun-style fries were good – seasoned and not merely spicy – but I liked the simple purity of the regular ones, which they call Five Guys Style. The company is clearly serious about its potatoes, with the bags of tubers on display in the dining room and a whiteboard listing the source of the day's crop, which on our day was Shelley, Idaho.
They're clearly serious about their beef, too; a sign notified customers that the burgers all are prepared well done and juicy, and that was indeed the case. Of course, beef cooked well done that remains this juicy and has this level of flavor must by definition contain a generous amount of that secret ingredient known as fat, and a look at Five Guys' nutritionals backs up that notion. So I won't be stopping at Five Guys on a frequent basis.
But I sure wish I could.
Las Vegas Review-Journal restaurant reviews are done anonymously at Review-Journal expense. Contact Heidi Knapp Rinella at 383-0474 or hrinella@reviewjournal.com.
Review
Five Guys Burgers and Fries, 10271 S. Eastern Ave., Henderson (and three other valley locations); 405-9555.
Overall A-
Food A
Atmosphere B
Service B
Pluses: Fantastic burgers, great fries, free peanuts.
Minuses: Scary nutritionals.