Flock & Fowl celebrates simple goodness of chicken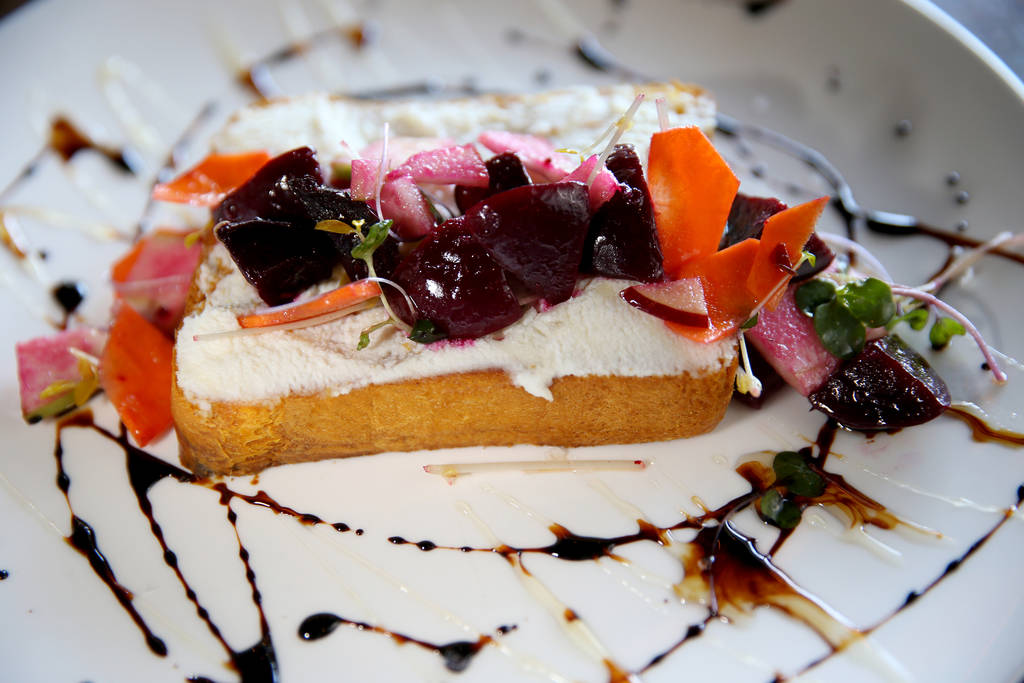 Yes, the chicken really is that good. Chef Sheridan Su's Hainanese chicken has attracted a cult following at his Flock &Fowl spots on West Sahara Avenue and at The Ogden downtown.
It's all about skilled cookery: Throw a chicken into some plain water and boil it mercilessly and you'll end up with a bland meal. But taking a page from Hainanese-inspired chefs in Taipei, Su massages the bird into the ultimate comfort food, and it's brought food-lovers flocking to his doors.
He starts with plump, free-range, air-chilled birds, inherently more flavorful than the supermarket variety, and poaches them gently with a touch of ginger just until they're cooked through, then serves the sliced breast with skin and its layer of fat. The meat has a fresh-from-the-farm wholesome-grainy flavor, velvety firmness and impressive juiciness. Little pools of three house-made sauces — ginger-scallion, chile and soy — are on the same platter, the chile adding flair and fire thanks to a pronounced note of ginger. The accompanying rice is goosed with chicken schmaltz for silkiness, ginger and scallions for flavor.
At Flock &Fowl the signature dish is served in the traditional poached manner, or fried or roasted if you prefer ($14.99). The plate also includes the customary sliced cucumber plus two sides; juicy Chinese sausage and a fried egg balanced the flavors, adding richness. Other side choices are a vegetable, a one-hour egg or bone broth, in another nod to tradition.
Flock &Fowl's menu is limited by design; the chicken is the main act. Beef lovers can get a fix with The Butcher's Steak ($25.99), a 9-ounce hanger with a soy glaze that accentuates the meaty flavor while adding a touch of sweetness. On the side was a mountain of curly fries and a streak of Flock sauce, which tastes a lot like fry sauce (which contians mayo and ketchup) with some garlic crunchies on top.
If you're just stopping by for a drink, snacks and starters also are served. Downtown Farmer's Ricotta Toast ($8.99) was a hefty slice of lightly toasted egg bread smeared with ricotta and topped with the day's vegetable (in this case tender, earthy wedges of roasted beets), a drizzle of oil and a sprinkle of microgreens.
Miso black garlic hummus ($8.99) had deep, mellow flavor, but the best part was crispy wedges of scallion pancake, much more appealing for dipping than the carrot and celery sticks.
Su, who was nominated for a James Beard Award this year, popped onto the scene a few years ago with the Great Bao food truck with his wife, Jenny Wong. That led to Fat Choy in the Eureka Casino on East Sahara Avenue, where Su's short-rib grilled cheese racked up fans, and the original (and temporarily closed) Flock &Fowl on West Sahara Avenue, and then to the Ogden location, which opened late last year.
His cooking chops are impressive, starting with the Culinary Institute of America in New York and continuing with jobs around the country and in Las Vegas, where he opened Joel Robuchon at the Mansion (now just Joel Robuchon) at MGM Grand and Wazuzu at Encore and served as executive chef at the now-closed Comme Ca at The Cosmopolitan of Las Vegas.
Su reportedly decided to ditch the corporate world after a dispiriting layoff, and it appears to have been a good move. Not only is he forging his own path, he's winning new respect for the lowly chicken.
Contact Heidi Knapp Rinella at Hrinella@reviewjournal.com or 702-383-0474. Follow @HKRinella on Twitter.
If you go
■ Flock & Fowl, The Ogden, 150 Las Vegas Blvd. N.; 702-983-4880 or flockandfowl.com
■ The essence: A celebration of chicken — and a few other things, too.