Fusion of Hawaiian, Mexican works wonders at Braddah's Island Style
February 20, 2014 - 9:56 pm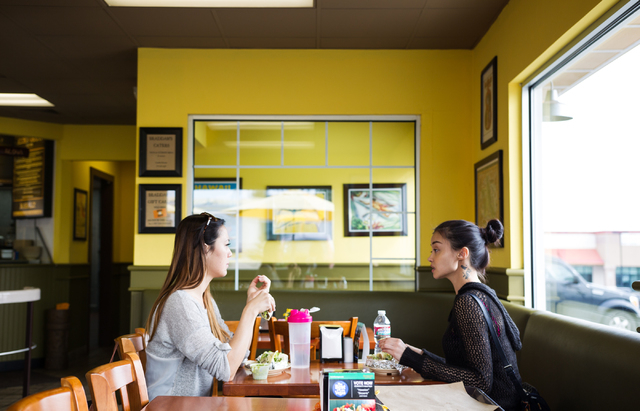 There probably are some fusion combinations that are impossible — like maybe Ethiopian and fondue, which could get awfully messy (not to mention the burned fingers).
We haven't come to that yet, but chefs and restaurant owners have been fooling around with some pairings that may seem a little odd at first blush but turn out to be a fine idea, an example being the Hawaiian/Mexican of Braddah's Island Style.
The subtext for Braddah's is "burritos, bowls and tacos" and it works like one of those burrito/taco spots that are kind of all over the place these days. You decide if you want one of the aforementioned (or three, if it's tacos) or a salad, then decide what you want to fill them with, choosing first protein or vegetables and then fillings and toppings and salsa until you get to the end, and then pay and walk it to a table. What's different about Braddah's is that the fillings are things like huli-huli chicken and kalua pig, for a definite touch of the islands.
We decided on a burrito with kalua pig ($6.95), the braised pork that's traditionally done in a pit. Above ground it can be pretty closely replicated, as it was here, producing a meltingly tender, slightly smoky heap o'shredded meat. To that we added seaweed rice, black beans, medium-heat mango and roasted corn salsa and a bit of sour cream. We wanted cabbage, too, but the woman behind the counter didn't hear us and we didn't realize it until too late.
So how was it? If you've had your share of kalua pork you know it tends to be greasy — it's the fat, after all, that makes this cut so tender and flavorful — and that was the case here, with some grease pooling in the paper that wrapped the burrito. That was only a quibble, though, because it was very good, a huge portion of pork and plenty of everything else. I would've welcomed the crunchy textural contrast from the cabbage, but alas. Next time.
The tacos were absolutely fab. Braddah's offers a choice of soft flour or crispy corn and we chose the former. We also availed ourselves of the opportunity to split the three tacos, with two huli-huli chicken and one pulehu steak; they charged us the steak price, which is slightly higher than the $6.95 chicken at $7.60.
First, the steak: The term "pulehu" refers to flame-broiling, and we did detect a tinge of smokiness. What made this beef so flavorful, though, was that it had been carefully seasoned and probably marinated; it was ultra-tender, with a lot of flavor. This time we got cabbage, with the accompanying crunch, as well as rice, an excellent mild-heat charred pineapple verde salsa and some cilantro.
We also had some of Braddah's chips and guacamole ($4.85), blue-corn chips with a chunky guacamole that was seasoned just enough to shine the spotlight on the avocados.
Service wasn't much of a factor, since you line up and carry your own, but the line moved efficiently and a guy came around to all of the tables to ensure everybody was satisfied. Braddah's is decorated simply, but more nicely than required for a counter-service spot, with attractive wooden chairs and tables inside and on the patio, and bright, island-evoking colors on the walls. There's a drive-thru, too, if you'd rather eat and roll.
What kind of fusion will be next? Hard to say, and we're not going to hold our breath for Ethiopian-fondue. In the meantime, Hawaiian-Mexican suits us just fine.
Las Vegas Review-Journal restaurant reviews are done anonymously at Review-Journal expense. Email Heidi Knapp Rinella at Hrinella@reviewjournal.com, or call 702-383-0474. Follow @HKRinella on Twitter.
Review
Braddah's Island Style, 2330 S. Rainbow Blvd.; 702-222-0767
Overall A-
Food A-
Atmosphere A-
Service A-
Pluses: Good food, creative menu.
Minuses: Pig a little greasy.