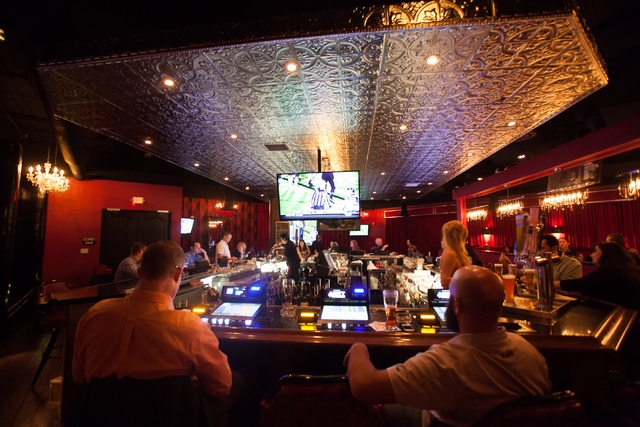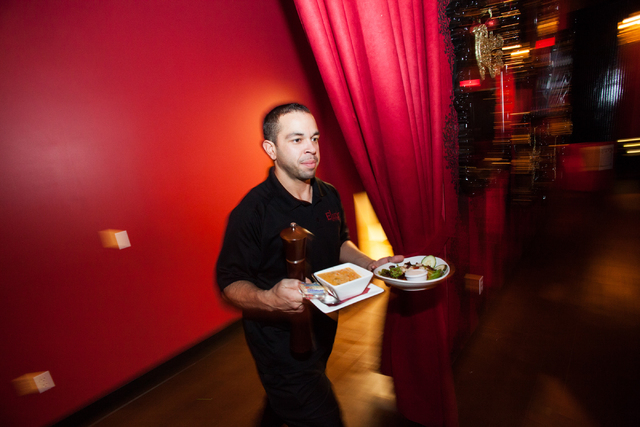 When Elixir opened in Henderson in September, initial reports indicated that it was mainly a bar, so I didn't pay much attention. Then I got an email from somebody who said no, it's a restaurant and the food's really good. Despite the fact that the full name is "Elixir: A Local Lounge," and the email address is elixirlounge.net, I took a look at the menu and decided he might have a point, and so it went onto the review list.
Then I visited last week and found out that the reality is somewhere in the middle.
Elixir's food is pretty good, but while the website promises "fresh food prepared by our chef daily," and I don't doubt that some of it is, there's a straight-from-the-purveyor feel to much of it. I'll use, as an example, the stuffed mushrooms ($7.99). The medium-sized button mushrooms were stuffed with a satisfying mixture of cream cheese and bacon — bacon being the food of choice these days — and were just hot enough. On the side was a sort of Alfredo sauce, which was pretty good and added not only richness but a bit of a flavor punch in that it had a subtle sharpness from the cheese.
Something about that sauce had a sort of pre-prepared nature, though, and that was reinforced when it appeared again with an entree, the chicken roulade ($13.99). This was a more ambitious dish than I'd expect in what is essentially a poker bar — chicken breast pounded and rolled with sun-dried tomato, spinach, prosciutto and Gouda — and the flavor, color and textural contrasts were appealing. But the juxtaposition of the mashed potatoes on which it rested and the sauce the menu said was Mornay but that I'd swear was the same Alfredo gave the impression that someone was trying a little too hard to gild the lily.
Beef stroganoff ($14.99) also struck me as a dish that was ambitious for a restaurant such as this, since good beef stroganoff requires either that the beef be cooked long and carefully or that a foolproof — and expensive — cut is used, which was pretty well negated by the $14.99 price. While the stroganoff mixture had a generous component of strips of beef — some of them tender, some of them not so much — and mushrooms, the sauce was generic, with a flavor I equate more with a color (brown) than anything else.
And, well, ditto for the French onion soup, a option in the soup-or-salad choices included with entrees. Again, it was generic, the onions not particularly punchy, the cheese on the mild side, although the abundance of croutons was a nice touch.
And a tossed salad, with our chicken roulade. This was a nice creation from the kitchen, crisp and fresh and artfully arranged.
By now you may have the idea that I didn't like Elixir, but if that's the case, you're mistaken. Although the all-red-all-the-time interior (including a couple of red-crystal chandeliers) seemed a little at odds with the prevalence of football-flowing flat-screens, we liked the casual energy of the place. Service was at times a little slow — our drinks took too long on an evening when the place wasn't crowded, and we'd finished our appetizer by the time share plates were brought to the table — but unfailingly pleasant.
We also have the feeling that the proprietors of Elixir, who also own two Remedy's locations in Henderson, have a bit of an uphill battle. That's no pun intended, since Elixir has a hillside location (but, for some reason, has no windows to take advantage of what I assume would be a decent view) that has seen a series of occupants over the years, in the tradition of an elephant burial ground.
They seem to be doing OK as a bar, and long may it wave. But to succeed as a restaurant, the food needs to taste less generic, more dynamic.
Las Vegas Review-Journal restaurant reviews are done anonymously at Review-Journal expense. Email Heidi Knapp Rinella at Hrinella@reviewjournal.com, or call 702-383-0474. Follow @HKRinella on Twitter.
Review
Elixir: A Local Lounge, 2920 N. Green Valley Parkway (north of Sunset Road), Henderson; 702-272-0000
Overall: B
Food: B
Atmosphere: B
Service: B
Pluses: Good variety of food, good service.
Minuses: Food a little too generic-tasting.