Harrah's Buffet of Buffets
September 30, 2010 - 11:00 pm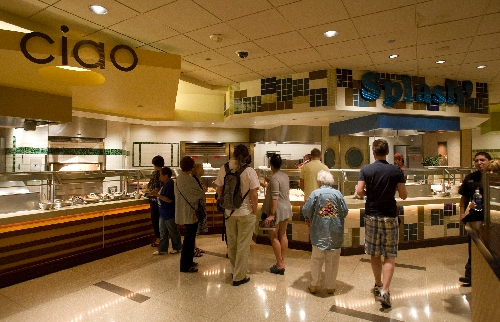 Seven buffets in 24 hours. Sounds like a challenge to me.
And while that's the window for Harrah's Buffet of Buffets one-day pass, the reality is even shorter, since the buffets aren't open from 10 or 11 p.m. to around 7 a.m. So for me it would be seven buffets in about 16 hours. This would require some planning.
I set out for Le Village Buffet at Paris Las Vegas at a strategic time that Monday morning. Checkout's at 11, so by 10 a.m. most guests would be back in their rooms packing, or out getting on with their days. Right?
Wrong. Well, maybe right; maybe the wait's even longer earlier in the morning. But my 10 a.m. arrival would keep me in line for 34 minutes.
And actually, that wait led to my second mistake. The Buffet of Buffets — which allows one passage at each of the company's seven Las Vegas buffets within a 24-hour period — is $39.99 plus tax if you're a member of the company's Total Rewards club, $45.99 if you're not. I figured I'd sign up and save the company six bucks. One problem: I forgot to stop by the card center and didn't remember until I'd already been in line for 25 minutes. Not only was it $6 extra, I had to wear a wristband all day, instead of just showing player card and photo ID.
My plan was two breakfasts, two lunches and three dinners, since the dinner hour is widest. And thank heavens the Imperial Palace breakfast is really a brunch and available until 2 p.m., because the wait at Paris set me back a bit. I'd planned to return to the office between breakfast and lunch and between lunch and dinner, but time is money. And since I was already on the Strip, I'd go ahead and do the two lunches right after the two breakfasts.
Am I crazy? No, I'm a restaurant critic of about 30 years or so. I know how to eat light, how to pace myself. And so I was able to stop by all seven buffets and eat at all of them, and the only thing that suffered was my tired feet. Here's what I found:
Le Village Buffet, Paris Las Vegas: Standing in line for 34 minutes, you tend to notice a lot about your surroundings. It was surreal to hear native French speakers in line. Talk about coals to Newcastle.
I wonder if they were as disappointed in the buffet as I was. This has long been one of my favorites, but except for some decent pate, a passable chocolate croissant and the crepes that were drawing a long line, there wasn't much that was French or even offbeat. The sausage bread pudding was overly dry, there were four kinds of scrambled eggs, bagels, fresh fruit, biscuits and gravy, grits (the latter two representing the South of France, I assume), and lots of desserts. But in looking for some butter for my hard roll that turned out to be way too soft, all I could find was "European-style margarine." What is "European-style margarine"? I'll have to get back to you on that. Oh, and since I was given only a fork and knife and couldn't find a spoon on the buffet, I ate my passable creme brulee with a fork. I noticed that lots of forks were being used to stir coffee. Grade: C
Emperor's Buffet, Imperial Palace: No line here, in this old-fashioned space upstairs from the casino, where seating was in green leatherette booths. The scrambled eggs (one kind) were flavorless, but the corned-beef hash tasted pretty close to homemade and I liked the serve-yourself beverage option, since I'd had to order my beverage at Le Village Buffet when paying. Lots of shrimp, some sushi, a salad bar, lots of baked goods and typical breakfast and lunch offerings. And "European-style margarine." Grade: C
Garden Buffet, the Flamingo: This one gets the award for best view, as it overlooks the resort's lovely gardens. There was no wait at about 11:45 but there was a short one by noon, and I did notice an express line for Buffet of Buffets holders, which is nice. I also liked the pretty respectable deli area with cold cuts, premade subs and prepared salads. The carved roast beef and ham both were pretty good, and I definitely appreciated being given a knife, fork, salad fork and spoon. There was fresh fruit, ambrosia, crab legs, mussels, shrimp, a salad bar, fried chicken, grilled chicken, pork loin and gravy, mussels and clams in broth, fried catfish, a bagels-and-lox bar and on and on — including real butter! Grade: B
Flavors, Harrah's Las Vegas: This was the sleeper of the group. The decor is quite pleasant, with natural elements including woods and mosaics that make it feel like it's not a buffet, and buffet stations marked by signs like "Fresh" (salad), "Splash" (seafood) and "Ciao" (Italian). Pork potstickers were pretty decent and I liked the salad selection. The linguine with clam sauce contained whole clams in the shell, and other selections included rodizio-cooked meats, black beans, carnitas, pizza, bananas foster and cotton candy. A definite Southern flavor came through in offerings of barbecued ribs, homemade cornbread, collards and fried okra. No wait; real butter. Grade: A
Lago Buffet at Caesars Palace: This one also has potential for nice views, since it's adjacent to a pool/garden area, but the seating area is so large you may not realize that. The dining area is, in keeping with Caesars' general ambiance, quite pleasant, with water walls, a waterfall, linen napkins and comfortable booths. The buffet itself is on the small side but this one has the best breads of the seven, including great pretzel rolls (and butter!) and crisp-crusted Italian bread. A pork chop with apple butter was moist and flavorful; other offerings included herb-roasted chicken, braised beef tips, shell-on shrimp, carne asada, sushi, edamame, crab legs, shrimp, Cornish hens, leg of lamb and on and on. Grade: B
Spice Market Buffet, Planet Hollywood: There was a wait here early in the dinner hour, but only about 10 minutes. It was noisy, with football playing on big video screens, and although there were servers standing around I was about finished eating before anyone asked me what I wanted to drink. There was lots of seafood, including both king and snow crab legs, seafood paella, sushi, shrimp, seafood gumbo and shrimp tempura. There's a Middle Eastern station, a remnant of the resort's previous life as the Aladdin, and the lamb shish kabobs and basmati rice with raisins and almonds were pretty good. Linen napkins. Grade: B
Carnival World Buffet at the Rio: This seems to be a locals' favorite, judging from the crowd, and the line at around 7 p.m. was 22 minutes. There's a full bar inside the buffet and a lot of Asian offerings, including a noodle station with four types of noodles and all of the accoutrements for soups, plus sushi (the spicy crab rolls were pretty good, but difficult to extract from their tray since they were all stuck together), a create-your-bowl teppanyaki station, steamed dumplings, gyoza, egg rolls, and steamed dumplings, plus the usual Mexican, American and Italian fare. Grade: B
Las Vegas Review-Journal reviews are done anonymously at Review-Journal expense. Contact Heidi Knapp Rinella at 383-0474 or e-mail her at hrinella@ reviewjournal.com.
Review
Harrah's Buffet of Buffets, at Paris Las Vegas, the Imperial Palace, the Flamingo, Harrah's Las Vegas, Caesars Palace, Planet Hollywood and the Rio
Pluses: It's a pretty good deal, especially for visitors who want to get to numerous resorts.
Minuses: It's a lot of walking.