Ikea knows how to put together a nice, economical meal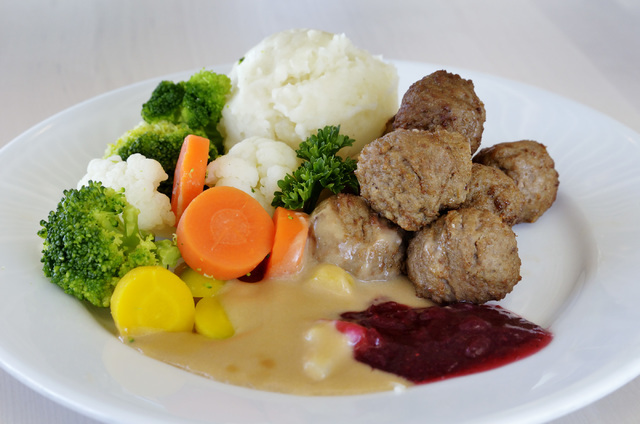 It's cheap, it's quick — but you don't have to put it together.
The restaurant at Ikea has much in common with the Swedish retailer's basic business model. As numerous readers have pointed out, the prices are tough to beat. Then there's the cafeteria-style service, uberefficient in typical Ikea style. Carts for carrying multiple trays are particularly handy if you have a couple of half-pints in tow. Stainless-steel slide-along tubing offers a place to rest a tray pretty much anywhere you would want it. Then there's the sleek contemporary decor and a variety of seating options — low tables and chairs for the kids, regular-height tables and bar-height tables — and tray-dropoff stations that make for quick cleanup.
The food is a mix of traditional — make that stereotypical — Scandinavian (the absence of aquavit notwithstanding) and American favorites such as mac and cheese. Ikea is proud of its sustainably raised salmon, which comes from Aquaculture Stewardship Council-approved farms, and it's available in several forms. The dinner ($6.99) was centered by a gently cooked fillet that was a little on the strong side, although much of that went away with the skin, and the swipe of hollandaise contributed a light touch of lemon for balance. The accompanying "vegetable medallion" was a patty of potatoes that needed more zing than the minced leeks, broccoli and onions could provide, but we were impressed by the generous serving of crisp-tender broccoli, cauliflower, sliced red pepper, carrots and what tasted like yellow carrots.
The Swedish meatballs were a must-have considering Ikea's identification with them, and the entree ($4.99) was a downright steal (and chicken or veggie balls are other options). Yes, they were as much of a mystery-meat proposition as these things usually are, a little on the soft side and, with the accompanying cream sauce, a little too subtly flavored, but the lingonberries on the side added a nice sweet-tart note, and mashed potatoes and more of those crisp-tender vegetables completed the picture.
A piece of a low layered chocolate-almond torte ($1.99) had, as is the case with a lot of European pastries, a deceptively austere appearance, in reality being a lot more indulgent than it appeared, with a particularly rich almond flavor.
The cafeteria-line servers were pleasant and helpful, offering the opportunity to opt out of the hollandaise (not a chance) and volunteering that some of the food items are available in Ikea's food store.
It's a comfortable, quick experience — or not, should you so desire. In typical follow-the-zeitgeist style, Ikea's restaurant offers espresso (you get tokens for the machine at the cashier), and big plush couches and chairs provide a coffee-shop feel, just in case you want to hang out.
Or read the instructions to figure out how to put together your furniture.
Las Vegas Review-Journal restaurant reviews are done anonymously at Review-Journal expense. Email Heidi Knapp Rinella at hrinella@reviewjournal.com. Find more of her stories at www.reviewjournal.com and follow @HKRinella on Twitter.
Review
Restaurant at Ikea, 6500 Ikea Way (near the 215 Beltway and Durango Drive); 888-888-4532
The essence: Quick and cheap — and decent enough, for the price.