Kitchen at Atomic in Las Vegas serves diverse, delicious fare
Updated July 15, 2018 - 9:45 pm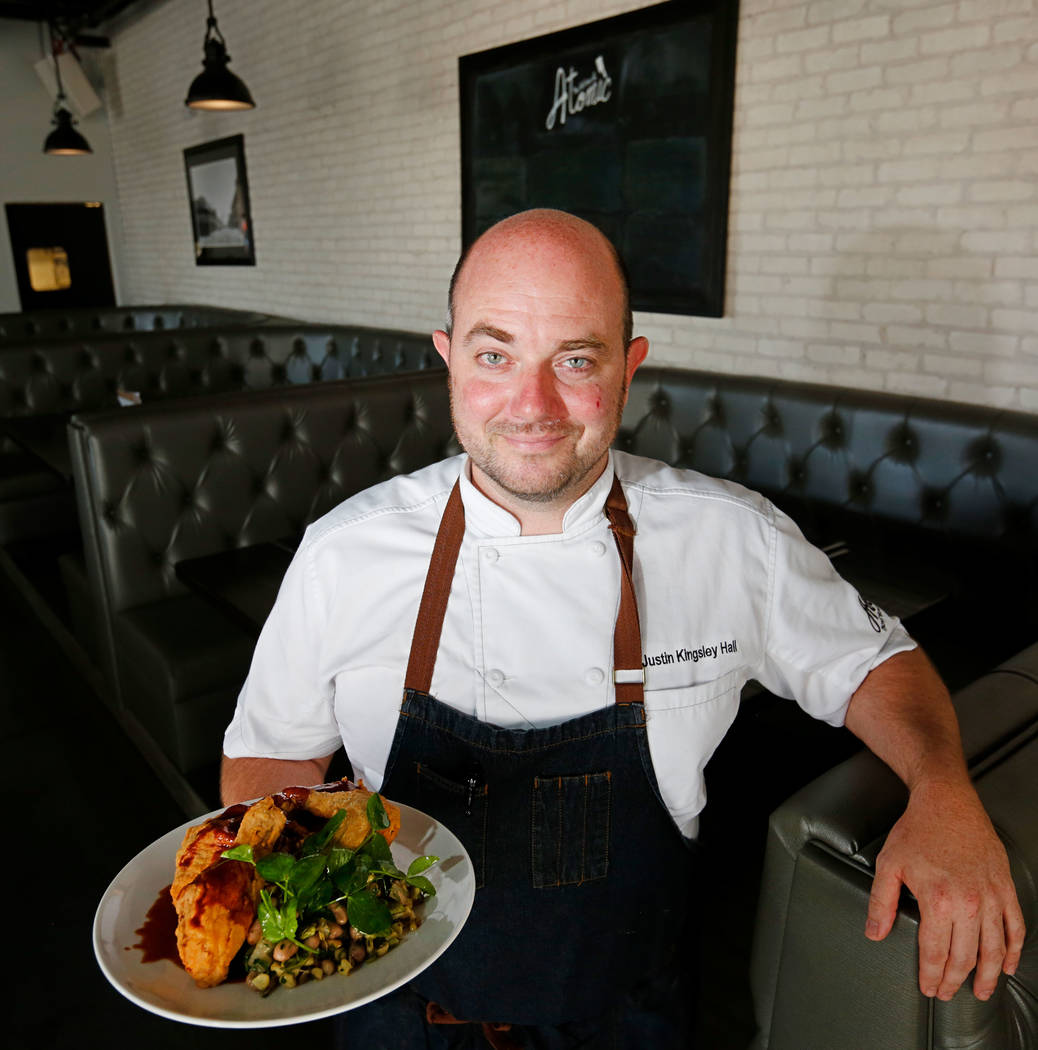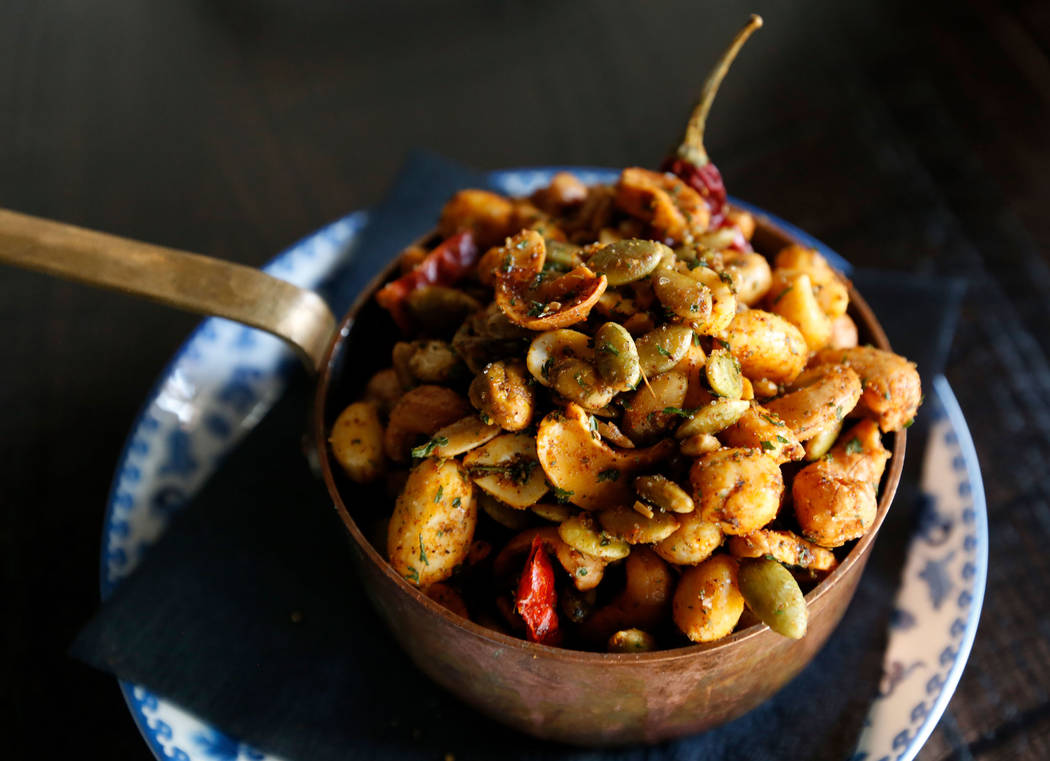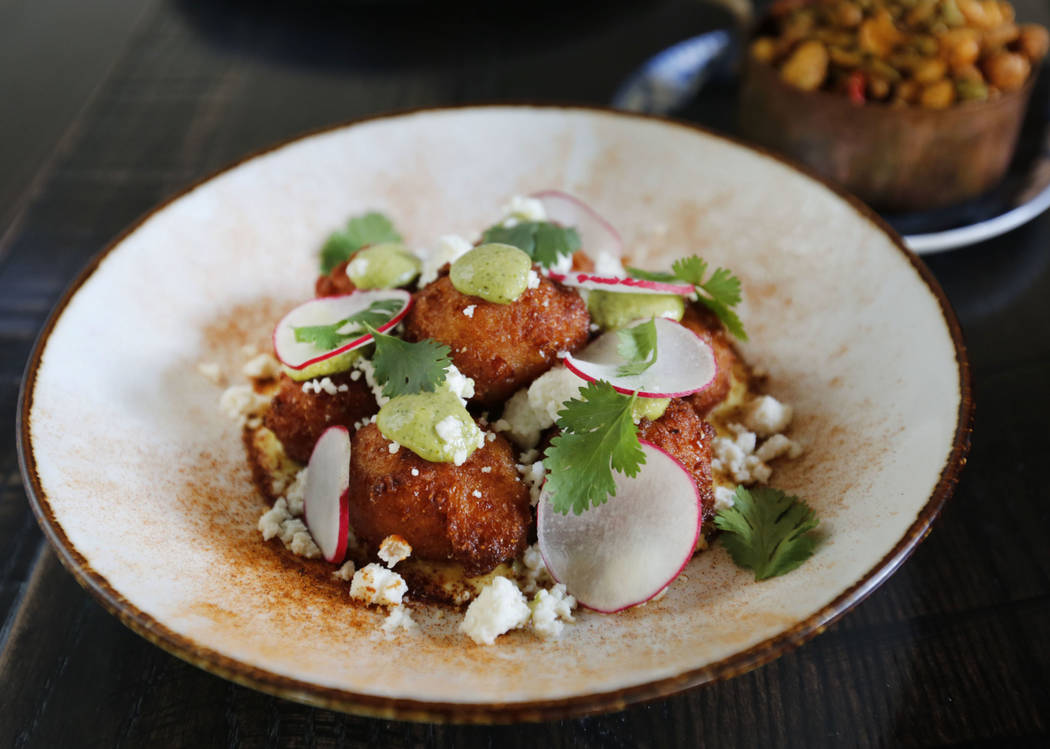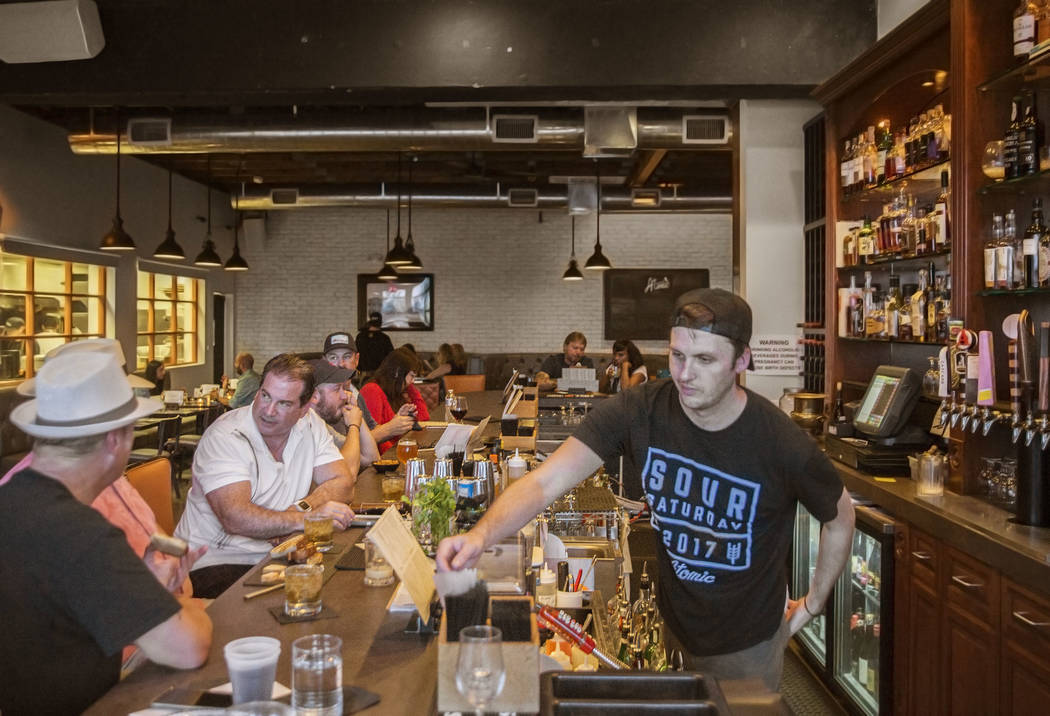 The Kitchen at Atomic, which anchors the far-eastern frontier of the Fremont East entertainment district, grew out of a bar, and honors the Atomic's storied tradition with a selection of snacks perfect for sitting and sipping. But chef Justin Kingsley Hall's time spent at upscale restaurants (notably Sparrow + Wolf and the late Comme Ca at The Cosmopolitan of Las Vegas) clearly informs his choice of ingredients, and he uses them to advantage in complex dishes with more sophisticated touches.
The snacks section of the menu starts with three simple tavern selections: Roasted Nuts n Such, Roasted Tomatoes, Olives & Peppers and Pickled Things. The first ($3) was a bowl of mostly cashews, peanuts and toasted shelled sunflower seeds with ancho chile, suitable to be served with a cocktail at the bar or to begin a meal.
But there are more complex starters on this list, too, such as grilled red-wine chicken hearts, harissa carrots and the Cheesemonger's Special with honeycomb and toast. Elote Hushpuppies ($9) were an extension of the Mexican street-corn craze, not as messy but no less multi-dimensional. They were an improvement on the classic, with corn kernels for a gentle crunch and chiles for a bit of spark, the pillowy interiors surrounded by a crisp coating. The half-dozen golfball-sized hushpuppies rested on a pool of cilantro cream and were sprinkled with cilantro and crumbled queso fresco, with crisp slices of watermelon radish for a pastiche of colors, flavors and textures.
Another menu section is sandwiches and burgers, such as the East Charleston Torta and vegetarian eggplant and Moroccan lentil roti. The Cigar City sandwich ($16) is an ode to Tampa, Florida, where Hall earned his culinary degree. It's a riff on the city's Cuban sandwich, retaining the elements that made it famous — pork shoulder, Swiss cheese, pickles and mustard — but improving on them with sumptuous pork belly instead of ham and sweeter and richer brioche instead of Cuban bread, thoroughly grilled until it acquires a burnished patina.
Entrees include a couple of steaks, a pork Porterhouse and poached Petrale sole, and Hall has a chicken dish that changes with the seasons. Currently it's a half-bird ($31) fried with a slightly salty breading and served with smoky-sweet molasses barbecue sauce for an appealing counterpoint. A summery side of succotash was summery, corn sautéed with butter beans and chunks of sunchoke, all showered with field greens and more watermelon radishes.
There's also a selection of plates and bowls, such as shrimp skewers and twice-cooked baby artichokes with kale, peas and onions. Desserts are whiskey bread pudding and roasted stonefruit with honeycomb and cheese. Hall also includes notes on provenance on the back of the menu.
Service was always on point, as was the interior. The designer mostly resisted the current ubiquity of industrial chic, save for some ductwork and roll-up doors that provide access to the patio. It has a minimalist feel, with whitewashed walls, black pendant lighting and tufted black-leather upholstery accented by black-and-white art, the only exception being the substantial dark-wood bar area. The near-total avoidance of the nuts and bolts is ironic considering that until a few years before its 2017 opening, the Kitchen at Atomic was a gas station and auto-repair garage that predated the adjacent bar.
The Atomic, which was granted the city's first tavern license in 1952, found new life through renovations following its 2012 sale, securing its spot as a downtown landmark. It's a heritage worth honoring and the Kitchen at Atomic, with Hall at the helm, does it justice.
The Kitchen at Atomic, 917 Fremont St.; 702-982-3000 or atomic.vegas
The essence: Varied and well-conceived menu and great food provide for a variety of experiences.
Las Vegas Review-Journal restaurant reviews are done anonymously at Review-Journal expense. Contact Heidi Knapp Rinella at Hrinella@reviewjournal.com or 702-383-0474. Follow @HKRinella onTwitter.