February 15, 2008 - 10:00 pm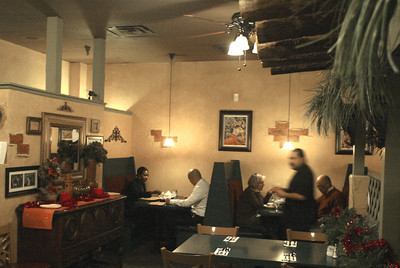 Aw, gee. I was all excited about La Cocina Reyes, with its interesting menu, good service and excellent starters, and they had to go and ruin it by undercooking the chicken.
Really undercooking the chicken. Really, really, really undercooking the chicken.
The dish had such promise, too. It was the Mole Con Pollo rostizado ($15.99), a roasted quarter chicken with a mole Poblano sauce that had all of the complexity that its deep color hinted at as soon as it arrived. The sauce was subtle and complex, with multiple layers of flavors that kept revealing themselves as we ate. And then we got about halfway into the chicken and discovered that it was undercooked to the point that the interior was red-raw. And that's an image that, whether I like it or not, will linger.
It was the only blot on an otherwise truly enjoyable dinner at this little spot in a strip shopping center. As I said, we started off on a positive note — with Queso Fundido in one of the several available variations, this one slightly offbeat with mushrooms and onions ($7.59), which we eagerly wrapped in the flour tortillas served on the side.
There were the requisite chips and salsa, of course, but these were somewhat better than most, the crisp chips rich in corn flavor, the salsa a thin chipotle base that was nice and smoky, with a sneak-up-and-nail-you kick.
A side dish of guacamole ($4.29) was possessed of a similar kick, the chunky avocado ripe enough to be flavorful but not so much as to be overly soft.
In between a long list of dishes that you don't find in every neighborhood and/or chain Mexican joint, we found the combo plates that can't be omitted, but in true La Cocina Reyes fashion, the items on them were more interesting than most. For instance, the combo we chose ($7.99) included a choice of two out of three dishes, one of which was crispy tacos stuffed with either a mixture of shredded chicken, chipotle and mole (Tinga) or shredded beef with pico de gallo (Salpicon), or — the one we chose — Papa, which was seasoned mashed potatoes with two kinds of cheese, lettuce and pico de gallo. It was delicious, a great variety of textures (brittle tortilla, creamy potatoes, crisp lettuce) and plenty of flavor applied to the blank canvas of the potatoes.
Our other choice on the combo was a traditional chile relleno (as opposed to the only chile relleno we found on the rest of the menu, a seafood variation), which turned out to be a poblano, roasted so gently that the pepper retained a bit of its original crisp-tender state, which is unusual in this dish. Brimming with a mix of melted cheeses and with a little crema drizzled across the top, it was unconventional and delicious.
Both entrees came with Mexican rice and refried beans, the former of which was pretty standard, the latter quite a bit better in that they were moist and creamy.
For dessert: flan ($4.99), a nice eggy custard with well caramelized sugar — simple and perfect.
Service throughout was good, with our waiter apologizing that he had been busy with a couple of big tables when we hadn't even noticed. The decor is pleasant as well, not as kitschy as most, which is a bit of a relief.
And even the margaritas and martinis were a plus — creative mixes of offbeat ingredients, well prepared.
But undercooked chicken can be quite a turnoff. And with a kitchen as talented as this, such an oversight just doesn't make sense.
Las Vegas Review-Journal reviews are done anonymously at Review-Journal expense. Contact Heidi Knapp Rinella at 383-0474 or e-mail her at hrinella@ reviewjournal.com.
what: La Cocina Reyes
where: 6182 W. Flamingo Road
phone: 384-4444
overall: B
food: B
atmosphere: B
service: B
pluses: Creative menu, most dishes well prepared.
minuses: Undercooked chicken.