Libertine Social both whimsical and fun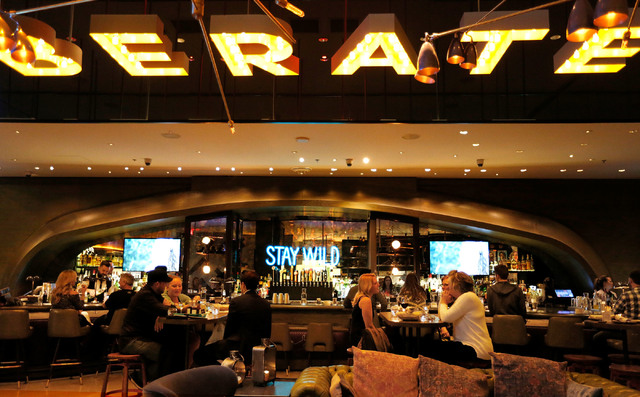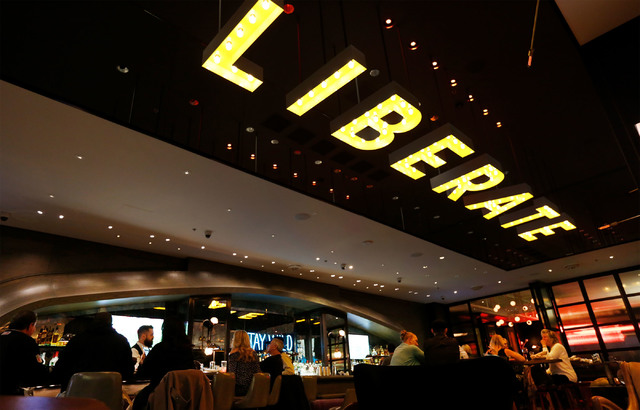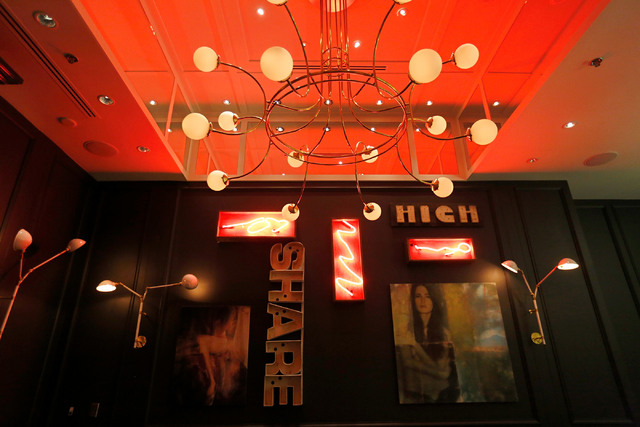 Shawn McClain's Sage at Aria is one of the best fine-dining restaurants in the city. His Libertine Social at Mandalay Bay is much more casual, but there are parallels between the two. Libertine's menu has many fun, even whimsical offerings, but the creative conception and careful execution meet the same high standards of Sage, as do the presentation and service.
Consider, for example, the Scotch olives ($11), a riff on the Scotch egg, an obscure but beloved British bar bite that involves a hard-cooked egg wrapped in sausage, coated with crumbs and fried. In this case, more than a half-dozen large green olives were stuffed with feta and wrapped in lamb sausage before coating and frying for a bar-bites variation on a classic Mideastern flavor combo.
McClain likes to play with flavors but knows not to take it to the extreme. The ramekin offered with two fairly large, fluffy pretzels ($12) didn't employ the expected varieties of melted cheese but featured the pungent notes of raclette. And while I'm a big fan of the assertive Swiss import, it can be as off-putting as a 30-year-old at a high-school prom. McClain tempers it with cheddar for just enough of a mellow touch without ruining the fun, and also offers whole-grain mustard.
The Modern Fried Egg ($12) was a misnomer only because the name undersells it. This is a hollowed-out small egg shell painstakingly layered with corn pudding, a bit of very fluffy whipped egg white and what could only be called a dollop of caviar. It arrived with a little spoon for effective scooping (getting all three layers at once was a particular treat) and a baguette baton for spreading.
These were small plates, meant for sharing and passing to further the "social" part of the Libertine Social mission. But under "A Bigger Commitment" we found roasted dayboat scallops ($39) with the extra incentive of pickled persimmon — a rarity among today's pickled-everything craze. That was a nice seasonal touch and the scallops were perfect, big and plump and lightly caramelized, with a touch of uni (sea urchin) butter that helped accentuate the subtle brininess of the sweet shellfish.
For dessert, the Manhattan ($12) lived up to its name with a base of rye (the whiskey, not the plant) made even richer with a scoop of vanilla and maraschino cherry ice cream.
Which brings us to the "libertine" part of Libertine Social, which plays out in an extensive, innovative cocktail list by respected mixologist Tony Abou-Ganim. The Nostra Rosa Fizz ($17) was a fun, fizzy version of a classic Negroni that was delightfully refreshing, as was a house-made bottled Bardstown Sling that combined bourbon, triple sec, cranberry and lime juices.
And the "social" part of the place is impossible to miss, with lots of lively conversation at the counter and the big communal tables.
Las Vegas Review-Journal restaurant reviews are done anonymously at Review-Journal expense. Email Heidi Knapp Rinella at hrinella@reviewjournal.com. Find more of her stories at www.reviewjournal.com and follow @HKRinella on Twitter.
Review
Libertine Social, Mandalay Bay, 3950 Las Vegas Blvd. South; 702-632-7777
The essence: A fun place that's serious about the creation and execution of its sometimes whimsical food.