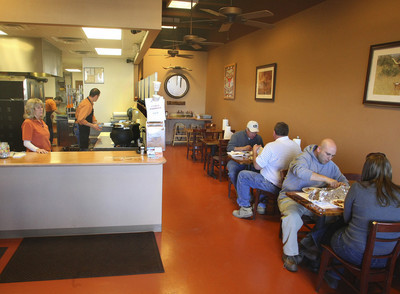 In Texas, Memphis — any of the old-time barbecue capitals — the legendary 'cue venues have these great big stone or brick or other-fireproof-material pits, where they burn hickory or mesquite or other woods of choice. The pits usually are coated by decades-long accumulations of smoke and grease and we-don't-really-want-to-know-what-else, and they and the hardy soul who gets up at 3 in the morning to stoke the fire and smoke the meat produce the stuff of which legends are made.
Yeah, we don't have those in Las Vegas.
Which is not to say we don't have good barbecue. There are those die-hards who call me once in a while and insist that if the smoker isn't fueled by wood (instead of having an electric or gas burner that burns the wood to produce the smoke) it ain't the real thing. To which I say, well, to some folks in Texas or Memphis, if it's not cooked in a greasy old pit it ain't the real thing. And besides, considering the talent of some of those who operate an electric- or gas-fired smoker, most of us would rather just shut up and enjoy it.
Which brings us to Longhorn BBQ. In case you're wondering, yes, there's a definite Texas tie-in there — as in University of Texas — with Longhorn logos and orange all over the place, which is pretty subdued and not at all annoying, except, I guess, if you're an Aggies fan. There's also a true 'cue aficionado tie-in there, because the owner reportedly used to take his smokin' show on the road before he got tired of it and decided to settle down. And we should all be glad he did.
Yes, the meats at Longhorn BBQ are really smoked and really smoked in-house; if you don't believe me, just take a good look at the air when you walk in.
It's a tiny place, but the menu is bigger than many, with brisket and pulled pork and hot links and chicken and three kinds of ribs and wings and side dishes and cheesy garlic biscuits and even more.
The cheesy garlic biscuits (6 for $4.99, 12 for $7.99, 24 for $13.99) are similar to those made popular by a seafood chain and thousands of Internet recipes, only better. Served swaddled in foil, our batch of six were flaky wonders pocked with cheese and liberally basted with garlic butter. They were indulgent enough to be dessert, if it weren't for that garlic thing going on.
But let's not slight the meats. Pulled pork has a tendency to be greasy in a lot of barbecue joints, but this was anything but — just tender, juicy shreds of meat, which are available as a platter but which we ordered piled high on a cornmeal-dusted sandwich bun ($6.95 a la carte, or $7.95 with one side). It was excellent by itself, even better with a squirt of the restaurant's homemade barbecue sauce.
The baby-backs, which we had as part of a two-meat platter with chicken ($16.95), weren't as liberally rubbed as I tend to like, which meant the pork taste was fairly prominent, but there's no quibbling with the falling-off-the-bone tenderness or the deep, smoky flavor. We paid $1 extra for white chicken meat, and it was characteristically a tiny bit dry, but not after we applied barbecue sauce.
No quibbling with the sides, all of which tasted homemade: Potato salad was chunky and mustardy, barbecue beans had a nice smoky undertone, mayonnaise-based cole slaw was crisp and creamy.
I don't live in the area of the valley near the Longhorn BBQ, but as we left, I found myself musing on its proximity to my office as a possible source for takeout. The number of superlative barbecue restaurants has grown in the valley over the past few years, and Longhorn can hold its long horns high among them.
Las Vegas Review-Journal reviews are done anonymously at Review-Journal expense. Contact Knapp Rinella at 383-0474 or e-mail her at hrinella@reviewjournal.com.
Review Longhorn BBQ 4343 N. Rancho Drive; 836-9170 Overall A- Food A- Atmosphere A- Service A Pluses: Great, authentic barbecue (with pickles and white bread on the counter, if you're so inclined). Minuses: It's a tiny place, so don't complain to me if you can't squeeze in.