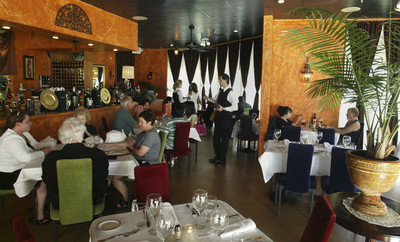 A friend of mine who's a restaurant critic in another city calls them elephant burial mounds.
Those would be the locations that seem to be perfectly fine but that are home to a rapid succession of restaurants — some excellent, some less so — with limited longevity the only thing they had in common. While her tongue-in-cheek theory holds that some places are just plain bad luck, the reality probably has more to do with imperceptible location flaws involving access/egress, visibility from the road, parking or whatever.
Then there are the locations whose drawbacks are more apparent, and Lucio Ristorante is in one of them. You'd think a center on the corner of the intersection of Sahara Avenue and Durango Drive (the southwest corner, for those of you who aren't geographically challenged) would offer great visibility, but Lucio is in a building that's positioned in from the roadside and the restaurant itself faces neither Sahara nor Durango, but a hotel.
For those who remember, it was home for some years to Jazzed Cafe & Vinoteca, which had quite a local following for its excellent risotti and other Italian food and its solid jazz. Jazzed survived despite its location, and here's hoping that Lucio will do the same.
One thing the two have in common: You can find an excellent risotto, a dish that starts with one of the most simple, elemental ingredients — rice, specifically short-grained, arborio rice — elevated by long, slow cooking with liquid (usually stock) until it's wonderfully creamy, but still chewy at its heart. Risotti can be flavored with just about anything, and our choice at Lucio was Italian sausage ($17.95), which rewarded us with a bowl of creamy rice mixed with a liberal amount of chunks of flavorful (lots of fennel here, which is a good thing) meat. Sausage risotto can tend to be on the greasy side if the meat isn't cooked and drained properly, but that was no problem with this dish.
Great care had been taken, as well, with the Melanzane alla Parmigiana ($13.95), or eggplant Parm to you and me. What made it special was that the eggplant had been sliced thinly, giving it a delicate, velvety texture that enabled it to sort of luxuriate into the tomato sauce while remaining just firm enough to stand out. It was served with a side of al-dente pasta, with more of that long-steeped, soulful sauce.
A special starter of baked artichoke hearts ($7) was another example of taking a rather humble ingredient and dressing it up — in this case by sauteing with lots of garlic (again, a good thing) and enriching with olive oil, cream and fontina and mozzarella cheeses. This one was just amazing; I hope they put it on the permanent menu.
And we had another winner in the Peperoni Arrostiti ($7.95), red bell peppers roasted and skinned, marinated in olive oil and finished with white raisins for a bit of sweetness and pine nuts for a bit of texture. Sublime.
From Lucio's respectable wine list (heavy on Italian wines, as we'd expect, but well varied) that included quite a number of bargain-priced selections, we chose a 2005 Avignonisi Rosso Sangiovese blend from Tuscany ($38), whose lighter feel seemed right for the warmer weather. Wine service was excellent.
As was service in general, as was pretty much everything we experienced at Lucio. We also liked the fact that the space has been opened up since its Jazzed days; it still is fairly cozy, but with a more elegant feel.
One problem: It was awfully quiet on the evening of our visit, which always concerns me with a restaurant this good. So do the foodie community — and yourself — a favor and seek out Lucio.
Don't let it turn into an elephant burial mound.
Las Vegas Review-Journal reviews are done anonymously at Review-Journal expense. Contact Heidi Knapp Rinella at 383-0474 or e-mail her at hrinella@reviewjournal.com.
REVIEW
what: Lucio Ristorante
where: 8615 W. Sahara Ave.
phone: 233-2859
overall: A
food: A
atmosphere: A
service: A
pluses: Wonderful food, casually elegant atmosphere.
minuses: It needed more customers on the evening of our visit.