Mad Greek cafe offers flavorful renditions of traditional dishes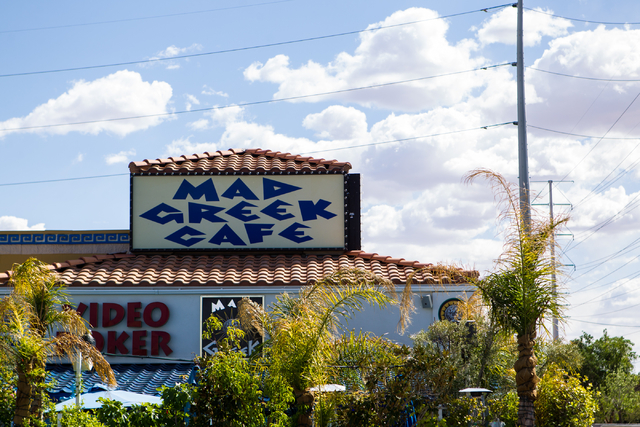 Until last week, my only familiarity with the Mad Greek Cafe had been a strawberry shake (a specialty) from the drive-thru at the flagship in Baker, Calif.
Back in the day, it was a pretty good shake, thick and rich and loaded with strawberries, a nice bit of refreshment on a long, dry drive through the desert. The last time I got one a few years ago, not so much; I was disappointed by hunks of frozen strawberries. Let's just say the shake didn't exactly tempt me to venture inside to try the Greek food.
So when the restaurant announced an expansion to Las Vegas (which, if memory serves, was to be more extensive until the recession hit), I was less than excited. Yes, I knew The Mad Greek had been in business for more than 40 years, starting in Corona, Calif., but I really didn't understand why.
That all changed with my first bite of the saganaki ($9). Saganaki is a dish found in pretty much every American Greek restaurant — to the point that it's almost a cliche — but those standard dishes can provide an indication of just how well one restaurant in a genre stacks up against another. And the saganaki told me that The Mad Greek stacks up very well.
The platter of cheese is flamed at the table, this one robustly so. Then it's squirted with lemon to quell the flames and add a little acidic note. And then you can dig in.
At its best, saganaki is somewhat thickly cut, though not so much that it doesn't melt in the flaming process. At its best, it has a thin but crispy coating, and settles very nicely into warm (wonderfully pillowy, in this case) pita before being popped into one's mouth. This definitely was saganaki at its best.
But the good stuff didn't stop there. When reviewing we like to get combo platters because they enable us to taste as much as possible of a restaurant's specialties. The Greek Combo Plate ($16) was a big one, offering an impressive variety. The problem was that it was huge, and that I had a hard time getting past the pasticchio.
Pasticchio is a Greek favorite that's often compared to lasagna. The problem with this one was that it was the first thing on the platter I tasted, and it was so good I didn't want to move on. The al dente pasta was the long, tubular type (sort of like uncut ziti) traditionally used in the dish. The bechamel was indulgently rich (or richly indulgent), but the best part was the tomato meat sauce. This sauce normally is seasoned with cinnamon and maybe allspice, but in this case the cinnamon was bold and unmistakable, the dish about as addictive as I could imagine.
As I moved on, though, the rest of the platter compared favorably. There were two hot stuffed grape leaves, napped with a creamy sauce and filled with a meat mixture that also was boldly seasoned. Moussaka, again with rich bechamel, and with zucchini in addition to the customary eggplant, which added variation in flavor and texture. Crisp triangles of spanakopita, the phyllo-wrapped spinach pie. The menu promised "pork &chicken kebab" but we actually got one pork, one chicken, both with zucchini and tomatoes. Roasted potatoes. Pieces of traditional gyro meat, with accompanying tzatziki. Even the rice was exemplary, a perfectly buttery neutral foil to everything else on the plate.
You'll notice I said "traditional" gyro meat. That's because, according to The Mad Greek, the original gyros were made of marinated pork, instead of the beef-lamb blend common in this country. So we tried one ($14), and it was lovely, juicier and more flavorful than the normal gyro meat. And with an accompanying dish of Greek salad and more of that buttery rice, it just might make us reconsider our gyro preferences.
Service throughout was excellent. The Mad Greek has a nice patio with a fountain, and the interior, though maybe a little stereotypically blue and white, was most attractive, with great attention to detail that extended to blue lights in the ceiling and blue-painted ductwork. There's a dance floor as well, and what seemed to be the Greek version of MTV was shown on a big screen behind it.
So. I don't know, in truth, that I'll stop in for a strawberry shake the next time I'm going through Baker. But I do know I may venture inside for some well prepared Greek food.
Las Vegas Review-Journal restaurant reviews are done anonymously at Review-Journal expense. Email Heidi Knapp Rinella at Hrinella@reviewjournal.com, or call 702-383-0474. Follow @HKRinella on Twitter.
Review
Mad Greek Cafe, 8565 W. Sahara Ave.; 702-242-7669
Overall A
Food A
Atmosphere A-
Service A
Pluses: Great renditions of traditional Greek favorites at value prices.
Minuses: An overlooked dirty spot on the side of our tablecloth.