March 25, 2010 - 11:00 pm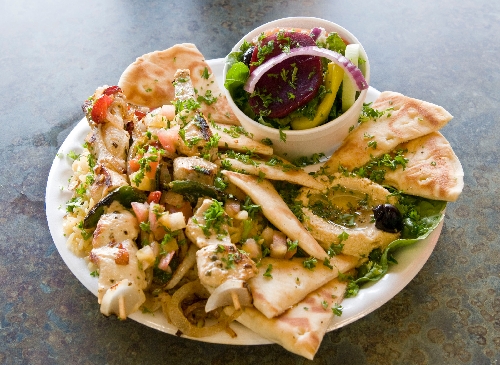 Mad Pita Express is a counter-service restaurant, and like most counter-service restaurants, its food is served on plastic-foam dishware. That makes for easy disposal, of course, and in the case of lots of these places, it's also efficient, because you wind up wanting to dispose of the food along with the dishes.
But let's not judge a restaurant by its Styrofoam. When the side salad served in the foam cup contains a mix of lettuces, red onion, kalamata olives and a dressing with whole mustard seed for a touch of sweetness, you know they're not just shaking it out of a plastic bag they got at Costco.
There's plenty of attention to detail at Mad Pita Express, and that becomes clear the moment one enters the restaurant. It's a little strip-center storefront, but the usual bare walls have been considerably livened up with a collection of visually appealing items — so many that the decor is downright entertaining. In addition to several interesting mixed-media/stained-glass panels, there are a number of family photographs — some historic — and lots of plants, including some suspended in glass cones.
The menu is pretty basic Mediterranean (in this case, the subset generally preoccupied by Greek and Middle Eastern), composed primarily of the usual offerings along the lines of pitas and hummus and falafel, so there's not a lot that's out of the ordinary. It's the execution that is — along with the portions and the value.
Take, for example, what Mad Pita Express calls "entrees on pita." Most other Mediterranean places just call them pita sandwiches, but in this case, the more elaborate label is accurate. The gyros version, for example, was a large pillowy pita, gently grilled and topped with a lot of gyros meat and some crisp leaf lettuce, tzatziki that was much creamier than most we encounter (and homemade, according to the menu), and a liberal amount of feta cheese. In and of itself, it constitutes a satisfying lunch or light dinner, and it's $6.29 — a true bargain in this era of escalating food costs.
The larger plates are dubbed "dinner plates" and include the aforementioned cup of Greek salad, some saffron rice with almonds and raisins for variety, and pita bread. The grilled chicken kabobs ($10.95) were two good-sized skewers of tender, marinated white meat cooked just enough, so that they were still moist.
But for some reason, we can't start a meal in a Mediterranean restaurant without hummus, and that has become an acid test for us. This one was a little bland and could've used a shot of garlic, maybe, or some cayenne or cumin, but the float of fruity olive oil helped considerably, and there were plenty of pita triangles. I can't remember the last time I had hummus that didn't outlast the pita, but that wasn't the case here.
Custard bread pudding with chocolate drops beckoned for dessert, but who were we kidding? A piece of baklava ($2.79) was about the most we could manage, and splitting a piece was just the right light sweet finish.
I'm told that the owners of Mad Pita Express had been longtime restaurateurs in St. George, Utah, who had been forced out of retirement by boredom. Those years of experience are quite evident at this quick-service spot, where both food and atmosphere transcend the Styrofoam.
Review
Mad Pita Express, 2980 S. Durango Drive; 254-7482
Overall A-
Food A-
Atmosphere A
Service A
Pluses: Very good food, great atmosphere.
Minuses: Plastic-foam dishware.
Las Vegas Review-Journal reviews are done anonymously at Review-Journal expense. Contact Heidi Knapp Rinella at 383-0474 or e-mail her at hrinella@ reviewjournal.com.
Review
Mad Pita Express, 2980 S. Durango Drive; 254-7482
Overall A-
Food A-
Atmosphere A
Service A
Pluses: Very good food, great atmosphere.
inuses: Plastic-foam dishware.