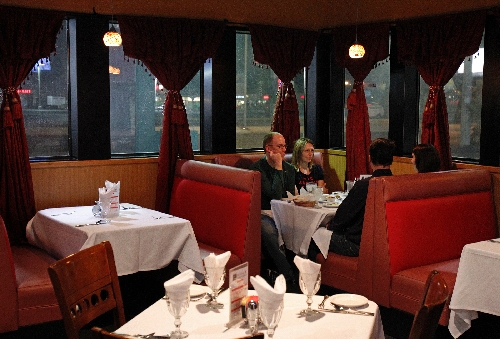 I swear, I must have been Indian in a previous life.
Soul food for me normally is things like sauerbraten and a really good bratwurst, but give me a dish of well-prepared Indian food and I instantly feel comforted, way down deep. I've never been a big believer in ayurveda, but maybe I should be. Or maybe it's simply a case of skillfully employed umami.
At any rate, the feeling isn't prompted by specific dishes, but it can crop up at any time. At Mount Everest, it arose after the first forkful of palak paneer, which is homemade cheese with spinach and herbs. There was perfection in the firm, milky blocks of cheese, the mellow, earthy spinach and the seasonings that brought the whole thing home.
The palak paneer was part of the restaurant's vegetarian thali ($19.99), a sort of smorgasbord-on-a-tray. I'd never make it as a vegetarian, but Indian restaurants tend to have quite the way with vegetarian dishes, so the thali was a natural choice. It also turned out to be a very good choice. Asked how spicy I wanted the food, I said probably about medium and immediately had misgivings but not to worry; it was just zippy enough without being incendiary.
The rest of the platter was as good as the palak paneer, although without the umami. Chana masala (a dish of seasoned garbanzo beans) was slightly spicy and nicely balanced by the basmati rice that was served in a large center dish and by the raita, a cooling yogurt-based condiment. Dal makhani (seasoned lentils) were nutty and chewy, vegetable pakoras (fritters) brought before the meal were crisp and light, the naan was in all of its blistered glory, and the kheer (rice pudding) was a fine finish.
Seekh kabab ($14.99) was brought to the table atop a sizzling platter of onions. That's a common way to serve it, but rarely is it done as well as this; the onions sizzled for quite some time, sending their unique fragrance into the air. The dish of seasoned ground lamb, cooked on skewers in a tandoori oven, also was served with sliced red and green bell pepper, and the dish had great visual, flavor and textural appeal.
Garlic naan ($2.99) was stretchy and blistered and — best of all — strong on garlic flavor.
We had started with vegetable samosas ($3.99), an Indian-restaurant staple. These were larger than many, but the large amount of creamy potato-and-pea filling was light, the pastry enfolding it crisp and golden.
Service throughout was excellent. Our server — who may have been the proprietor — was sitting in a booth when we walked in and immediately leapt to his feet, and courses were both well-timed and timely.
Mount Everest isn't the most attractive Indian restaurant in town — it's in a former fast-food place — but it has an appealing simplicity, gussied up a bit by some fairly elegant draperies.
I'll worry more about decor in my next life.
Las Vegas Review-Journal restaurant reviews are done anonymously at Review-Journal expense. Contact Heidi Knapp Rinella at 383-0474 or e-mail her at hrinella@ reviewjournal.com.
Review
Mount Everest India's Cuisine, 3641 W. Sahara Ave. (at Valley View Boulevard); 892-0950 or www.Everest Cuisine.net
Overall A-
Food A
Atmosphere B
Service A
Pluses: Great Indian food at good prices.
Minuses: It's nothing fancy.