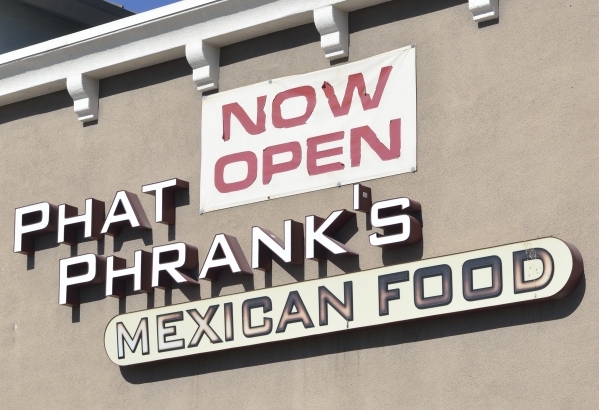 I don't usually confuse all that easily — especially when the subject at hand is food-related — but I sure am confused about Phat Phrank's.
Go to www.phatphranks.com and you'll see a notation, "web site coming soon" (although they do have a link to the menu, and if you're like me, that's what you're really looking for on a restaurant website).
A banner across the front of the restaurant proclaims "now open," yet a little research reveals that it's been around for nearly six years. The woman behind the counter was more cranky than welcoming, although she did soften up a bit and bring us extra salsa.
No takeout menus were available at what is very much a takeout kind of place, and when I called to try to set up a photo of the inside of the restaurant, a crabby employee informed me that a manager wouldn't be available until at least the following day. Even its slogan gave me pause: "Not the best, just none better," which basically means that they think they're like everybody else.
Kind of reminds me of a restaurant in the Key West of my youth. I don't know if it's still there, but I'll never forget it because, besides the fact that it served an excellent breakfast, it was emblazoned with several "closed" signs to keep away the tourists.
But I digress.
Why does Phat Phrank's seem intent on keeping itself a secret? Beats me. I'd have liked for you to have seen the interior because, unlike the bland exterior, it's colorful and shiny-clean and its walls are graced with a collection of musical instruments and other music-related objects, which are very cool.
And then there's the food. The cuisine is Mexican, but it's neither a Cheez-Whiz-on-the-nachos kind of place nor one of those tiny spots that are pretty inaccessible if English is your first language. I've been talking a lot about fusion lately and there's some of that on Phat Phrank's menu, although most of it is very authentic. Accessible authentic.
For an example of the fusiony touch I'd have to start with the Carne Asada Fries ($6.99), which is exactly what we did. This one sounded pretty interesting because it seemed like nachos, except on fries instead of tortilla chips. And indeed that's pretty much what it was, a big pile of crisply fried potatoes topped with, of course, carne asada, plus beans and cheese and as much salsa as you'd like to pile on. I had been more curious about it than anything, but we sure did dig in to what was a very guilty pleasure.
Mama Maria's Enchilada ($7.99) was billed as a family favorite, and it was easy to see why. Instead of being rolled, as in traditional enchiladas, these tortillas were stacked, layered with cheese and sauce and the chicken that we added for $1.50, the whole thing topped with a fried egg that dribbled its richness over the pile.
And the Adobada Torta ($7.39), a selection I'd been pondering, which was cemented by a wall-mounted local article listing it as among the valley's best sandwiches. It was, indeed, excellent, the seasoned pork braised and then fried until crisp, piled onto a roll that was smaller than most torta rolls (therefore putting the filling-to-bread ratio in better proportion) with shredded lettuce and cabbage for nice textural contrasts, plus onions, tomato, cheese, cilantro and a self-proclaimed secret sauce. This one was so good that, when I couldn't finish it, I took half of it home to have as lunch the next day. Yes, it was soggy by then, but the perfectly balanced flavors made up for that.
So despite indications to the contrary, Phat Phrank's is an established restaurant, and after our visit I can certainly understand why. Why it masquerades as a newbie and isn't a tad more welcoming is a mystery to me.
— Las Vegas Review-Journal restaurant reviews are done anonymously at Review-Journal expense. Email Heidi Knapp Rinella at Hrinella@reviewjournal.com. Find more of her stories at www.reviewjournal.com and follow @HKRinella on Twitter.