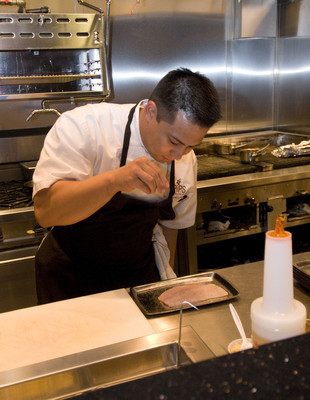 I love my job. Love it, love it, love it.
But like all jobs — even fantasy vocations such as Oscar-winning actor, mogul or member of royalty — it does have its downsides, teensy though they may be. One of those is that, because we try to mix things up, I can't dine wherever I happen to feel like dining on a given evening but have to stick to the schedule. And a sort of corollary to that is the fact that there are a lot of Italian restaurants (and steakhouses) in Las Vegas, as across the country.
The problem? Well, a lot of them are pretty similar, bless their hearts. The savvier owners try to find a niche that makes them stand out from the crowd while still hewing to a very popular theme, but many don't. They may serve a very good dish of pasta, but if it's much the same as the dish of pasta being served by the restaurant down the block, there's not much to separate them from the pack. Which is something that, I'd wager, is never going to happen to Pips Cucina & Wine Bar at Aliante Station.
I did notice that Pips' menu has been dumbed-down a little since its opening (according to the menu posted on the resort's Web site, at any rate). That may be a factor of the clientele, or maybe the economy; it's not unusual (and actually usually advisable) for a new restaurant to make adjustments as the shakedown period progresses. But while I was a little disappointed to note the shift, there still are a few offbeat dishes on there, and they're excellently prepared.
To wit: carpaccio ($13), which seemed like anything but unusual, even though it was the less-common tuna rather than beef. But I was intrigued by the promise of a "grilled eggplant tart," and for good reason, as it turned out. While I might have expected a traditional tart, with eggplant and egg and cheese, what was served was a square of flatbread topped with thin slices of raw tuna and slices of grilled eggplant. All of the elements — the flatbread, the tuna and the eggplant — were done to best advantage, so that you had the cool, mild slices of firm fish and softer, warm eggplant not battling for assertiveness but getting along quite amiably on the crisp, neutral flatbread.
And speaking of wit: Meatball sliders ($19) were a somewhat whimsical offering. Conversely, they were much as expected (which isn't always a bad thing), three plump, well-seasoned spheres coated with a good marinara and topped with melted mozzarella, and resting on small split rolls with enough substance to keep it all together.
But here's the surprise with this one: It was billed as being accompanied by crispy rosemary potatoes, which sounded like the familiar new potatoes with the herbed olive-oil treatment but turned out to be perfectly shaped little dice (and I'm not sure why that was particularly impressive, but it was) fried until the edges were crisp and dusted with a generous amount of rosemary. I just wanted to keep eating those, and to heck with everything else.
Burrata-stuffed Campari tomatoes ($12) were another spherical delight. Burrata is a fresh mozzarella that's a sort of casing with a soft, creamy interior; Campari tomatoes are a trademarked variety known for their purity of flavor and texture, and they're sort of smallish — the perfect size to hold just enough cheese for a nice proportion. So you had the creamy richness of the cheese and the Mother Nature flavor of the tomatoes and a basil essence, for a very successful variation on a classic combination.
Since we were having two starters, we didn't even consider soup — until the assistant waiter told us it was Parmesan consomme ($7). Eh, what? We decided to split some, and they did that for us, bringing two bowls, each centered with three homemade tortellini, the delicate pasta enfolding a nice bright pesto mixture. And then another assistant waiter poured over them the consomme, contained in a carafe. We were instantly taken with the deep, earthy aroma — and soon the characteristic, unmistakable flavor — of the well-aged cheese, yes, in a nice light consomme. Magic.
And we closed with the Fried and Fresh Pasta ($14), which was squares of fresh pasta tossed with squares of fried pasta in a sauce in which the cherry tomatoes were nearly whole. The fresh pasta was maybe not as al dente as would be ideal because of its juxtaposition with the fried pasta, but that's a mere quibble and didn't at all affect our enjoyment of the dish.
Service throughout was excellent; I've never seen so many smiling, friendly people, and they actually seemed sincere. Our waitress was tied up at times with a couple of big parties, but there always seemed to be an assistant waiter — and even owner Rino Armeni himself — to attend to our needs. The staff alone did a lot to raise the comfort level of Pips, but so did the wide open spaces, comfortable booths, soft (but not overly dim) lighting and attractive accents like large stone pillars. Oh, and an Enomatic dispensing device, so numerous good wines are available by the glass, and in 1-, 3- or 5-ounce servings.
Aliante Station is out of the way for most of us in the valley, but Pips is worth the trip. At these prices — quite reasonable for the quality involved — and with this level of service, I can't imagine why you'd forgo it for another round at the Same Old Thing.
Las Vegas Review-Journal reviews are done anonymously at Review-Journal expense. Contact Heidi Knapp Rinella at 383-0474 or e-mail her at hrinella@reviewjournal. com.
Review
Pips Cucina & Wine Bar, Aliante Station, 7300 Aliante Parkway; 692-7477
Overall A
Food A
Atmosphere A
Service A
Pluses: Top-notch, varied food at reasonable prices.
Minuses: I hope they bring some of the old menu back.