Pizza Rock clearly respects the craft
February 7, 2014 - 11:11 am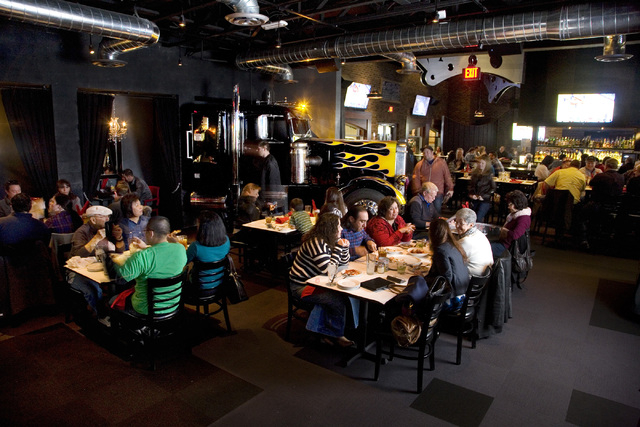 It's all about the crust.
Although, yes, sauce and toppings individualize a pizza and help separate a great pie from a good (or not-so-good) one, the crust is the foundation of it all, figuratively as well as literally. So, when 11-time world pizza champion Tony Gemignani opened his Pizza Rock downtown with ovens that could be heated to four different temperatures — thereby enabling his pizzaolas to prepare at least four different styles of crust — it was worthy of note, at least theoretically.
But would that translate to reality? Absolutely, as it turns out. To get to that point we undertook a bit of analysis, trying a couple of styles — a Neapolitan, which is baked at 900 degrees in a wood-fired oven, and a New York/New Haven, made in a brick oven heated to 700 degrees.
Neapolitan-style pizza has become more familiar to Las Vegans in large part because of Settebello, which recently added a westside location to its established spot in Henderson, and the newer Novecento (which means "900"), also on both the west and east sides of the valley. Baked at a temperature this high — as it was in the birthplace of pizza, Naples, Italy, (hence "Neapolitan") — requires a brief time in the oven and a thin crust without an overload of toppings to weigh it down. The result should be thin, yes, but stretchy, with a slight smoky tinge and a few charred spots courtesy of that wood-fired oven.
That was exactly the case with our Neapolitan-style Margherita ($17). You want authenticity? Pizza Rock's menu says that only 73 of these crusts can be prepared daily, and that they're made with traditional Neapolitan San Felice flour and proofed in boxes of Neapolitan wood. The Margherita, a classic in the colors of the Italian flag, was topped with just tomatoes (imported San Marzano tomatoes), fresh basil and mozzarella. The pizza was cooked perfectly, the simple, basic flavors pure.
New Yorkers with their brick ovens changed the nature of pizza about 100 years ago, using a lower temperature and more substantial crust that was bigger than the standard 14-inch Neapolitan, with slices that could be folded for eating. And thus it was with the New Yorker ($23). Again, the crust shone, without being overwhelmed by the toppings: the coating of tomato sauce was relatively light, the mozzarella applied in slices instead of a smothering blanket of shredded cheese, ricotta in dollops, pepperoni in tiny slices and fennel-laced Italian sausage in chunks.
Even at a place named Pizza Rock, though, one might expect to find some variety, and that was the case here. A very large Manhattan calzone ($12) was very good, again with the crust nice balanced by the filling of meatballs, mozzarella and ricotta. But here was something we don't see every day: the option to order it deep-fried instead of baked. We tried it and basically liked it, although we didn't think the frying was an improvement on the original.
Starters, too, in the form of fried green beans ($6) and beer-battered artichokes ($8.50), both of which were excellent and neither of which were what we expected. The al-dente beans had actually been sauteed, in olive oil and garlic, and were slightly (but only slightly) crisp, very garlicky and positively addictive. The artichokes, prepared with, the menu said, Italian Moretti beer, were cut into quarters including their stems before they were coated and fried. The result was pop-shaped chokes, the puffy coating of which yielded to a center that was almost creamy.
As we ate we got a good look at the place, which is, if memory serves, in a defunct small casino, across the street from the Downtown Grand and just south of Triple George. It's a deceptively large space that's been done in a motif that feels faintly rock-ish, faintly industrial, with a soundtrack of rock from multiple eras.
The music isn't overly loud, the interior isn't overdone (with paper table-toppers rubber-stamped "Respect the craft," which Gemignani clearly does, and napkin-wrapped flatware in buckets), the pizzas neither overthought nor overwrought.
Simple — and yes, better — ingredients, skillfully prepared and used to showcase their best qualities. Papa John could learn something from Gemignani.
Las Vegas Review-Journal restaurant reviews are done anonymously at Review-Journal expense. Email Heidi Knapp Rinella at Hrinella@reviewjournal.com, or call 702-383-0474. Follow @HKRinella on Twitter.
Pizza Rock, 201 N. Third St.; 702-385-0838 or www.PizzaRockLasVegas.com
Overall A
Food A
Atmosphere A
Service A
Pluses: Multiple styles of pizza, well prepared.
Minuses: Delivery to the table wasn't timed as well as it could have been.