November 28, 2008 - 10:00 pm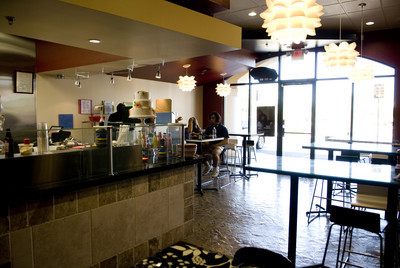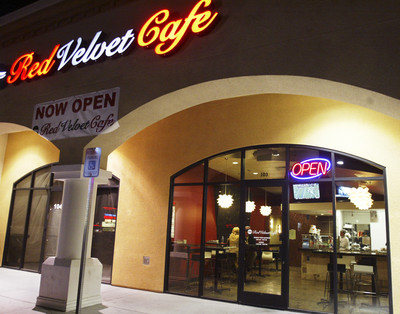 Cheddar-bacon fries at a restaurant whose slogan is "designed with health in mind?" Who knew?
Well, OK, we think a big part of the reason the Red Velvet Cafe serves cheddar-bacon fries is that this is a restaurant whose management and staff also have vegans and vegetarians in mind, with pseudo-meat and soy-cheese options for a lot of its dishes, the cheddar-bacon fries among them. As for the rest of us, we can't be expected to eat healthfully all of the time, can we?
It was with that sentiment in mind that we tried the fries ($7; the vegan version is $8), and they were worthy equals to any bar food, though with less grease. The fries were crisp and hot, the cheese plentiful, and the crisp bacon seemed like the real thing because it had plenty of flavor.
But maybe we were just so deep in cheese we didn't notice, because the bacon in the avocado-basil spaghetti ($12.95) definitely was the turkey variety, which has less fat, less smokiness and none of the good pork flavor of the kind with all of the chemicals and saturated fat. This one we tried just because it sounded so unusual — avocado-basil? — and it turned out to be quite tasty, the flavors (along with olive oil, garlic and grilled chicken) pinging off of each other like the inside of a pinball machine. Two problems: The spaghetti was cooked too much, well beyond the stage of al dente; had it not been so soft it would've provided better textural contrast to the avocado and chicken. And there was too much of the olive-oil-based sauce, so that the plate was pretty well swamped.
Included with the spaghetti was a salad that was overdressed in the same way that the spaghetti was oversauced. That was a shame because it contained a nicely varied mix of greens and the vinaigrette was more vinegar than oil, for an appealing edge.
A chicken Caesar wrap ($7.99) was better executed, stuffed with lots of crisp romaine and a good balance of tomato and mozzarella — and just enough Caesar dressing to make it into a party without putting a lampshade on its head. With the option of a side salad or baked chips with this one, we chose the chips, which were, we thought, your basic Baked Lays, crunchy and fresh.
And the highlight of our dinner: red velvet cake ($3.95). We figured that a place called the Red Velvet Cafe ought to make a decent red velvet cake no matter its dietary considerations, and we figured right. The best red velvet has a bit of an acidic note from vinegar, just a touch of chocolate flavor, a lot of moistness and isn't overly sweet. This one (which was a sort of big cupcake, with a topknot of fluffy white icing) hit the mark on all counts, and was beyond doubt the best commercially prepared red velvet cake we've had anywhere outside the South.
Was it healthful? Hmmm. Probably not.
If you're a vegan or vegetarian, Red Velvet Cafe is no doubt a godsend, considering how slim the pickings are in Las Vegas. But the management is smart enough to strike a balance: There are just enough nonhealthful offerings to satisfy the rest of us.
Las Vegas Review-Journal reviews are done anonymously at Review-Journal expense. Contact Heidi Knapp Rinella at 383-9474 or e-mail her at hrinella@reviewjournal.com.
Review Red Velvet Cafe 7875 W. Sahara Ave., 360-1972 Overall B Food B- Atmosphere B+ Service A Pluses: Vegan and vegetarian options, plus those for the rest of us. Minuses: Oversauced and overdressed dishes.