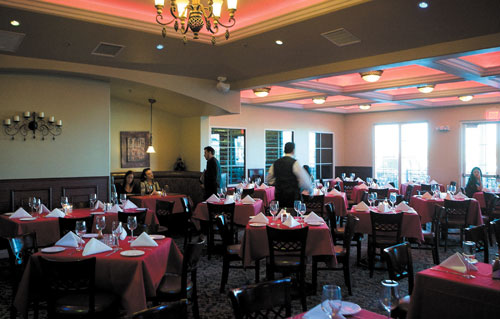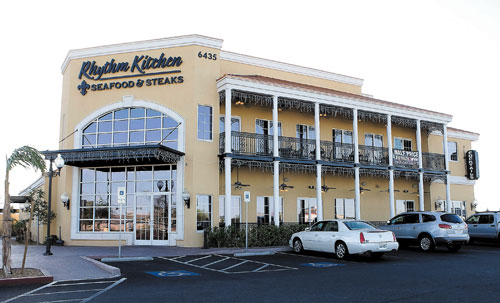 The difference between Creole and Cajun food? The wags would have it that it's a difference between linen napkins and paper, but I've always thought it was a matter of degree — as in levels on the hot-pepper index. And to that end, I'd have to characterize Rhythm Kitchen as mainly Cajun.
Consider: the charbroiled oysters ($9.79), which were listed on the menu as being grilled with garlic and Parmesan cheese and a Cajun compound butter. I actually overlooked that little "Cajun" word, and if you're faint of palate, you'll do so at your peril. I'm not, and so I thoroughly enjoyed the briny nuggets topped with a mound of red-pepper-fueled fire. That's because it wasn't just heat, but was imbued with some complex flavors that brought much to the party. But while its assertiveness didn't overwhelm the flavors of the oysters, I can't say the same for the garlic and Parmesan.
The trend continued with our entrees, which — this was the first clue — came from the "Cajun Classic" section of the menu. I had high hopes for the crawfish etouffee ($15.99), and I wasn't disappointed. The sauce carried the deep flavor of a well-browned roux whose mellowness was cut with a hint of garlic and a jolt of pepper, but the best part was the serious abundance of curly crawfish tails that kept revealing themselves as we made our way through the rice and sauce.
I was kind of curious about the blackened chicken pasta ($14.29, or $15.79 with shrimp), mainly because I wondered if they'd really blacken the chicken before tossing it with the other ingredients. Blackening originated in New Orleans, where chefs, originally working mainly with redfish, developed a method of coating it with blazing spices and then searing it in an even hotter cast-iron pan.
And this version served the tradition well. By itself, the chicken was appropriately kicky, but it was mellowed considerably by being bathed in a creamy, cheese-inflected sauce and served atop rotini pasta.
I'd be remiss if I didn't mention the bread basket. It contained a couple of decent enough little rolls, but also a honey butter that nicely exploited the Southern fondness for sweets. It also contained a whole bunch of the best hush puppies I've had in … well, in my entire life, and I've eaten more than a few hush puppies. Who knew they could be this flavorful? Who knew they could be this moist? The chef at Rhythm Kitchen, clearly.
I'd also be remiss if I didn't mention the bread pudding ($5.59), a big slab of richness that also paid homage to the Southern fondness for sweets.
But I'd also be remiss if I didn't mention the service snags we encountered. For instance, after waiting quite a while for the oysters to arrive, we were presented with our entrees. Told of the error, the runner returned them to the kitchen and returned a little while later with the oysters. Our entrees didn't seem to suffer from being held — which is at least in part due to their nature — and our waitress took responsibility and apologized profusely, so that helped. Later on, she removed a water glass for a refill and never returned with it. We liked her, though; she was very pleasant and articulate, but just seemed a little flustered.
And yes, I need to tell you that not everything on the Rhythm Kitchen menu is incendiary. There are steaks, for example, and seafood and — this being a self-respecting Southern restaurant — a healthy (or maybe not-so-healthy) component of fried dishes, including frog legs.
But between the food, the music and the decor, this big barn of a place actually kind of feels like it's in Louisiana. And in Cajun country, you'd want to eat as the Cajuns do.
Las Vegas Review-Journal reviews are done anonymously at Stephens Media Group expense. Contact Heidi Knapp Rinella at 383-0474 or e-mail her at hrinella@reviewjournal.com.
Review
Rhythm Kitchen, 6435 S. Decatur Blvd.; 767-8438
Overall — A-
Food — A
Atmosphere — A
Service — B-
Pluses: Good, authentic Cajun food.
Minuses: Some service snags.