Snack and dessert wagons are among the creative touches at Harvest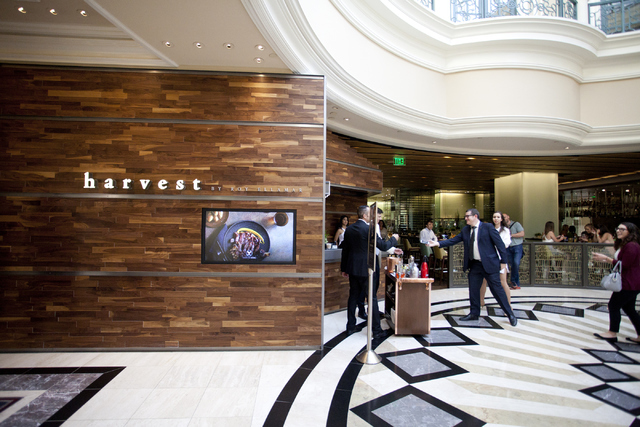 With all due respect, the staff at Harvest could learn a lot from dim sum ladies.
Harvest, Bellagio's relatively new farm-to-table restaurant from longtime resort chef Roy Ellamar, has snack and dessert wagons, or carts, that travel from table to table, sort of like those in a dim sum place. As in those places, each table has a card that lists everything and gives the servers a place to mark what you've taken.
I know of only a handful of other local restaurants that have carts, whether they be dessert, beverage or whatever, so you think it would be presented with a flourish: "Here's this, here's that, ta-da!" But that wasn't the case. When the staff member wheeled the cart up, it wasn't close enough for us to see what was on it, so we just picked off the card, he served it and left, repeating the process at other tables.
Talk about hiding your light under a bushel. Ellamar has announced guest chefs for the snack cart, and if I were one of them, I'd want much more of a show than what's going on now.
Our server did a better job with the dessert cart. After she wheeled it up she pointed to each thing in turn so we could decide by looking, not reading. And we were happy with our choices ($10 for three), a little berry tart, a chocolate-moussy dessert and a cup of creme brulee perfectly balanced between brittle sugar crust and rich eggy custard.
And OK, while I'm picking nits, here's another one. Harvest is, as the name implies, a farm-to-table type of restaurant that serves food that's as local as possible, considering we live in a big desert. So how come they ask you about bottled water first? Doesn't farm-to-table apply to water, too?
But I don't really mean to pick, because everything we had at Harvest was very well prepared and we liked the spare, streamlined interior that manages to split the difference between natural and contemporary with rock forming most of the walls, herbs in pots on the tables and the huge, four-sided, glass-enclosed kitchen.
The roasted half chicken, for example ($34). I've kind of had a secret favorite roast chicken in town, and this one blew that one right out of the oven. From a California source, it had been brined in local ale and smoked in-house, resulting in a crisp, deeply flavored skin and irresistibly moist meat.
We ordered the spring pasta garganelli ($21) because it was billed as containing local tomatoes, and they were very nice, grape-sized, sweet and tender. There also were tiny nubs of squash, sections of crisp, skinny asparagus, broccolini and an assortment of greens in which I thought I could detect the bitter austerity of arugula and the subtle anise of fennel, along with a shot of lemon.
A salad of mozzarella and tomatoes ($14) was billed as having hand-pulled cheese and the texture was suitably nice and chewy, the exterior lightly coated with oil and herbs. With it was a big pile of lightly dressed fresh arugula from Sandy Valley with a few sprigs of Thai basil.
And you probably want to know what we ordered from the snack wagon, right? It was billed as "charred eggplant" ($8), and if we had seen it we probably would've gone with something else because we didn't expect a puree, although it was tasty enough. The cumin-seed-flecked papadum crackers on the side made for a nice combination, but not quite as nice as the cucumber-yogurt spread served with the breadsticks and lavosh before dinner.
Our server was a gem, and her team supported her well, refilling water classes promptly and not clearing plates too promptly, which is one of my pet peeves. All in all, it was a comfortable, pleasing experience with excellent food.
But this is Las Vegas, guys. Let's go for the flourish.
Las Vegas Review-Journal restaurant reviews are done anonymously at Review-Journal expense. Email Heidi Knapp Rinella at hrinella@reviewjournal.com. Find more of her stories at www.reviewjournal.com, and follow @HKRinella on Twitter.
Harvest, Bellagio, 3600 Las Vegas Blvd. South; 702-693-8865
The essence: Great, creative food and good service in a pleasant atmosphere.