Special touches make Lazy Dog a rare breed
September 18, 2015 - 11:46 am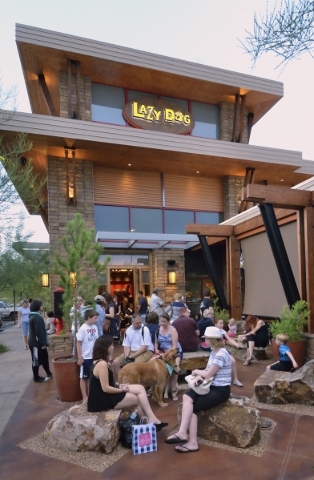 Lazy Dog Restaurant & Bar feels like a weekend in Aspen.
Well, maybe not a whole weekend, because that would indicate glacially slow service. But the feeling is there, from the big stone fireplace, the oversized iron lighting fixtures with wildlife cutouts and wood and stone everywhere you look. And there's the clear affection for dogs — real ones on the patio, some of them eating from the dogs' menu (grilled chicken breast and brown rice, $4.95); others as statues or represented by pawprints or lettering, like the "Sit. Stay. Eat. Play!" above the open kitchen window. And it turns out the chain's theme was inspired by the founder's love for Jackson Hole, Wyo., so his mission comes through.
But mountain-inspired decor and an indulgent attitude toward dog lovers aren't exactly revolutionary, and neither are restaurants like Lazy Dog, which in another era we called fern bars but which basically are characterized by an atmosphere of casual comfort and a menu that borrows from various cuisines and styles, in an attempt to satisfy the broadest demographic possible.
So how does Lazy Dog stand out? By doing things better than most of the competition.
That was evident pretty much from the moment we walked in the door and were enveloped by the decor that enabled us to pretend we'd sneaked away for some time in the mountains. Just inside the door we found the podium where a couple of bright and friendly employees asked a question or two about preferences and seated us promptly. Our server was a little long in coming, but when she did it was with profuse apologies, just the first indication that she had a savvy sense of the passage of time from the perspective of the customer, which tends to be kinda rare on the part of servers.
While the menu covers most of the basics, the details are more interesting than most, and that extends to the drinks; a margarita take on the classic Salty Dog was refreshing on several levels. As for the food, there are the pizzas and the pastas and the like, but while much of it's familiar, it's rarely to the point of breeding contempt.
We started with Hawaiian Ahi Poke ($10.25), a familiar dish elevated by a sesame-peanut vinaigrette, crispy wonton rafts on which the raw tuna and avocado mixture was served and a sprinkling of sesame seeds to add crunch and another flavor note.
Veggie lasagna ($10.25) isn't all that offbeat, but this one was different. The vegetables — roasted red peppers, onions and mushrooms — dominated here, which is as it should be but usually isn't. The blend of cheeses included a generous proportion of goat cheese to add an earthy note to the more customary mozzarella and Parmesan, and a profusion of marjoram throughout the dish and artfully arranged ring of sliced zucchini on top made it stand out even more.
Carne asada ($15.25), another familiar dish, reflected much in the way of attention to detail. The skirt steak had been deeply marinated and, served just a quarter-shade past our preferred medium rare, was tender and flavorful. The sides were far from afterthoughts, with a mound of cabbage for lovely freshness and crunch, black beans sprinkled with queso fresco and tomatoed rice shot through with peas, diced carrots and kernels of corn.
But back to the service: As we waited for the ahi poke to be served, it seemed rather an extended period, during which we sipped our drinks, talked, took in the atmosphere but didn't complain to each other or our server. She approached, though, and told us she'd noticed the starter was talking inordinately long and had already informed the manager — after which, of course, the dish promptly arrived. It impressed us because, while she was serving quite a few tables, she had a keen sense of the timing at ours. And when the check arrived with the price of the ahi removed, our estimation just climbed.
A well-run restaurant keeps careful track of how it's treating its customers, and empowers its employees to do the same. That's something we don't see much of today, more's the pity, and a credit to the Lazy Dog.
— Las Vegas Review-Journal restaurant reviews are done anonymously at Review-Journal expense. Email Heidi Knapp Rinella at Hrinella@reviewjournal.com. Find more of her stories at www.reviewjournal.com and bestoflasvegas.com, and follow @HKRinella on Twitter.