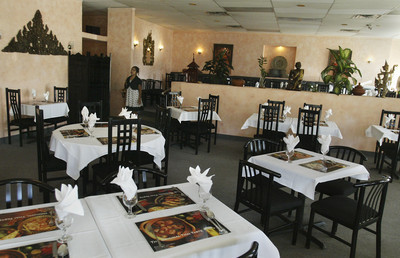 Man.
I'm convinced it's a sign of our dismal economy — and if that's the case, I'm even more concerned about the survival of local mom-and-pops than I usually am — but for the second time in the past few weeks, we found ourselves in a restaurant — a good restaurant, as it turned out — that was virtually empty.
The most recent case was The V Thai Cuisine, the challenges of which are even greater because it's in a not-terribly-visible location. It's on the corner of a busy intersection, Sahara Avenue and Decatur Boulevard, but is sort of tucked behind a Jack in the Box and a Borders that front on Decatur. While it was home for years to the successful Mayflower Cuisinier, that restaurant (which has transformed into Woo at the Palazzo) was established back when the center was far more busy. And if things don't pick up, I fear The V will never get established — which would be a shame, because it's a positive addition to the Las Vegas restaurant community.
For example? For example the Larb ($9), a traditional Thai salad. From the available meat choices, we chose chicken and were served a rendition that was true to the classic, notable for the bright, lively mix of flavors and textures. The finely chopped chicken had been gently (but thoroughly) sauteed with enough red Thai chili pepper to provide plenty of zip, plus lime juice for a light citrus tang and roasted rice powder to absorb the liquid and provide the characteristic grainy (but in a good way) texture. Then it was tossed with red onion, shredded carrots and fresh mint and cilantro for a colorful dish that provided an ever-shifting palette of tastes. And the finishing visual touch, again so characteristic of well-prepared Thai cuisine: It was served in a large, cup-shaped cabbage leaf that had been attractively trimmed and accompanied by a few puffy shrimp chips.
Equally satisfying was an appetizer of Thai Beef Jerky ($8), which was somewhat akin to the more traditional satay but with more interesting textural qualities. The strips of peppered beef had been sun-dried, according to the menu, and they were nicely chewy. They were quite spicy on their own, even more so with the sweet-spicy sauce on the side. To quell the fire, we took the option of adding a side of sticky rice ($2), which was served pyramid-shaped, wrapped in the traditional banana leaf.
This was our first encounter with Rad Nae ($9), also known as Rad Na, and while the dish was well prepared, I don't think we'd order it again soon. The beef (pork, tofu and shrimp are other choices) was tender and flavorful, the Chinese broccoli (American broccoli is another option) perfectly crisp-tender, the wide rice noodles meltingly tender. It was the gravy that was a bit of a damper. We knew the dish would include it, but with so many other vibrantly flavored choices in Thai cuisine, this seemed a little tame.
It wasn't our first encounter with Panang Curry ($9), which is one of our favorite Thai dishes, if a somewhat indulgent choice. The pork we chose (chicken, beef, tofu and shrimp are other options) was probably the best we've ever had in this dish, cut into delicate scallops that were cooked just enough, so that they retained a moist, tender texture. The sauce was the characteristically coconut-flavored silken wonder, but it was a bit on the salty side. Steamed rice was included.
Service throughout was excellent. If this is, as we assume, a mom-and-pop place, we think it was Pop that was serving us, with the help of his young daughter, with Mom perhaps in the kitchen. At any rate, he was quite effective, with the good sense to hold off when we didn't need him, and clearing and serving smoothly and efficiently.
We liked the atmosphere, as well, which was soothing and subdued in gentle neutral colors, with music by Sarah McLachlan somewhat incongruously (but again, soothingly, and most pleasantly) coming from the speakers.
After we left the empty restaurant, we drove past an Olive Garden with a nearly full parking lot.
Talk about incongruity.
Las Vegas Review-Journal reviews are done at Review-Journal expense. Contact Heidi Knapp Rinella at 383-0474 or e-mail her at hrinella@reviewjournal.com.
REVIEW
what: The V Thai Cuisine
where: 4750 W. Sahara Ave.
phone: 870-8432
overall: A-
food: A-
atmosphere: A
service: A
pluses: A soothing foray with great food.
minuses: No wine or beer, although they're reportedly on the way.