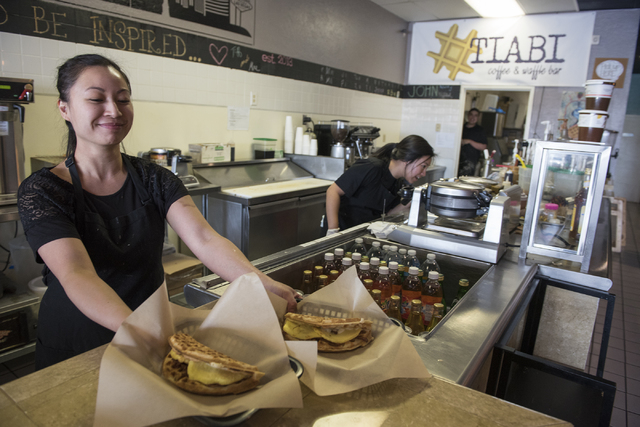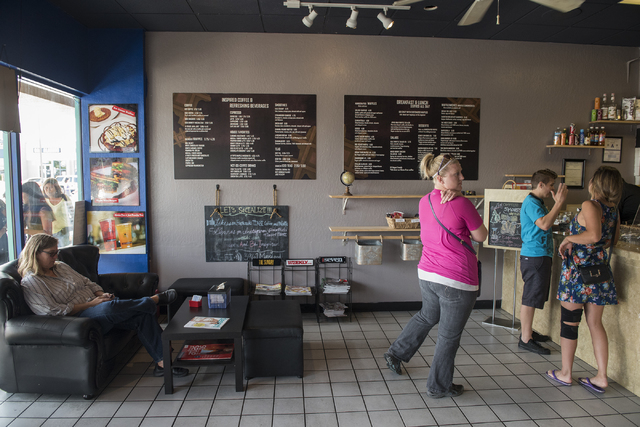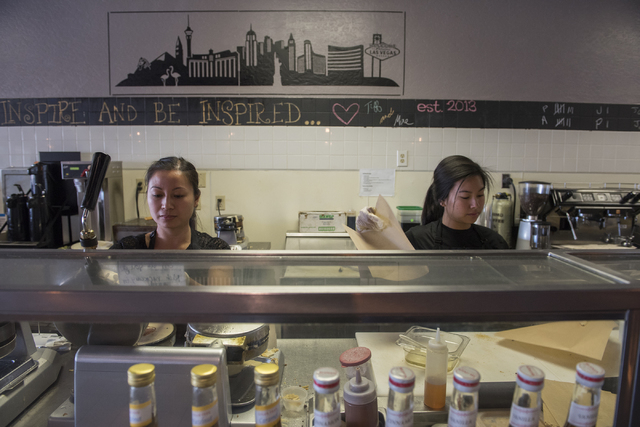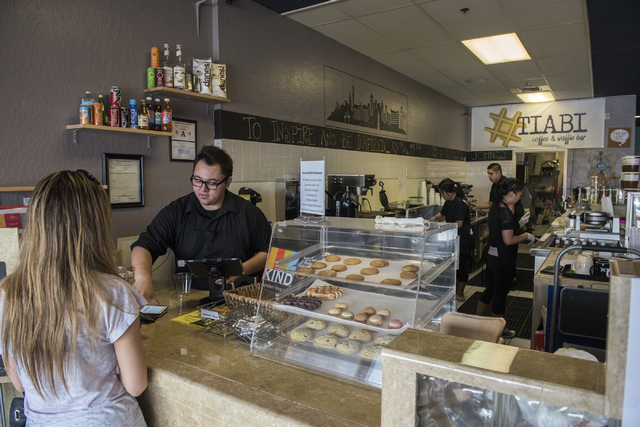 I had a feeling I was going to like Tiabi Coffee & Waffle Bar from the moment I stepped through the door and caught a whiff of the place.
The smell of fresh waffles was in the air — butter, sugar and milk, gently toasting on hot irons. It seemed an omen of good things to come, and in fact, it was.
As you might infer from the name, Tiabi specializes in waffles, both sweet and savory, and it does a fine job at both. The South American ($5.95), an example of the latter, was a waffle sandwich, the crisp pastry folded around a filling of ham, melted cheese and avocado, all of which melded nicely and seemed particularly suitable within its shell, which had a crisp exterior and light interior. And we particularly liked the Tiabi sauce, which added a nice herbal note.
The Viva Las Elvis ($6.99), an example of the former, put me off because it seemed like an exercise in wretched excess, and I was bemused to realize one would end up across the table. Lo and behold, it was a slightly thicker waffle with a similarly crisp exterior but an almost creamy interior and toppings that had been applied judiciously. The thick slices of banana were on the green side of ripe, a positive because it meant they were firm and not terribly sweet. There were plenty of big pieces of bacon, but the peanut butter had been thinned, and it and the honey had been just drizzled over, with an admirable touch of restraint.
More simple but also on the sweet side of the menu was the Kisses ($4.99), a waffle topped with sweet-tart strawberry halves, chocolate and whipped cream, an age-old flavor combination that has worn well because it works.
And we shared an affogato ($2.99), an Italian classic that's tough to find in Las Vegas. Usually, it's just vanilla gelato or ice cream doused with a shot of espresso; Tiabi gilds the lily by adding whipped cream. It was great, at any rate; a lovely set of contrasts that would be especially appealing on a steamy summer day.
Speaking of appealing: so is Tiabi as a whole. It's in a strip center near a Target store, simply decorated with some art pieces and neutral colors, with an open kitchen where you can see the waffle makers and watch the magic happen.
Cooking is alchemy, using simple ingredients to form a new creation. And Tiabi Coffee & Waffle Bar has perfected the art.
Las Vegas Review-Journal restaurant reviews are done anonymously at Review-Journal expense. Email Heidi Knapp Rinella at hrinella@reviewjournal.com. Find more of her stories at bestoflasvegas.com, and follow @HKRinella on Twitter.