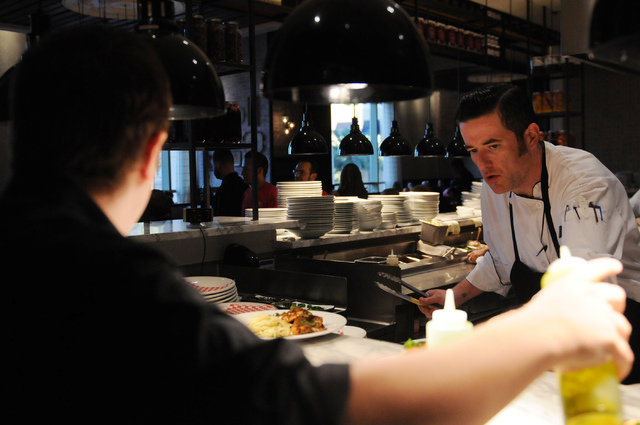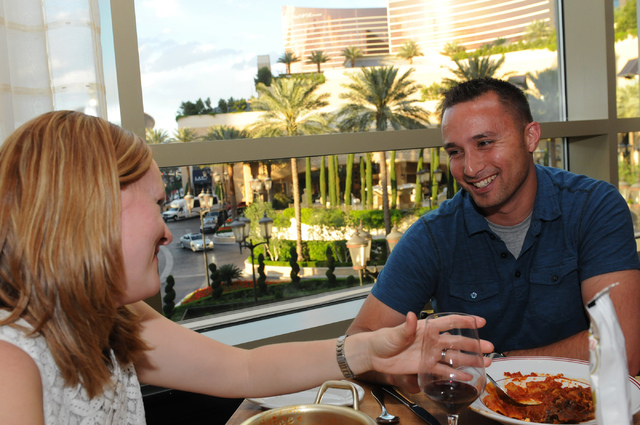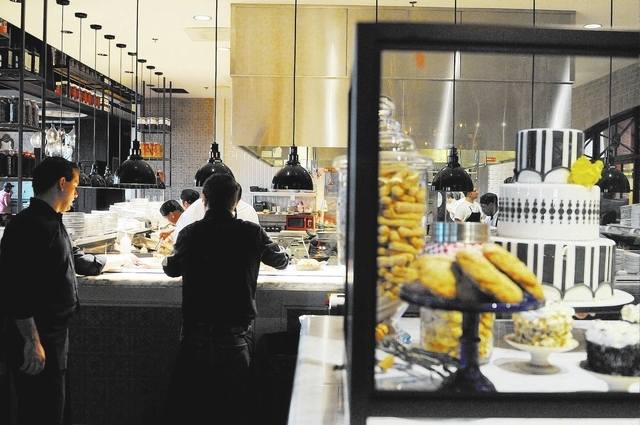 I don't know if it's because of my years as a journalist or my years as a restaurant critic or a combination of the two, but it sometimes happens that I'm not real impressed by an announcement that yet another celebrity chef is coming to town.
This week's case in point is Buddy V, aka Buddy Valastro. Aka TLC's "Cake Boss." I'd heard of him but I'm not much of a reality-TV fan, so when a publicist told me Valastro was opening a restaurant here — and on the Strip, no less — the eye roll was there, at least mentally.
My first question was whether it was going to be a dessert restaurant, considering Valastro's presumably well-earned moniker. No, I was told, it's Italian. So, OK. I know Valastro is Italian, and from the New York area and all that, but ethnicity and geography don't necessarily a successful chef, or even good cook, make. I held little hope that Buddy V's Ristorante would be anything more than a tourist trap.
Boy, was I wrong.
That was evident from the first taste of Aunt Nina's Mozzarella en Carrozza ($12). Well, that actually was presaged by the pieces of focaccia we were brought. They had the characteristic sort of springy texture of good focaccia, but were lighter and higher. We were offered a choice of butter or olive oil and balsamic vinegar (a nice touch), and with the latter, we really enjoyed this little lagniappe. But Valastro's famous as a baker, so no real surprise there, right?
Mozzarella in Carrozza is a different story. This old-school starter has all but disappeared from restaurant menus, in large part because it's no cinch to prepare. The mozzarella cheese is encased in a "carriage" of thinly sliced bread, which is battered and fried before being served with a hearty tomato sauce. Getting it all to stay together, and preparing it so that the bread doesn't soak up the oil while frying, is a bit of a challenge.
And so I bit into a piece. And wow. And then I tasted the accompanying sauce, and wow, wow, wow. The red sauce (or sauces) are the soul of any red-sauce place, of course, and that's what Buddy V's is at heart. And this was awfully good red sauce. I don't have any illusions that Aunt Nina or any of Valastro's other relatives are in the kitchen, but whoever is has the soul of a classic Italian cook.
Which also showed in the Valastro's Sunday Gravy (Buddy's Family Recipe) ($25). I was a little bemused by this one because the menu said it came with rigatoni, which my half-Neapolitan, half-Sicilian other half rightly maintains should always accompany a hearty red sauce (although he'd never call it Sunday Gravy, which is a geographic thing), because its chunky tube shape is the perfect vehicle.
And there it was, a big bowl of al dente (which can be tricky with a pasta this thick) rigatoni, lightly bathed in sauce and accompanied by a casserole of more sauce containing meatballs, sausage, lamb and pork. The person who served it deftly scooped out a piece of each and added them to the bowl of pasta. And again, wow. The meatballs alone were a tour de force; I don't know how somebody makes a meatball this moist, this comparatively soft, and still gets it to hold together. But Buddy V's does.
For a change we thought we'd try My Dad's Bucatini ($24), which was described on the menu as "pancetta, black pepper, egg." I asked our server for more and she said it was a classic carbonara (clearly unlike the Macaroni &Cheese Carbonara on the starter menu, which has stuff foreign to the classic dish).
And there it was, classic and proper. Bucatini is a thick tubular pasta whose tube pretty much disappears during cooking, leaving something akin to a thick spaghetti. It was, like the rigatoni, perfectly al dente, and the sauce was suitably eggy, with tons of pancetta. This was a small serving in comparison to the Sunday Gravy, which showed good judgment because it was a rich dish.
And of course we couldn't leave without dessert: a Buddy V specialty Lobster Tail ($15), a pastry somewhat akin to a classic sfogliatelle but about twice as large, filled with pastry cream and accompanied by fresh berries. And every bit as good as it sounds; his reputation for this is well deserved.
Service throughout was excellent, the staff clearly there to serve, which plenty of managements forget these days. Arriving without reservations we were led into the bar and I almost asked for the dining room instead, but then I noticed that the table was next to a window on the Strip and the bar was very quiet, so it turned out to be primo seating.
No, friends, Buddy V's is no tourist trap. I know there's no little old lady in the kitchen, her hair pulled up and stockings rolled down, bending over a big pot as she stirs her red sauce for hours.
But it sure tastes like there is.
Las Vegas Review-Journal restaurant reviews are done anonymously at Review-Journal expense. Email Heidi Knapp Rinella at Hrinella@reviewjournal.com, or call 702-383-0474. Follow @HKRinella on Twitter.
Review
Buddy V's Ristorante, Grand Canal Shoppes, 3327 Las Vegas Blvd. South; 702-607-2350
Overall A
Food A
Atmosphere A
Service A
Pluses: Pretty much everything.
Minuses: That The Venetian is hard to reach the back way.