Tucky's doesn't limit itself to one kind of BBQ, and it works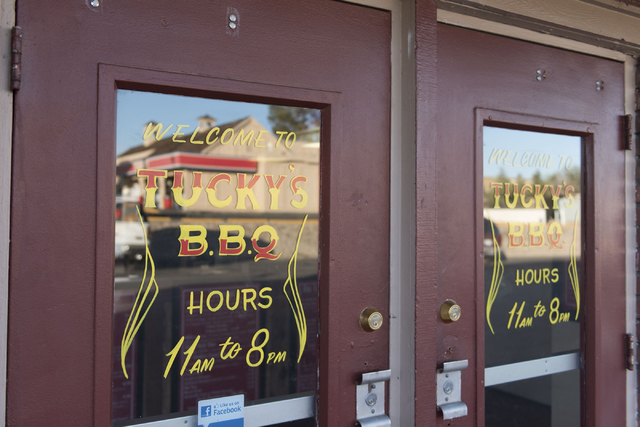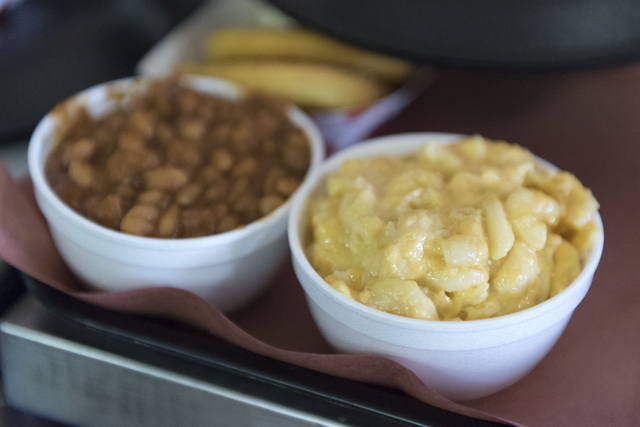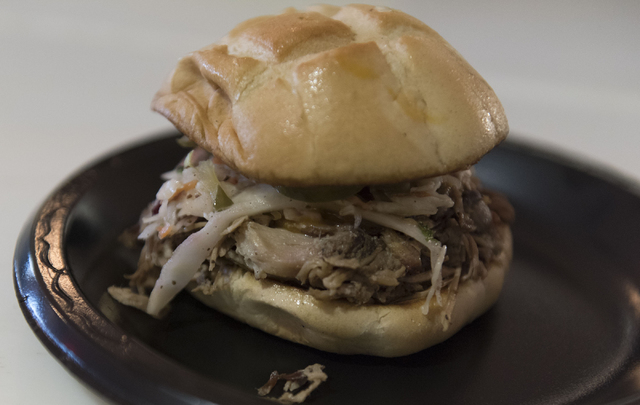 My father-in-law, may he rest in peace, was a man of simple tastes. Contrary to what you might expect in a family in which "boccegaloupe" was a term of endearment, his favorite dish was fried bologna. I remember my chagrin when, as a young bride, I asked the longtime Floridian how he liked his first taste of the prized stone crab I'd just served as part of Christmas dinner. He politely replied that it was tasty but just "too much trouble."
Fried bologna is a rarity on restaurant menus for a raft of reasons, most of them good. So when I spotted smoked bologna on the menu at Tucky's Smokin' BBQ in Henderson, I knew it was something we'd have to try.
As I wandered around Tucky's menu, I tried to figure out which style of barbecue was on show. One or two were easy to rule out; there wasn't any Alabama white barbecue sauce, for example. But after tasting Tucky's three sauces — kept hot in a warmer near the cash register, a nice touch — I decided it wasn't North Carolina, because the sauce owed far more to tomato than to vinegar, so I was thinking, well, maybe St. Louis. Dry-rubbed ribs brought to mind Memphis. Andouille clearly called out Louisiana. The brisket made me think of Texas, except it was chopped, and then the pulled pork did make me think of North Carolina, so there we were again. And then I read a little section of the menu that said Tucky's had arrived at its selection after a nationwide tasting of the best: "There is no bad barbecue, only learning opportunities," it promises.
Well, sure, there's plenty of bad barbecue out there, although I wouldn't say any particular region is to blame. And I also wouldn't say you're likely to find any of it at Tucky's.
We did indeed have the smoked bologna, as part of a two-meat combo platter for which we also chose smoked chicken ($15.95). The bologna was garlicky and thickly sliced, and the smoker had added more flavor nuance than a frying pan ever could. The chicken was also nice and smoky, but since the menu called it that we were a little surprised to get a pile of pulled chicken instead of a whole piece.
The brisket, which we had on a Texas-style brisket platter ($13.95), was also smoky, very moist and full of good beefy flavor, but it, too, was chopped. I don't recall ever having Texas-style brisket that was chopped, although anything is possible in a state of that size. But we did wonder if somebody at Tucky's has a problem with his or her teeth.
Sides (two came with each) were well above average, and they, too, toured the country. Baked beans were surprisingly kicky, a fine step away from the too-sweet, too-tomato-y versions we usually encounter. Classic potato salad would have been the pride of any self-respecting Midwestern farm wife, mayonnaise-based with plenty of onion. Green beans with bacon were right out of a Southern kitchen, soft in the beloved Southern way, with plenty of liquid. And cole slaw was cold, crisp, and bracing with its vinegar base. And after dining there we were advised by family members in the know that we totally blew it by not ordering the macaroni and cheese. Next time.
Cherry cobbler ($1.99) was OK, but not as good as you'd find in a soul-food restaurant.
Service was fine. Tucky's is in what looks like an old Pizza Hut, and it's light on frills. There are picnic benches for seating, but you order and pay at the counter, pick up plastic flatware, napkins and sauce on your way by, and the food is brought to the table. There was a steady stream of customers, mostly for takeout, and the experience was marred only by a guy we took to be the proprietor upbraiding one of his employees in front of the customers. Bad form, sir.
We'll go on wondering why so much of Tucky's meats are chopped, but we do know this: By not limiting itself to one style, Tucky's presents the best of the 'que world.
Las Vegas Review-Journal restaurant reviews are done anonymously at Review-Journal expense. Email Heidi Knapp Rinella at hrinella@reviewjournal.com. Find more of her stories at www.reviewjournal.com and follow @HKRinella on Twitter.
Tucky's Smokin' BBQ, 308 N. Boulder Highway, Henderson; 702-566-4BBQ (566-4227).
The essence: Good meats and side dishes representing various regions in the 'que empire.