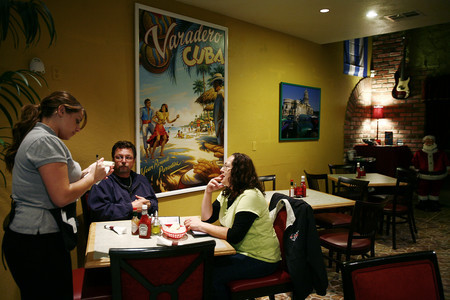 The owners of Varadero Cuban Restaurant definitely have gotten their mojo on.
It is, in this case, a little different than the more modern, hipster definition of mojo. I'm referring to mojo criollo, the classic sauce/seasoning/condiment of Cuban cuisine that's made mainly of garlic and onion and sour orange juice and olive oil and that amounts to an alchemist's elixir, turning the simplest ingredients into pure magic.
Like old clothes, for example. That would be the ropa vieja ($10.75), which translates to "old clothes," the name no doubt inspired by the fact that the dish is largely comprised of shreds of beef. Mojo criollo isn't commonly used in ropa vieja, but that remains my best guess as to the secret of this version, because the dish had a haunting, elusive and almost ethereal depth of flavors. As this was a large serving, I took the leftovers home, and upon dipping into it a couple of days later, I was again struck by the range of flavors, unlike those of any ropa vieja I've ever had before.
Entrees at Varadero include a choice of black beans and white rice — the "moros y cristianos" (Moors and Christians) — of tradition, or something the restaurant simply calls moros. That would be the beans, with chunks of smoked meat complementing the usual seasonings, mixed with the rice before serving.
Arroz con pollo ($10.95) was less subtle but no less skillfully prepared. Arriving from the kitchen it looked simply like a mountain of yellow rice, peppered with the obligatory peas, but of course the mountain covered a large serving of moist, well-flavored chicken. Fine but somewhat basic, the dish was elevated by the fingers of fried sweet plantains arranged atop in spokelike fashion.
One way to sample more of Varadero's meat dishes is through its appetizers of tostones rellenos, which are basically twice-fried green plantains (which form a cuplike shape thanks to the device used) filled with any of a number of choices, including ropa vieja. We decided to see what the kitchen could do with picadillo ($4.95), ground beef in a tomato-based sauce, which was the perfect foil for the austere tostones. The interplay of flavor and texture, of spice and neutral, was memorable.
Our dinner also included the requisite Cuban bread with garlic and butter, lightly toasted.
And we ended on a sweet note with tres leches ($3.99), which generally is a simple sponge cake soaked with fresh, condensed and evaporated milk (hence the name) but which in this case was a layer cake soaked with the milks but with custard between the layers and a rich, indulgent icing. Wow.
Service was great, prompt and pleasant, our water and soft-drink glasses refilled without our having to ask. As for the decor, this is a little spot in a strip mall, but the owners have done much with their space, decorating it with bright colors, a Cuban poster and the Cuban flag but also with more subtle touches, like the crackled-glass panels that surround the doorway and turn it into a foyer.
We heard about Varadero through a reader's tip — one of my favorite sources of such information — and all I can say is this:
Thank you.
Las Vegas Review-Journal reviews are done anonymously at Review-Journal expense. Contact Heidi Knapp Rinella at 383-0474 or e-mail her at hrinella@ reviewjournal.com.
Review
Varadero Cuban Restaurant, 5081 N. Rainbow Blvd.; 463-3609
Overall A-
Food A-
Atmosphere A-
Service A
Pluses: Extremely skillful use of layered flavors.
Minuses: No alcohol.