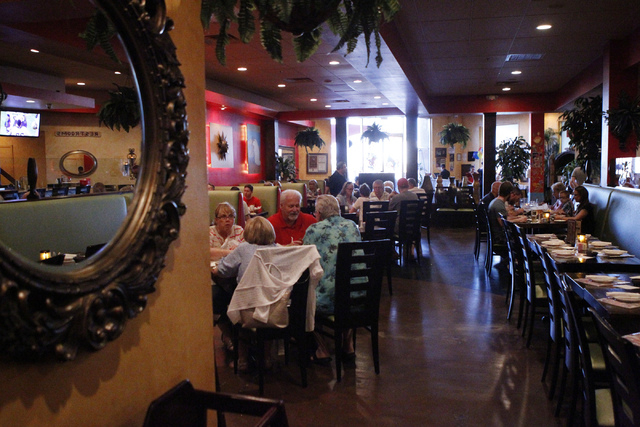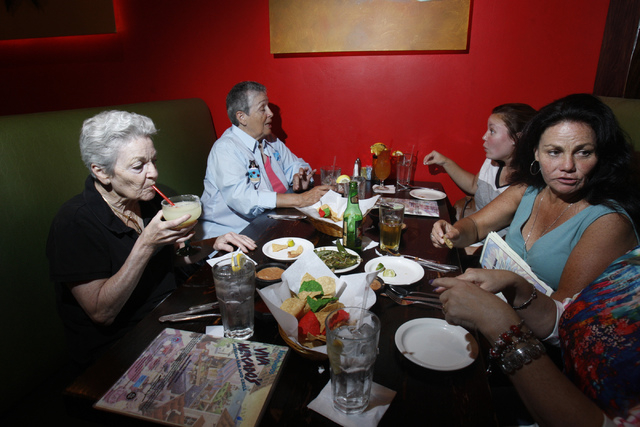 Bobby's back.
I heard from plenty of readers after the closing of Bobby Mercado's Viva Mercado's, which had operated in two locations in the western part of the valley from 1991 to 2007. And I heard from plenty of readers when news was afoot that a reopening was in the works, at Village Square. Since the restaurant opened last November, I've heard nary a peep. And why might that be?
My guess is that their mouths were full.
Our visit on a weeknight last week supported that theory. On one of the first temperate evenings of this late summer/early fall, the outdoor tables were full, the indoor ones nearly so.
The draw? Well-executed Mexican-American food, with more emphasis on the former part of that equation than the latter, plus friendly service and pleasant surroundings.
We started right away, with chips that tasted freshly fried, a fiery and maybe slightly smoky cooked salsa and a bean dip that offset the heat, which was a good thing since the chips arrived before our beverages. There was a bit of a lagniappe, too, a dish of sauteed onions and jalapenos that was brought soon after the chips, and which added attributes of flavor and texture.
We're all about the cheese, though, so we augmented that with an order of chili con queso ($6.95), a mellow-mood-inducing blend of melted mild cheese sparked with chiles and onions, served in a hot cast-iron dish that kept the cheese malleable right up to the not-so-bitter end, at which point we scraped off the browned bits.
And why not continue the cheese theme? A menu that reads "home of the best chile rellenos" poses a challenge (although they don't say "best in Las Vegas," or "best in Village Square," or whatever, but here I digress). And while I tend to shy away from "best" labels, I will say that this was a truly excellent chile relleno ($12.95 for one, $15.95 for two or $16.95 for three) that definitely measured up to any I have had, the coating nice and puffy, the poblano chile cooked until it was soft enough to cut with a fork without crossing the line into mushy, the cheese appropriately ooey-gooey. The rice and beans were better than most, the beans slightly thin (which is a good thing in that they weren't pasty), the rice well seasoned without turning to cliche.
Carne Asada Borracha ($18.95) so intrigued one of our party that after the menu was perused online, the dish was staked out and claimed before we even arrived at the restaurant. The beef (pork and chicken were other options) had been marinated in a citrus-heavy mixture (another good thing) and sauteed with onions, the whole doused with tequila and flamed at the table. The lime and tequila seemed to tenderize the beef and provide balancing notes of flavor; the dish was definitely worth the staking-out effort.
Pork tamales ($12.95 for one, $15.95 for two or $16.95 for three) with salsa verde were also quite good, the cornmeal-based packet admirably light.
And another lagniappe, a dessert of bunuelos (normally $1.95), crisp and cinnamon-coated and drizzled with cajeta.
Service, as I said, was very good throughout, our server and his assistant working in concert, both of them hustling around their tables. A man I took to be Bobby Mercado (I've talked to him on the phone, but never met him) also walked around on a regular basis; such attention to detail and mingling with the customers by owner and/or manager usually is a good sign, and tends to build customer loyalty.
And in this case, it definitely seems to have paid off.
Las Vegas Review-Journal restaurant reviews are done anonymously at Review-Journal expense. Email Heidi Knapp Rinella at Hrinella@reviewjournal.com, or call 702-383-0474. Follow @HKRinella on Twitter.
Review
Viva Mercado's, 9440 W. Sahara Ave. (in Village Square); 702-454-8482
Overall A
Food A
Atmosphere A
Service A
Pluses: Pretty much everything.
Minuses: Our table was too small for everything we wanted.
See our Restaurant Inspection Guide, compiled from the Clark County Health District's inspections.