When life hands you watermelon rinds, make pickles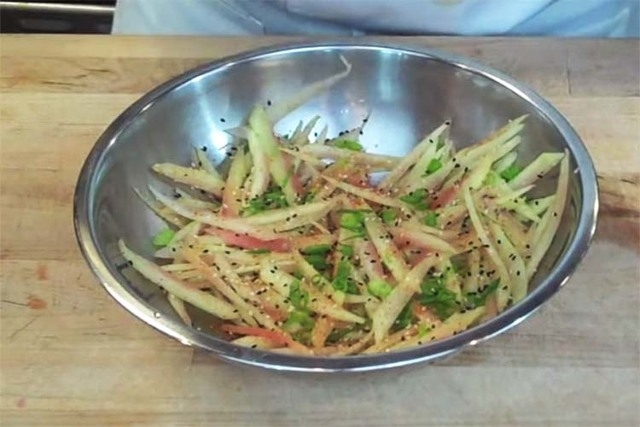 After we ran a lead story on watermelon recently, I received a note from Patty Jacobs, who emailed a recipe for the watermelon-rind pickles that her family likes with their Thanksgiving turkey. Here it is:
WATERMELON RIND PICKLES
2 pounds watermelon rind
4 cups sugar
2 cups white vinegar
2 cups water
1 lemon, thinly sliced
2 tablespoons stick cinnamon
1 tablespoon whole cloves
Trim dark green and pink parts of rind; cut in 1-inch cubes. Soak overnight in a solution of ¼ cup coarse-medium salt and 1 quart water. Drain, rinse and cover with cold water. Cook just until tender; drain.
Combine sugar, vinegar, water, lemon and spices tied in a bag. Simmer 10 minutes. Remove spice bag; add watermelon rind.
Simmer until clear. Fill hot, sterilized jars to within ½ inch from top. Seal.
Makes 3 to 6 pints.
More found items
Speaking of watermelon: In response to a query from Kathy Collins, who's looking for watermelon ice, sorbet or sherbet, Karen Langbert emailed to report spotting watermelon as the flavor of the day at Rita's Italian Ice at 2192 N. Rainbow Blvd. (There are additional locations at 693 N. Stephanie St. in Henderson and at 5415 S. Rainbow Blvd.) And Langbert added that signing up for the company's Cool Alerts lets you know the flavor of the day. …
And speaking of frozen delights: Nobody has reported finding the maple ice cream with bacon bits mixed in that Robert Thompson is seeking, but for all the other maple lovers out there, Dorothy Dawson emailed that she recently purchased Meadow Gold Maple Nut ice cream at Wal-Mart Neighborhood Market at 6310 W. Charleston Blvd. …
For Laura Thornton, who's looking for Lay's Dill Pickle chips, David Bourgeois reported that while he hasn't found those, he did pick up an 8-ounce bag of Larry, the Cable Guy's Fried Dill Pickle Tater Chips at the C-A-L Ranch Store at 232 N. Jones Blvd. …
More on B&M baked beans: Jacobs reported finding them at Smith's at 850 S. Rancho Drive. …
More on Driscoll strawberries: Maria Young emailed that she found them at Target at 6480 Sky Pointe Drive but added that the manager advised calling ahead to check on availability.
MORE READER REQUESTS
Ruth G. Burns is looking for fresh okra, preferably on the west side of the valley. …
Hally Knox is looking for a bakery or restaurant that bakes and sells burnt sugar cake; a recipe provided by Knox's mother was from 1920. …
Gene Asken, who gets Wolferman's baked goods from the company by mail order, is wondering if there's a local source for Wolferman products, which include extra-thick English muffins. …
And Donald McGraw, like several other readers, has been searching for some time for a spreadable Limburger cheese. McGraw used to get his, which was the Mohawk brand, at the commissary at Nellis Air Force Base.
Readers?
Submit information to Heidi Knapp Rinella, P.O. Box 70, Las Vegas, NV 89125-0070. You also can send faxes to 702-383-4676 or email her at hrinella@reviewjournal.com. Include your first and last names and, if emailing, put "Taste of the Town" in the subject line.