Zenshin's intriguing combinations avoid fusion roll cliches
September 13, 2013 - 7:41 am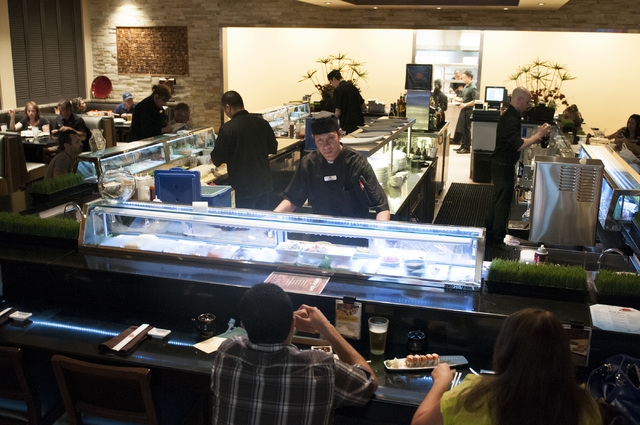 E ven the freshest concepts can become cliche after a while.
A case in point would be fusion-sushi places. When they started serving fusion rolls — a breakaway from classic sushi — those rolls seemed creative, even a little daring. But after a while the weird combinations (most of which, admittedly, actually worked), naughty names (all of those Tastes Like My Ex-Girlfriend rolls indicate a lot of bitter ex-boyfriends out there) and local references seemed anything but innovative.
Zenshin, an Asian restaurant at the South Point from longtime local chef and Hawaiian native Terence Fong, promises to be different. The name, according to the menu, is a Japanese word that means "advancement, progression or moving forward." It also promises an experience that will be "anything but cliche."
I've always loved a challenge, and besides, I like to evaluate restaurants on the basis of their stated or implied missions. On the other hand, I'm enough of a realist to know that any restaurant has to offer enough of the old familiars to provide its customers with a certain level of comfort. So I approached Zenshin in search of the noncliche, within reason. And Zenshin delivered.
First up: a starter of Ahi Poke Tacos ($10). This hit the ground running with crisp shells filled with Hawaiian-style poke — ahi cut in small dice and lightly marinated — which meant there was lots of texture, with the crunch from the shells and the brash meatiness of the fish. Shreds of cabbage and a drizzle of wasabi creme fraiche added a note of seafood-taco authenticity, although the promised Asian guacamole, which sounded like a good idea, got lost.
The 8 Second Bull Ride specialty roll ($15) appealed because of the reference to the hotel-casino's horsey aspects but also because it was an intriguing combination, and it delivered on all fronts. The sushi rice and nori had been rolled around snow crab, avocado and some crunchy tempura asparagus, but the crowning touch was, appropriately enough, what was on top: paper-thin slices of seared Wagyu beef and enough truffle essence that I could smell it before I tasted it (which is a good thing). I absolutely loved this one.
Also in the noncliche category was the vegetable tempura roll ($5), filled with eggplant, sweet potato and avocado. Lots of crunch with this one, of course, but overall it had very much the feel of traditional sushi.
And of course that was the category that fits the tamago nigiri sushi ($4), the traditional finger of sweetened omelet-style egg, perched atop sushi rice and banded by nori. It was a good rendition of classic sushi.
We decided to stay in the traditional vein but branch out a little with the Tonkotsu Ramen ($8). It turned out to be rich and satisfying, the slightly smoky broth filled with lots of ziggy-curled noodles as well as succulent slabs of pork belly, a whole egg (poached hard or boiled soft, depending on your viewpoint), mushrooms, nori and bamboo shoots.
For dessert we went with a riff on a traditional Hawaiian treat, the mini malasadas ($6). The lovely little fried cinnamon-dusted dough puffs stretched across a long serving plate, each with a dot of custard at its base, with chocolate drizzled over the whole line. Full-size malasadas can be a little bit of a challenge because they're on the heavy side; the miniatures were a nice compromise for dessert.
Service throughout was a little Valley Guy-ish, which is to say pleasant but somewhat uneven.
Zenshin is kind of a big open room, centered by a largish sushi bar. Comfortable booths line the walls but the light there is on the bright side; lighting near the sushi bar is a little subdued and therefore more pleasant.
So sit at the sushi bar, but seek out the more offbeat offerings. Because the best aspects of Zenshin are those that are anything but cliche.
Las Vegas Review-Journal restaurant reviews are done anonymously at Review-Journal expense. E-mail Heidi Knapp Rinella at Hrinella@reviewjournal.com, or call 702-450-6946. Follow @HKRinella on Twitter.
Review
Zenshin, South Point, 9777 Las Vegas Blvd. South; 702-797-8538
Overall A-
Food A-
Atmosphere A-
Service B+
Pluses: Good, creative food.
Minuses: Service a little spotty.