A 98 Degrees residency on the Strip? Jeff Timmons is working on it
October 16, 2016 - 4:51 pm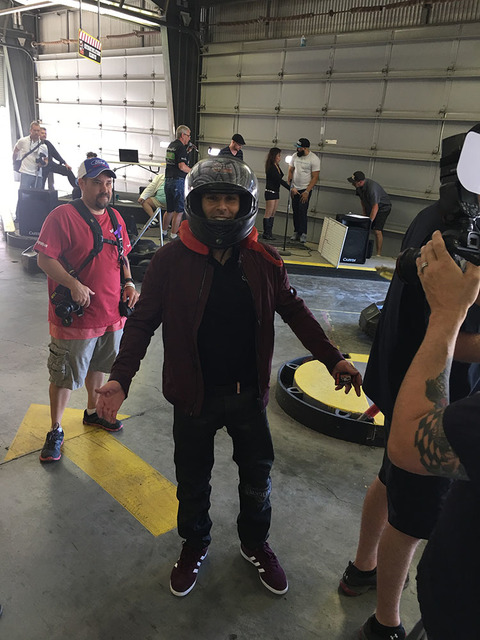 The Kats! Bureau at this writing is a first: Gene Woods Racing Experience, for the Mike Hammer Celebrity Go-Kart Race to benefit #ServingHopeLV (yep, hashtag included in the official title), the facility that provides aid and support to "those less fortunate," as the organization states, in Southern Nevada.
Vegas entertainers abound, many of them employed, and we're scraping the scene for morsels of news.
Let's run the course:
**Jeff Timmons is here. having just wrapped a tour with 98 Degrees. With his boy-band contemporaries Backstreet Boys having landed an 18-show residency at Axis beginning in March, Timmons has been exploring some shows for 98 Degrees on the Strip.
"I am really close friends with those guys (in Backstreet) and have been talking about it," Timmons after he ran the course. "I don't know that we'd do 18 dates, but a shorter residency is possible. There is some talk about us doing that."
Timmons is also still pushing his male revue, "Men of the Strip," which he premiered in March 2014 at House of Blues at Mandalay Bay. He's hoping for a 2017 opening for that show, which would compete with another new male revue, "Magic Mike Live," in development at the Hard Rock Hotel.
What we are seeing with this oiled-down, muscled-up productions is a sub-trend in VegasVille: As many different styles of productions open and close, male revues continue to do solid business — led by "Chippendales" at the Rio and "Thunder from Down Under" at Excalibur.
** The remarkably undead Amazing Johnathan is here, topped nattily by a black fedora. A.J. has planned a career Renaissance with a Jan. 14 appearance at Foxwoods Casino Resorts, and another the following night at Wilbur Theatre in Boston. We're written before about A.J.'s unexpected longevity in the face of a serious heart condition, but these dual performances have sparked interest from at least one Las Vegas-based production company in returning the comic-magician to a residency on the strip in 2017. His response, "Let me see how it goes on in January first."
**Paul Shortino, late of "Raiding the Rock Vault" at Tropicana, reports that the heavy-metal band Rough Cutt is reuniting for a show on March 26 at Count's Vamp'd. The band has not performed together for more than 30 years. Seeing Shortino reminds of the murky status of "Rock Vault," which closed July 31 amid hopes it would return to a venue on the Strip. Most of the band members, including Sir Paul, are still available to resume that great rock 'n' roll experience.
**Veteran hypnotist Anthony Cools of Paris Las Vegas reports that he has moved his beauty salon, Exposed, has reopened at Allure high rise on the northwest corner of Sahara Avenue and Las Vegas Boulevard. The salon was previously at the Plaza. Cools himself does not perform hair cuts or coloring. "I would need to hypnotize someone to sit for that," he says.
**Seated next to Skye Dee Miles, the flamethrower at the lounge at Rose. Rabbit. Lie. She is there Wednesdays through Saturdays, alternating with Mikalah Gordon, the 2005 "American Idol" finalist. Some of my friends in the city call this hang one of the city's best-kept secrets. Maybe. Regardless, it's a great time, worth the drive (and walk) to the cozy speakeasy and supper club.
**Two attendees today: Planet Hollywood Sin City Theater at Planet Hollywood magicians Murray Sawchuck and Xavier Mortimer. They appear apart — Murray, the eminent "Celebrity Magician" at 4 p.m. and Mortimer's "Magical Dream" at 7 p.m. — and thus far the theater has supported both acts. Mortimer, late of "Michael Jackson One" at Mandalay Bay, is continuing to tweak the show with co-producer Alex Goude, late of "Twisted Vegas" at Westgate Las Vegas.
Across the way at the Cabaret, I'm hearing that "Shotspeare," the drinking game based on the works of William Shakespeare, is very funny. "It's crazy enough to work," is one friend's quick description, with the actors taking a drink after a specific word is said from the stage. Actors are actually known to Uber or Lyft to and from the show, and the leader of the troupe might seem familiar: Matt Morgan was once the swing for The Gazillionaire in "Absinthe," as the show opened in 2011 at Caesars Palace.
**In the house: Steve Connolly, the answer to the question, "Who headlines the longest-running Elvis tribute show currently in Las Vegas?" It's 2o years and seven Vegas hotel-casinos for Connolly, who is closing in on 500 shows at 4 Queens, where he has headlined for three years. His show is 9 p.m., Tuesdays through Saturdays $15 — and you might wind up with a slightly used silk scarf.
**This happened a few minutes ago: A woman I'd never met spotted me talking with comic Geechy Guy. She waited for us to stop, then sidled over and asked if Geechy would take a photo of her and I. He did, and she grabbed the camera and turned to me with, "My favorite is Elton John!"
"Who do you think I am?" I asked.
"Gordie?" she said. "Gordie Brown?"
So I comped her two tickets to my show tonight …
John Katsilometes' column runs Saturday, Sunday, Tuesday and Thursday in the A section, and Fridays in Neon. He also hosts "Kats! On The Radio" Wednesdays at 8 p.m. on KUNV 91.5-FM and appears Wednesdays at 11 a.m. with Dayna Roselli on KTNV Channel 13. Contact him at jkatsilometes@reviewjournal.com. Follow @johnnykats on Twitter, @JohnnyKats1 on Instagram.