A jump, jive an' wail run through the streets of Vegas
August 23, 2016 - 2:44 pm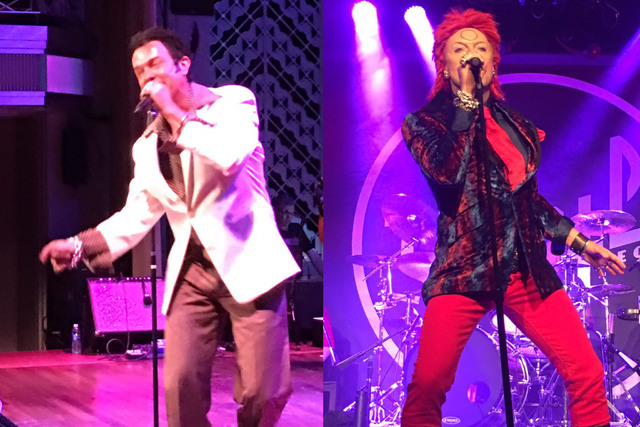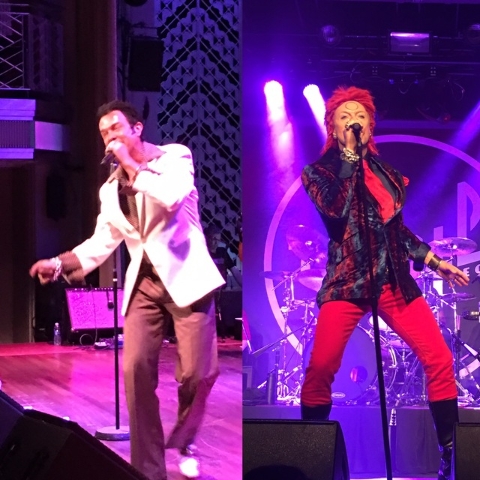 Some moments caught from around VegasVillle, where truth is typically better than fiction:
— At Bootlegger Bistro on Monday night, during Kelly Clinton-Holmes called to the stage her best friend from high school, Lena Prima, daughter of Louis Prima and the singer Gia Maione Prima, who replaced Keely Smith in Prima's act in 1962.
Prima and Holmes, who have been friends since they were age 15, embarked on a wild run-through of "Jump, Jive an' Wail," the classic that was long a staple in Prima's stage show at Sahara's Casbar Lounge/ Prima laughed through the song and called out the lyrics to Clinton-Holmes, who hadn't performed the tune in, like, several weeks.
Also in the room, Cindy Williams (most famous for her run as Shirley Feeney in "Laverne & Shirley" and for her role opposite Ron Howard in "American Graffiti"), who was celebrating her 69th birthday with her family and Las Vegas producer Alan Glist. Williams is currently in the cast of "Menopause" at Harrah's through Sunday. Also in the room (and actually seated next to me), Antonio Fargas, famous as Huggy Bear from "Starsky & Hutch," and also as the cross-dressing character Lindy in the 1970s disco film "Car Wash."
Requisitely, we also note Kelly's husband, Clint Holmes, who on Thursday night welcomed sax master Dave Koz and percussion-production great Gregg Field to his "Between the Lines" show at Palazzo Theater. Both of those gentlemen worked on Holmes' latest album, "Rendezvous," Koz co-writing the song "Promise That You Keep" with Holmes and Field producing the album.
"Rendezvous" is now available at the Palazzo Theater gift shop, so get there.
-An event that fell between my former and current gigs: The great vocalist and pianist Buddy Greco, who for decades shared the same fame strata as such legends as the Rat Pack, Paul Anka, Bobby Darin and a host of others, was honored with a 90th birthday party on Aug. 13 at the dependably swanky Italian American Social Club.
Vegas vocal stylist Carmine Mandia and a backing band led by Joe Darro (these guys are all lounge staples in VegasVille for many years) kicked off the night, with interludes by the singing tap sensation Jeanne Brei; sax vet Martin Mancuso; Greco's wife, Lezlie Anders; and the night's emcee, Frank LaSpina.
Greco is the same age as a pair of other superstars who have been lauded in Vegas this year — Tony Bennett and Jerry Lewis. "Don't sell any of us short," Greco said as I leaned in to re-introduce myself; we'd about 10 years ago during one if his gigs at the Flamingo.
I asked Greco for any pearls of wisdom or advice a 90-year-old gentleman might care to share.
"Advice?" he said, then pondered the question. "Be original. Be honest. Be true to your heart, be true to your work, be true to yourself."
Greco did not sing at this party, but that answer was music to our ears.
— Chris Phillips of Zowie Bowie performed as David Bowie and Elvis Presley, in public, on consecutive nights. He hit the most recent Mondays Dark at Vinyl at Hard Rock Hotel on Aug. 15, singing "Ziggy Stardust" in full Ziggy costume (nice work on the glitter eyeliner). His appearance was highlighted by an unanticipated gift to Mark Shunock's new project, The Space, which is to be the next home of Mondays Dark beginning in January.
The Space is still under development just off Polaris Avenue and Spring Mountain Road. The entertainment compound is a 3,000-square-foot building, which Shunock is converting to a performance space with a variable capacity of between 400-700, a 125-seat black box theater, two rehearsal studios, a recording studio and a cozy piano bar and lounge.
To help fund the launch of The Space, Shunock asked for donations to be made in a single minute's time, and Phillips — who told the audience he was fairly inebriated — promised to match whatever was raised. At that, South Point Entertainment Director Michael Libonati scrambled to the stage with a check he'd just written — for $5,000.
A cheer went up, as Phillips stammered, "My girlfriend is going to kill me. We're moving into a new house that we're building … Uuuuugh." Phillips was referring to Jennifer Turco, a beautiful woman who might be the most patient woman on the planet …
The following night, Phillips took the stage unexpectedly in something of an Elvis costume — a Perry Como-styled leisure suit, really — with Frankie Moreno at Cabaret Jazz, singing, "Trouble," while remembering most of the words.
Later, Moreno regaled the audience of a recent cruise-ship gig in which he was asked to leave the ship after three days of an eight-day run (Moreno had been playing longer than his allotted 45 minutes, which rankled ship officials).
This story went on so long that Smith Center President Myron Martin, seated at the back of the room near the sound board, finally approached the stage and tapped his watch with the message, "Wind it up!" Moreno laughed, "Oh my God, it's happening again!"