A raucous UFC 229 saw the fighting spill outside the cage
Updated October 7, 2018 - 12:30 am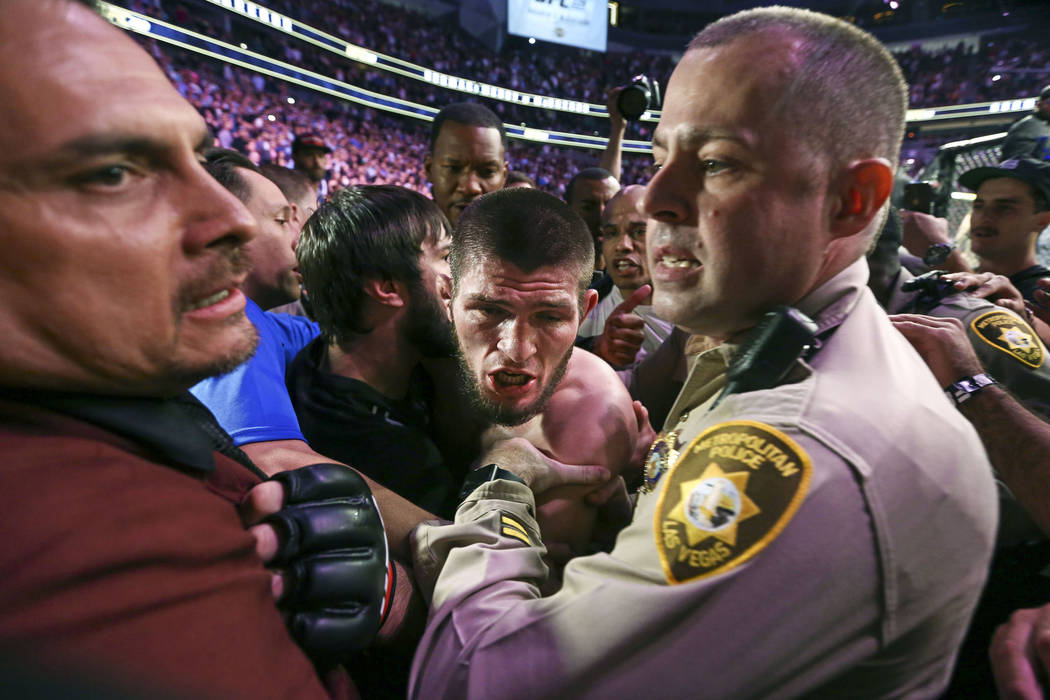 The Kats! Bureau, once more, is The Perch at T-Mobile Arena — where dreams come true! But tonight, for UFC 229 between Conor McGregor and Khabib Nurmagomedov, it's called The Ledge. That's what UFC officials refer to as the fifth-level press row high above the arena floor.
In the main event, Khabib registered a submission with a neck crank of McGregor at 3:03 of the fourth round to keep his UFC lightweight title. Then the fun really began.
Khabib then added some spice, tension and widespread panic by leaping the fence and going after McGregor's corner men. Bedlam ensued for several minutes (there were fights in the crowd, even) before Khabib was led out of the octagon without an interview from in-ring host Joe Rogan.
UFC President Dana White charged in to help restore order.
Somehow, the UFC lightweight title belt was left behind as Khabib bolted the scene.
Before the melee, the night unfolded with several action-packed UFC 229 undercard fights. Derrick Lewis anesthetized Alexander Volkov with something like a 12-punch combination. All of the punches were right hands to the noggin, ending the fight at 4:49 of the third round.
As he was being interviewed by Rogan, Lewis dropped his shorts.
"My (male parts) got hot," the victorious fighter said. Rogan responded, "I understand."
That chaos capped an otherwise characteristically entertaining evening of action from the UFC. The requisite lineup of stars was spotted around the octagon, including: Rap star Drake (a McGregor backer in a merger of icons), Matt Damon (who reportedly turned down a chance to reprise his Brett Kavanaugh role on "Saturday Night Live"), Mel Gibson, golf great Rory McIlroy, Jurassically associated actor Chris Pratt, Aaron Paul of "Breaking Bad," and Anthony Kiedis of the Red Hot Chili Peppers.
That list is likely to blossom.
How do we look?
UFC enacts a dress code for those covering its fight cards. Can't say I've seen this edict before, but tonight it's "business casual." The UFC public relations team has said credentials will not be distributed to members of the press not in proper attire.
UFC should carry this sentiment a step further and launch its own high-fashion line. I'd be a customer, at least on fight night.
Buffer's suit
On the topic of fists and fashion …
From the undercard: The pattern on manic announcer Bruce Buffer's custom King & Bay, champagne-and-cobalt silk custom smoking jacket might seem familiar to Vegas diners. That pattern, though in a different color, is the same as the red-velvet wall coverings at Herbs & Rye on West Sahara Avenue.
The pattern dates to the original Venetian restaurant, which opened in 1955. Those walls had been re-covered over the years, but when the eatery turned over to Herbs & Rye the newer wallpaper was pulled down — and that new pattern stayed.
It's classic, as is Buffer, and those smoking jackets.
JOD and Conor
Johnny O'Donnell is an ambassador and bartender at MB Steak at Hard Rock Hotel, and a partner in Michael and Jenna Morton in Morton Group. JOD, as we call him, is from Ireland. That means he is a fan of, and happens to be friendly with, McGregor. JOD has been posting some shots on Instagram of the two from over the past few years. McGregor allowed the great "funologist" to wear his shades, even.
John Katsilometes' column runs daily in the A section. Contact him at jkatsilometes@reviewjournal.com. Follow @johnnykats on Twitter, @JohnnyKats1 on Instagram.