'Absinthe' at home at Caesars Palace through 2020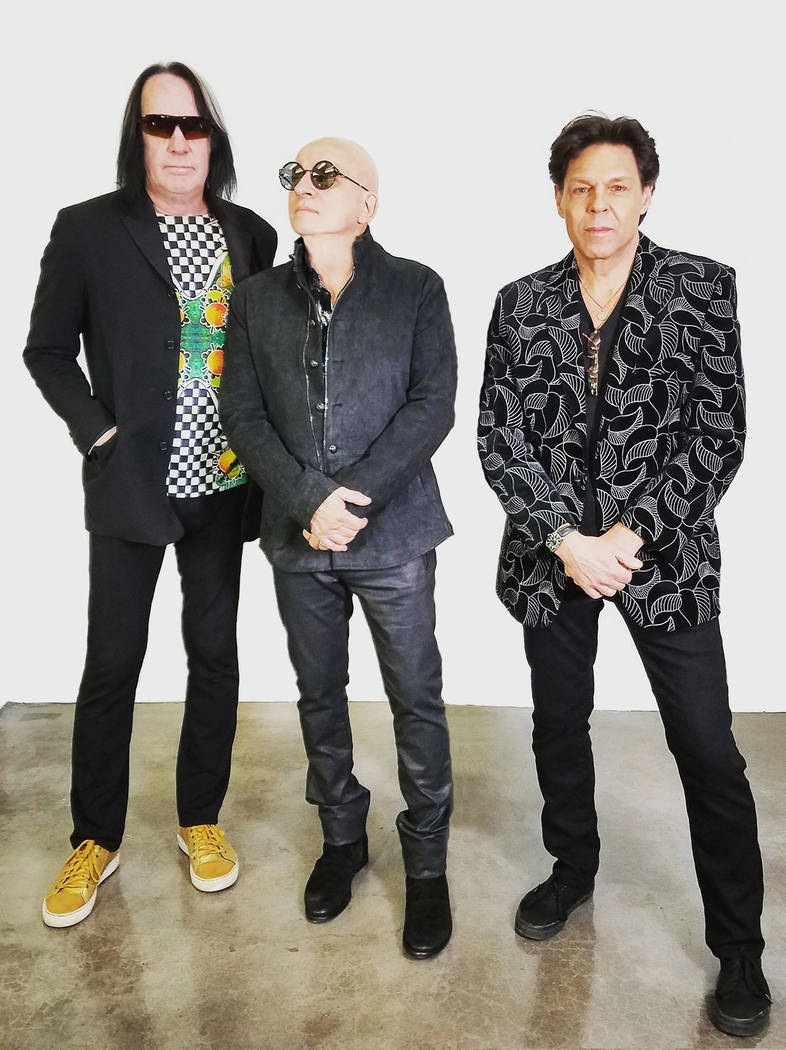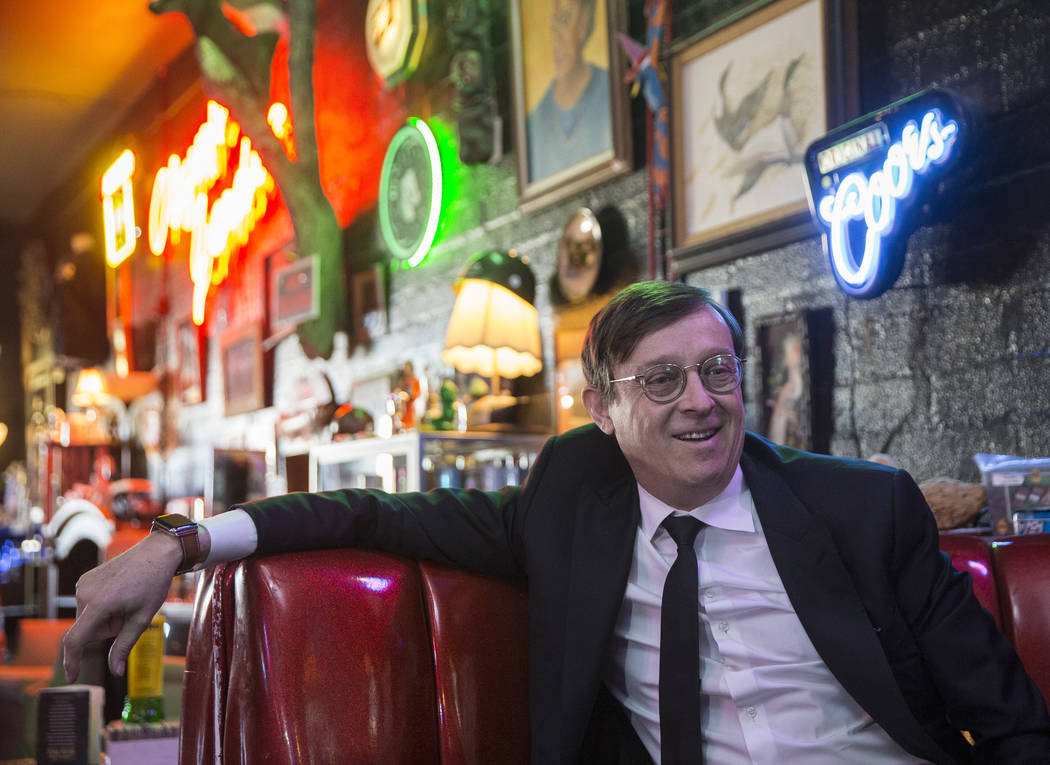 The Kats! Bureau at this writing is Starbucks at The Cosmopolitan of Las Vegas, where I am positioned at the center of the first permanent, public art installation of by French artist and photographer Georges Rousse.
To enjoy this work, stand on the colorful circle at the southeast corner of the coffee enclave, and look up. It's very cool.
A colorful piece of performance art to the north seems bent on becoming permanent, too. "Absinthe" has just signed a contract extension with Caesars Palace to to perform at that hotel for at least two more years. The current deal runs through May 2020, with several "rollover" provisions that ensure it will continue onstage for the foreseeable future.
"We are staying at Caesars Palace, and this really is a relationship between the two Gazes," Spiegelworld founder and "impresario extraordinaire" Ross Mollison said Tuesday afternoon. "It's 'Gaz' Selesner and Gazillionaire. They worked out a deal over mushroom truffle soup at Guy Savoy restaurant."
"Gaz" Selesner, in fact, is Caesars Palace President Gary Selesner. An important, and real, official in the show's development, he helped negotiate the original lease for "Absinthe" to perform in its tented theater on the Roman Plaza starting on April 1, 2011.
The show has been the rare production on the Strip that's both critically and commercially successful, having just last week expanded its schedule to 14 shows a week, running twice per night without any dark days.
The show's popularity has led to several suitors from major Strip resorts calling on the show, and even an unsuccessful attempt by Cirque du Soleil to merge with Spiegelworld. "Absinthe" has been shopped to such resorts as Wynn Las Vegas, Tropicana and Venetian/Palazzo over the years.
In summer 2016, it was announced "Absinthe" would relocate to Cosmopolitan as the result of a legal dispute between Spiegelworld and then-production partner Base Entertainment. The two sides had originally argued over their shared lease at Caesars Palace, but settled their crisscrossing lawsuits out of court, with Base agreeing to split from the partnership.
That move allowed "Absinthe" to stay at Caesars, where it is expected to remain even if the hotel redevelops Roman Plaza, a choice piece of property on the Strip just off the hotel's main entrance.
"If Caesars ever wanted to build 2,000 rooms on that site, we have have the ability to decide to if we want to move the show somewhere else," Mollison said. "But Caesars might want to move it somewhere else in the hotel, or they might build resident theater for us. But we like where we are and we are doing great."
The impresario didn't need to say it, but Gazillionaire, too, is happy.
Utopian memories
Todd Rundgren's Utopia has heeded fans' yearning for a reunion tour. The progressive-rock stalwarts play the Joint at the Hard Rock Hotel at 7 p.m. Saturday.
Rundgren has most recently played Vegas with Ringo Starr and His All-Star Band, which headlined eight shows at Planet Hollywood Showroom in October. The original Utopia was an early rock act to play the Strip, at Aladdin Theatre for the Performing Arts (which today is Zappos Theater at Planet Hollywood) soon after the venue opened in 1976.
"The Vegas audience was not hip to what was happening in album rock at the time. Everyone was into Liberace and Siegfried & Roy, that type of show, and the Aladdin was one of the first hotels to bring in straight-on rock acts," says Rundgren, recalling that Utopia used a giant pyramid as its signature stage effect for its show at the TPA. "We brought this thing up, and at the time Elvin Bishop opened for us. He's in a straw hat and bib overalls (laughs) and they pulled back the curtains for this big pyramid. It was an odd pairing."
Rundgren paused and added, "That was before the Luxor. That would have been the ideal place to play, actually! We could have used their decor!"
All those performers
The showgirls who performed with Kelly Clarkson at the Billboard Music Awards show were indeed professional Vegas dancers Amanda Nowak, Alexandra Remke, Yesi Burgess and Sarah Storey. Nowak, Remke and Storey are past "Jubilee" performers and Burgess is of "Fantasy" at the Luxor.
Veteran Vegas producer Blair Farrington has worked with all of them over the years, and cast and and costumed all the dancers. The male dancers in the opening medley were also Strip performers, the guys from SPI Entertainment's "Thunder From Down Under" at Excalibur.
By the numbers
The contract extension signed by "Absinthe" at Caesars covers at least 1,460 performances through spring 2020.
Cool Hang Alert
"Nashville Unplugged," a singer-songwriting gem of a show at 8 p.m. Fridays at Rhythm & Riffs at Mandalay Bay. Aaron Benward, Travis Howard and Bill Luther tell, and sing, the stories behind country hits (this week focusing on Luther's hits for Tim McGraw, among others). All acoustic. No cover.
Greatweet
From @normmacdonald (the official Twitter account of great stand-up Norm Macdonald), referring to Roseanne Barr and the high-rated reboot of "Roseanne." "She's the new Archie Bunker."
Contact John Katsilometes at jkatsilometes@reviewjournal.com. Follow @johnnykats on Twitter, @JohnnyKats1 on Instagram.