Acrobats soar to fight childhood cancer in Circus Couture's 'Lucky' production
October 5, 2016 - 11:11 pm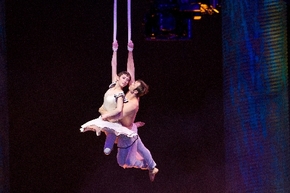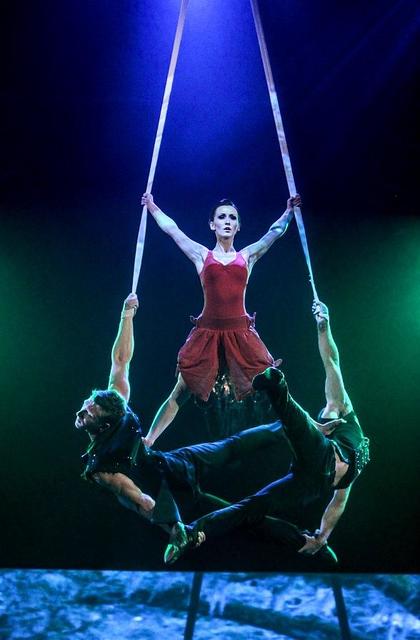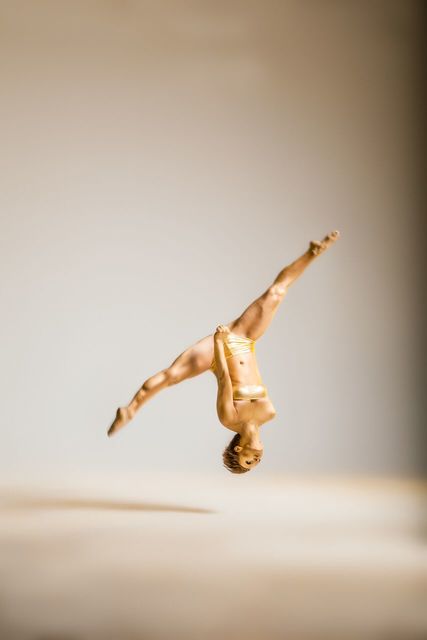 Erica Linz describes feeling "a different kind of devastating," and those who have faced childhood cancer know whence she speaks.
"We all see death by disease, death by accidents, but nothing has that feeling of cosmic unfairness like watching a child suffer," says Linz, a longtime Cirque du Soleil artist and co-founder of the annual Circus Couture fundraisers at the Joint at the Hard Rock Hotel, which support the Children's Specialty Center of Nevada. The organization is Nevada's only nonprofit clinic that treats children with cancer, including those without medical insurance.
"What the Center does is so important. When you see a child lose the fight, it is just devastating," Linz says. "You just literally feel like you have been punched in the gut."
Dubbed "Lucky," for its seventh performance, Circus Couture is zeroing in on $1 million raised over its history in Las Vegas. The event starts at 8:30 p.m. Friday; tickets start at $35. Featured performers include Linz, who has appeared in the Cirque shows "Mystere" and "Ka" and is currently co-star of the company's James Cameron-produced "Worlds Away" 3D film; former "Vegas Nocturne," "Zarkana" and current "Mystere" artist Jimmy Slonina as Chance the Clown (we might well see an inflatable performing partner from Mr. Slonina) ; French artist and former "Ka" cast member Mathieu Bolillo, who performs a balance-wheel act; the touring, roller-skating tandem Zeman Duo; and R.J. Owens, who plays the Bebe François character in "Mystere."
A fashion show featuring couture designs offered for auction and exhibited on two runways, is also part of the program, and the silent auction is highlighted by a 1963 Fender Stratocaster guitar once owned by Jimi Hendrix.
Connections to childhood cancer or other debilitating illnesses have touched the production in myriad ways. Linz was a member of the "Mystere" family at Treasure Island when the 9-year-old son of a Cirque performer lost his bout with leukemia. The 13-year-old son of Karoly and Ana Zeman is in remission from a rare form of cancer. Longtime Circus Couture supporter Criss Angel's 2-year-old son Johnny Crisstopher has suffered from a rare form of cancer, now in remission, a fight that inspired Angel to found the Johnny Crisstopher Foundation to help fight pediatric cancer.
The seeds of Circus Couture were actually planted a decade ago with the St. Baldrick's Day fundraising event founded in 2007 by Brian and Lynn McMullan of McMullan's Irish Pub.
In the spirit of the McMullan's shave-a-thon, Linz said she's planning to go bald Friday night.
"My mother is shaving my head onstage," Linz says. "It's a show of support. I cannot steel myself against those kids."
THE ARC OF THE PAWN
The cable TV phenomenon "Pawn Stars" has begun filming its 13th season for History channel this week at Gold &Silver Pawn on Las Vegas Boulevard, just north of Charleston Boulevard. Series and business mastermind Rick Harrison allows that the show is not performing nearly as well in the ratings as it has in past years – but no other cable show is approaching numbers from past seasons, either.
"The TV industry is crazy. It's changed so much. Far more people DVR shows now, and that makes it a lot harder to measure the metrics of success," Harrison says. "We were getting 7 million viewers at our peak, but no cable show is getting that now."
Still, Harrison says, "We are always in the top five of cable shows on Wednesday night. That shows we are still popular." By the end of this 30-episode season, "Pawn Stars" will have stamped out 484 shows. Harrison is again joined by Corey "Big Hoss" Harrison and Austin "Chumlee" Russell, with Richard "Old Man" Harrison in a more reduced role, making cameos.
Harrison is also celebrating his first year as proprietor of Pawn Plaza. An open-to-the public event is set for 4 p.m. Saturday at the Container Park-fashioned cluster of businesses just south of Gold &Silver Pawn. Drink specials at Rick's Rollin' Smoke BBQ & Tavern are being offered, and Harrison will tend bar starting at 8 p.m. Pawn Plaza Vow Renewals by Vegas Weddings is offering a package where Harrison will serve as witness to a wedding or vow renewal.
Harrison says he is about to announce three new companies moving into the lower level of the Plaza, replacing a series of shops that closed over the summer. "I've been looking for ways to expand on 'Pawn Stars' after the series ends," Harrison says, "and this is one of them."
John Katsilometes' column runs Saturday, Sunday, Tuesday and Thursday in the A section, and Fridays in Neon. He also hosts "Kats! On The Radio" Wednesdays at 8 p.m. on KUNV 91.5-FM and appears Wednesdays at 11 a.m. with Dayna Roselli on KTNV Channel 13. Contact him at jkatsilometes@reviewjournal.com. Follow @johnnykats on Twitter, @JohnnyKats1 on Instagram.