After GGG, 'Canelo' to answer the bell at XS Nightclub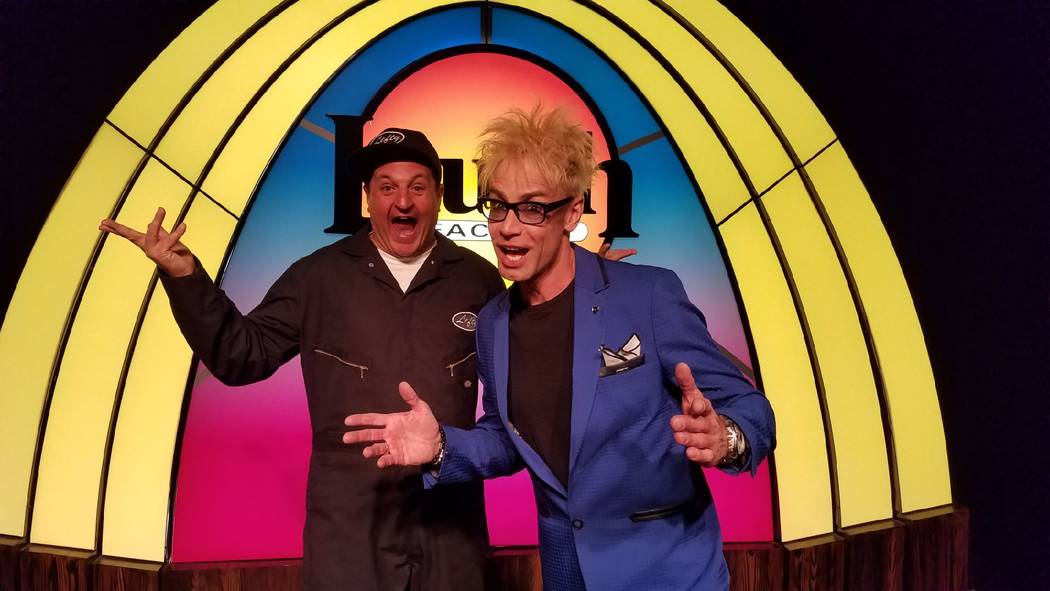 So, Canelo's got a club gig.
Canelo Alvarez is headlining, in a way, at XS Nightclub at Wynn Las Vegas late Saturday night. Canelo will hit that scene (metaphorically) after his bout with Gennady Golovkin at T-Mobile Arena.
Canelo is expected to take residency, briefly, with Marshmello in the DJ booth. This is a ticketed event; check xslasvegas.com for info.
Wynn/Encore nightclubs have become a haven for big-name fighters. Conor McGregor and his entourage took over the nightclub in August 2017 after his loss to Floyd Mayweather at T-Mobile.
The reappearing act
The valet staff at the Tropicana has been wondering when Murray Sawchuck is going to, um, park it again at their hotel.
They got the answer Friday, as Sawchuck is returning to the Laugh Factory on Oct. 3.
"Every time I pull into the Trop, it's the same thing," Sawchuck says. "They're like, 'When are you coming back?' I finally pulled in a week ago to do some measurements and they all laughed, 'We knew it!' "
Sawchuck will perform at 7 p.m. Thursdays and Saturdays and 5 p.m. Sundays through Wednesdays, and dark Fridays. He's working around legendary impressionist Rich Little's 7 p.m. shows Sundays through Wednesdays in the venue.
Late of Sin City Theater at Planet Hollywood, Sawchuck headlined at Laugh Factory from April 2012 through October 2014, moving out when Jan Rouven — who would later be locked up on child pornography charges — moved into Tropicana Theater.
Sawchuck performed his final show at Sin City Theater last week and is headlining Laugh Factory at Silver Legacy in Reno this weekend. Activity in two venues led Sawchuck back to Laugh Factory.
Criss Angel is moving his highly anticipated production into his eponymous showroom at Planet Hollywood in December, contractually forcing other magic headliners off the property.
And, "Imaginarium" star magician David Goldrake ends his run at Tropicana Theater at the end of the month. That shift leaves an opening for a magician to perform at Laugh Factory.
Sawchuck is keeping his sidekick, Doug "Lefty" Leferovich, in the production. Leferovich, who plays the silent janitor character onstage, is a highly capable and experienced performer.
"We're excited to have Murray and Lefty coming home," says Harry Basil, Laugh Factory operator and occasional headliner.
Sawchuck's history in Las Vegas dates to 2002, when he headlined at the since-imploded Frontier. He shared that venue with the male revue "Thunder from Down Under", which is still in action at Excalibur.
Sawchuck continues to build an audience on YouTube, counting 1 billion total views on his channel, and during his recurring appearances as the magic expert on History's "Pawn Stars" series.
"I've been very lucky, very successful in the way I do things," Sawchuck says. "I look at the cards I'm dealt, and ask, 'How can I play these cards?' That's how I've learned to survive in this business."
A scoring combination
As I say, Al Bernstein has been inducted into more halls of fame than I've been invited to hall of fame dinners.
You can enjoy both a hall of famer and dinner Wednesday when the great Showtime boxing broadcaster hosts a set of standards at Italian American Club. A wonderful singer, Bernstein will be in the lounge from 6-10 p.m. as part of IAC's Wednesday Dinner Series.
Bernstein, who has also taken the stage at Bootlegger Bistro and Piazza at Tuscany Suites, is backed by longtime Las Vegas musical mainstays Joe Darro, Bob Sachs and Adam Shendal.
Be sure to request "Georgia," and the pork milanese.
Alien's Got Talent
The singing, interplanetary character Dusty Moonboots in "Opium" at The Cosmopolitan of Las Vegas is receiving a major makeover. The "alien chanteuse," as described by producers, has taken on a rock 'n' roll image and is powering through such songs as Prince's "Let's Go Crazy," Huey Lewis & The News' "The Power of Love," and Lenny Kravitz's "Are You Gonna Go My Way?"
Moonboots' transformation debuted this week. As always, she's backed by The Many Moons Band.
Romantic meets Romantics
Chris Phillips of Zowie Bowie jammed with members of The Romantics last Saturday night at 3rd Street Stage on Fremont Street.
The Romantics, along with Flock of Seagulls, Wang Chung and Missing Persons, had performed in the "Lost '80s Live" show earlier in the evening at Downtown Las Vegas Events Center. After that performance, Mike Skill and Richard Cole clambered onstage with Zowie Bowie for a spin through, "What I Like About You."
Skill and Cole are from Detroit, and met D Las Vegas co-owner Derek Stevens (also from Detroit).
A product of '80s rock and pop, Phillips called the experience "an absolute honor." ZB performs Thursdays and Saturdays at the free, open-air venue.
The two Romantics had actually ventured to Zowie Bowie's show at Red Rock Resort on Sept. 7, the night before the '80s show. So, we can now consider them locals.
John Katsilometes' column runs daily in the A section. Contact him at jkatsilometes@reviewjournal.com. Follow @johnnykats on Twitter.