After the fall, 'Fantasy' aerialist has become a star
Updated January 15, 2018 - 6:22 pm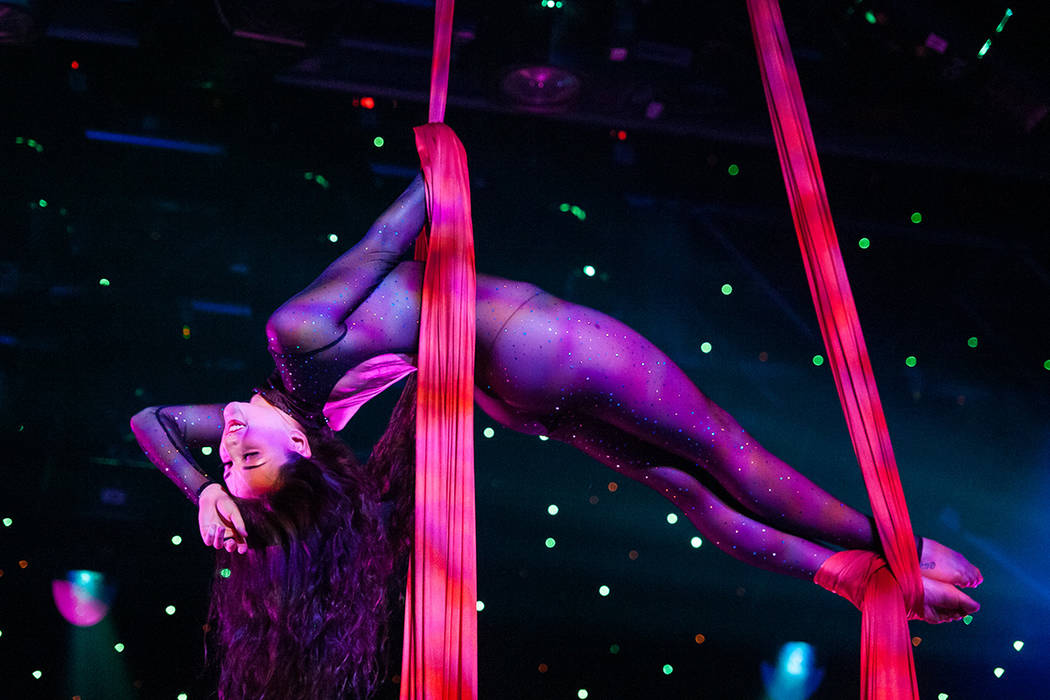 The first time I ever talked with Sonya Sonnenberg, she was out of it.
"I was heavily sedated on morphine that day," she said Monday. "That's all I remember about that interview."
Sonnenberg was referring to our July 1, 2009 phone chat, which happened while she was in the trauma care unit at Sunrise Hospital. In a harrowing incident at Las Vegas Hilton Theater, Sonnenberg was seriously injured in a fall three days earlier during rehearsals for the Golden Rainbow "Ribbon of Life" charity show.
She had slipped while practicing her aerial act, somehow losing her grip on her silks and free-falling some 25 feet to the stage. Attempting to break her fall, she extended her arms, fracturing both wrists. She also suffered a hairline fracture in her spine, and a concussion as she slammed to the floor.
"I could have been dead or paralyzed," she said later. "So I feel very lucky."
But there was no question that Sonnenberg, who was 19 at the time and a new member of "Fantasy" at Luxor, would be back onstage — in the very act during which she was injured. Three months later, in a performance that was, in fact, soaring, she returned to the show. Sonnenberg has been a highlighted performer ever since.
Having served as an inspiration, a uniquely appealing artist and one of the show's foremost ambassadors, Sonnenberg is leaving "Fantasy" for an overseas gig. Her final night with the production, the longest-running adult revue in Las Vegas at 18 years was Friday. Cast member Isabella Mondell takes over the aerial act.
Sonnenberg heads out in March for the Spanish island of Mallorca to perform in the dual productions, "Pirates Adventures" and "Pirates Reloaded." The former is a family-friendly dinner show; the latter an adult production. "Fantasy" producer Anita Mann says, "We love, love, love Sonya and we always will. She has been a beautiful performer the entire time she's been with the show."
Sonnenberg's future sounds like a chapter in a fable. "I'll be doing aerial and dancing, and also a lot of hanging out on the beach," she says with a laugh.
Of her time in "Fantasy," Sonnenberg says, "I have such a special place in my heart for Fantasy! Since I started there so young, I really feel like it was a perfect place for me to grow and find myself as a performer and especially an aerialist. I am so grateful for my time at such a beautiful show."
P&T at 25
With scant fanfare, on Sunday night Rio headliners Penn & Teller celebrated the 25th anniversary of their Vegas debut at the Celebrity Room at Bally's. They were presented a very tall, ornately designed cake to commemorate the event, then it was back to business of comedy and magic.
The duo once told me of the first shows they had seen on the Strip: Dean Martin, in the Celebrity Room; and "Jubilee" in its own theater, also at Bally's.
"Dean Martin just destroyed us," Penn Jillette said. "He took this relaxed, not-giving-a-crap attitude and did a whole show with no ups or downs, and it was so fascinating to me. I was just blown away."
Of "Jubilee," Teller recalled, "I remember one of the guys we were with, who was from Louisiana and spoke in this deep, round, welcoming Southern tone, saying, 'What I love about that show is, you plunk down your admission price and you sit back and say, "Spend it!' It was big and generous and absolutely unpretentious."
Penn & Teller celebrated their 17th anniversary headlining at the Rio. Twenty-five years on, the same can be said of their show.
'Mob' finds a home
Expect "A Mob Story," the latest project from longtime "Splash" at the Riviera producer Jeff Kutash, to open at Plaza Showroom this summer.
Kutash has been holding auditions for the full-scale musical since the spring of 2017 and held another on Saturday.
Kutash also produced the last full production show at the Stardust, "Headlights & Tailpipes," in 2006. He had pitched "A Mob Story" to several Strip resorts — especially those in the Caesars Entertainment family — before landing at the Plaza.
An upgrade to the old showroom is in the offing, too. I'm told it will be unrecognizable by the time set designer Andy Walmsley is through with it (though the room's charm is its throwback design and decor, in my view).
The schedule for the new show is not expected to move "The Scintas" off its 7:30 p.m. Friday-Saturday show times throughout this year.
Ah, Sonny
Save this date at Suncoast Showroom, music fans: April 8. And bank the name of this artist: Sonny Turner of the original Platters.
The venerable soul and R&B vocalist and master showman put on a heck of a performance Sunday night at the Suncoast. At 78, he can still groove, his voice resonant in singing such classics as "Only You," "Twilight Time," and "The Great Pretender" and in duet with Vegas jazz great and backing singer Michelle Johnson.
Turner famously replaced original Platters singer Tony Williams in 1959, at age 19, and has been a force in concert ever since.
John Katsilometes' column runs daily in the A section. Contact him at jkatsilometes@reviewjournal.com. Follow @johnnykats on Twitter, @JohnnyKats1 on Instagram.