Already, it's fun and games at Park Theater
October 26, 2016 - 5:13 pm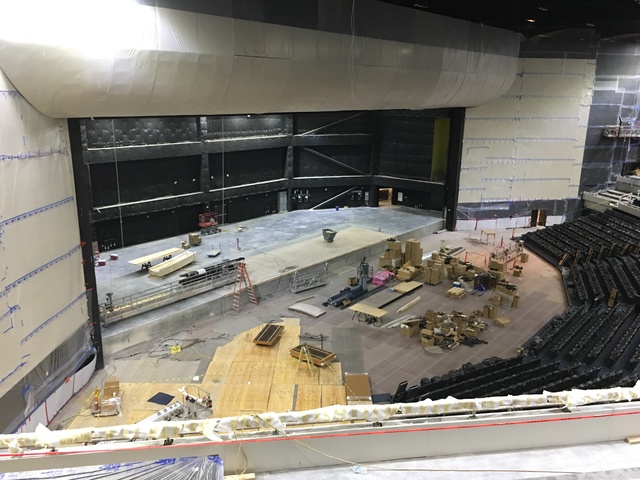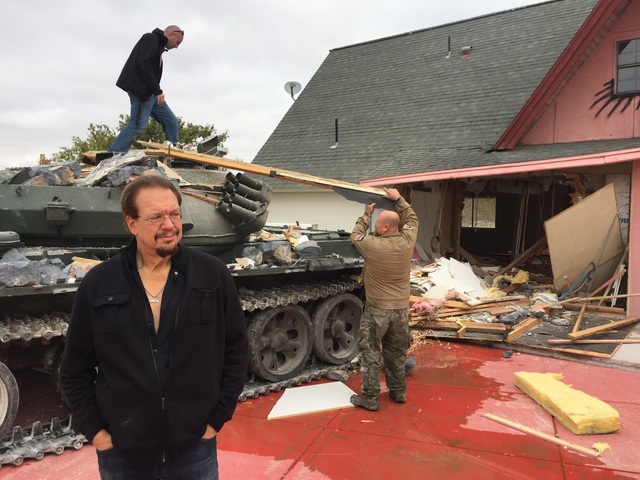 As someone far wiser than I recently remarked, "Sawdust is glitter for guys."
Depends on the guy, I suppose. But I walked through some sawdust and a lot of regular dust on Tuesday during a hard-hat tour of Park Theater at Monte Carlo. The venue is still in its larval stage, opening Dec. 17 with Stevie Nicks and the Pretenders. Soon after, Bruno Mars moves in for performances Dec. 30-31, with Cher beginning an 18-date run Feb. 8.
Park Theater, you might recall, is the venue that overtook the old Lance Burton Theater, which was finally home to Blue Man Group at the hotel. Similar to how Caesars Palace pulled apart the old Circus Maximus showroom in 2002 to create something splendid for Celine Dion with the Colosseum, Park Theater is to be the sole theater at Monte Carlo. The hotel itself is to be re-branded Park MGM Grand and Nomad, with those renovations to be finished in about 18 months.
Having compressed that history, some thoughts about Park Theater after my tour with the theater's general manager, Dan Bernbach:
■The Park Theater is larger, and smaller, than expected: One of Bernbach's first comments was that the theater seats 5,200 (as advertised), but also expands to 6,400 (not as advertised) as a general-admission venue when the lower seats are folded. And, if the balcony and upper-orchestra sections are draped off, the venue seats a more showroom-style 2,400. This allows for impressive versatility, including ….
■Basketball: Yes, that was mentioned as one of the events the venue could present. Lay the floor down on the stage (a Harlem Globetrotters game would play pretty well in this place). But more likely, and more frequently, you'll see such off-concert events as boxing or UFC cards, support events on a Friday night leading to a major Saturday night card at T-Mobile Arena.
■The stage is comparably big: At 140 feet wide by 40 feet high, wider by 20 feet and about as high as the Colosseum's. Thus, the stage can handle major production shows (Mars and Cher both use a great deal of space) or be curtained off for a stand-up comic (and Katt Williams' Jan. 7 date was announced this week). The LED screen covers 80 feet, or 40 feet smaller than the gargantuan panel at the Colosseum.
■Seating is close and comfortable: The distance from the back of the house to the lip of the stage is 150 feet. You feel you could throw any object — a basketball, for instance — from the furthest seat to the middle of the stage. As Bernback said: "We have cast a wide net here, where anyone can feel they are part of the action."
NIGEL'S FANTASY
English director and producerNigel Lythgoe was in the house at the 17th anniversary performance and calendar-release party for "Fantasy" at Luxor on Tuesday night. Not so unusual a development, as Lythgoe is tight with "Fantasy" creator and producer Anita Mann. The two have shared in charitable causes, most notably as board directors for the USC Glorya Kaufman School of Dance. Lythgoe loved the upgrades to "Fantasy," praising the show's pace, new opening and costumes (not to mention the smoldering cast) . He also hinted that he is interested in producing a show on, or near, the Strip. Keep this on your radar. He was very inquisitive about the entertainment scene in this city.
THE HORNS BLOW ANEW
Followers of my column in a previous life know that one of my all-time favorite live acts is Santa Fe & The Fat City Horns. After a dalliance at South Point Showroom that ended this spring, the band is returning where it has enjoyed its greatest success: The Lounge at the Palms. Powered by guitarist/singer/songwriter Jerry Lopezsince 1975, Santa Fe re-opens on Nov. 14. Showtime is 10:30 p.m., cover is a comically low $10, and the experience is known as "The Healing." Be there.
INTENSE TANK EPILOGUE
Penn Jillette was finally able to finish off his tank scene at "The Slammer" on Tuesday afternoon. Stalled in a crawlspace in the famed residence on Monday, the Russian T-90 armored vehicle backed through the home's theater and through the back wall. This is part of the final scene of the independent film, "The Grounds." Release date is TBD. Penn's texted synopsis of this episode: "Wow! It was great." Penn & Teller are recounting the event on Harry Connick Jr.'s daytime talk show "Harry" at 2 p.m. Friday on KSNV Channel 3.
CIVILLICO OUT
It's been a tough stretch for Flamingo Las Vegas headliner Jeff Civillico. His TV show, "The Weekend Las Vegas," was forced off its stage at The Linq promenade on Sept. 1 because of insurance concerns. Now, the juggling unicyclist is taking several weeks off to undergo overdue knee surgery. Civillico's 5:30 p.m. is out from Halloween through Feb. 6. Anyone holding a ticket in that time line can receive a refund by contacting the Flamingo box office. Civillico is climbing toward his 1,000th show in Vegas, at No. 923 when he takes his break. As he sadly notes, No. 1,000 will be celebrated next year
John Katsilometes' column runs Saturday, Sunday, Tuesday and Thursday in the A section, and Fridays in Neon. He also hosts "Kats! On The Radio" Wednesdays at 8 p.m. on KUNV 91.5-FM and appears Wednesdays at 11 a.m. with Dayna Roselli on KTNV Channel 13. Contact him at jkatsilometes@reviewjournal.com. Follow @johnnykats on Twitter, @JohnnyKats1 on Instagram.