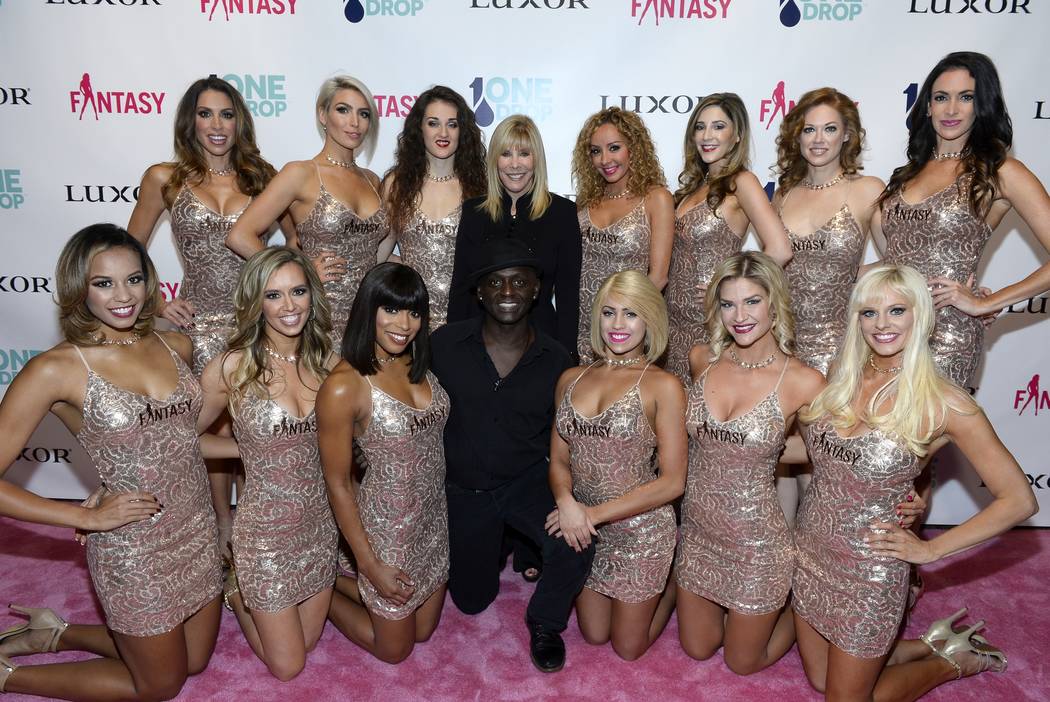 "Fantasy" always celebrates its anniversary each October with its calendar launch party. The ceremonial, and actual, flip of the calender is an appropriate homage to show creator Anita Mann.
The show notches its 19th birthday at Luxor on Thursday night, a tribute to a production team that remains the gold standard of adult revues in Las Vegas. This year, the "Fantasy" cast is featured in a new 2019 calendar where decorative stage tape (gold, fittingly) is used to conceal their bodies. Barely.
Mann tries to stay on the perimeter at these events, but it's not possible.
The acclaimed dancer, choreographer, director and producer spans generations in Las Vegas. She dates to 1956, when her parents visited the city to catch the stage shows. She readily recalls the days Elvis. She knew Elvis like a brother, in fact, when she helped choreograph and danced in his films "Spinout," "Clambake" and "Speedway."
Mann's reach across film, TV and live performances is at once legendary and familiar — she won Primetime Emmy Awards for her work on the Miss America Pageant, and the Jerry Lewis MDA Labor Day Telethons. She choreographed the Solid Gold Dancers for that syndicated '80s music show, and as recently as August of last year returned to the stage to dance with Miley Cyrus at the MTV Video Music Awards on Cyrus' single, "Younger Now."
At one point, Mann piloted a company that had 20 productions running across the country — Las Vegas; Atlantic City; Reno-Lake Tahoe, Laughlin, Tunica, Miss.; and various American Indian resorts. She also had eight shows running concurrently on cruise ships, and when reviewing her career she exhales and says, "I never had a day off. I was going around the clock."
That statement staves off the inevitable question, "Why don't you expand beyond 'Fantasy?' " Mann has had offers, dozens over the years, to produce another stage show in Las Vegas. Resort and room operators, and even performers, have continually sought to partner with Mann and draw from her success with her Luxor production.
"I have been asked to do many shows, and have been asked to take over a very big venue and bring in a big, big show," Mann says. "But it takes so much work to bring in a show and keep it running and make it successful. I don't want to be in a position where I would risk the success of 'Fantasy.' "
Mann's attention to detail is the root of her success. The cast takes notice — even glancing in Mann's direction during numbers — of their boss sitting in the audience, vigorously scribbling notes into her yellow legal pad. The revisions she sends to the dancers are often enacted in the next performance.
For the calendar shoot, Mann has made decisions on earrings, makeup, how and where to pose the dancers, and even sprayed mists of water over the outdoor scenes to keep everyone cool. She reviewed more than 500 photos to help winnow the collection used in this year's "Fantasy," calendar, where all the dancers are artistically taped for photographer Oscar Picazo.
"I would never pretend this is not a huge responsibility, and it is my name on the door and I sign the checks," Mann says. "But there is a real love I feel in working with the dancers and the women around the show. I love working with MGM Resorts, a great partner for all of these years. I am not a person who needs five shows on the Strip to feel fulfilled.
There might not be another Anita Mann out there, at least not at the moment, but Mann is generous with her expertise. She has worked with dancers, over the years, to develop their own numbers in the show.
"I know what we have to do to be successful, and that's to keep working together on improving the show and moving it forward," Mann says. "I don't mind saying this: I like mentoring producers. There is one I have in the cast right now who I want to turn into a producer, who I am mentoring right now.
"When I consider that, I honestly do feel really comfortable that I am where I am, and maintained the knowledge that I have and can now share it. That means the world to me."
John Katsilometes' column runs daily in the A section. Contact him at jkatsilometes@reviewjournal.com. Follow @johnnykats on Twitter, @JohnnyKats1 on Instagram.