'Awakening' to open Nov. 7 at Wynn Las Vegas
Updated October 4, 2022 - 7:03 pm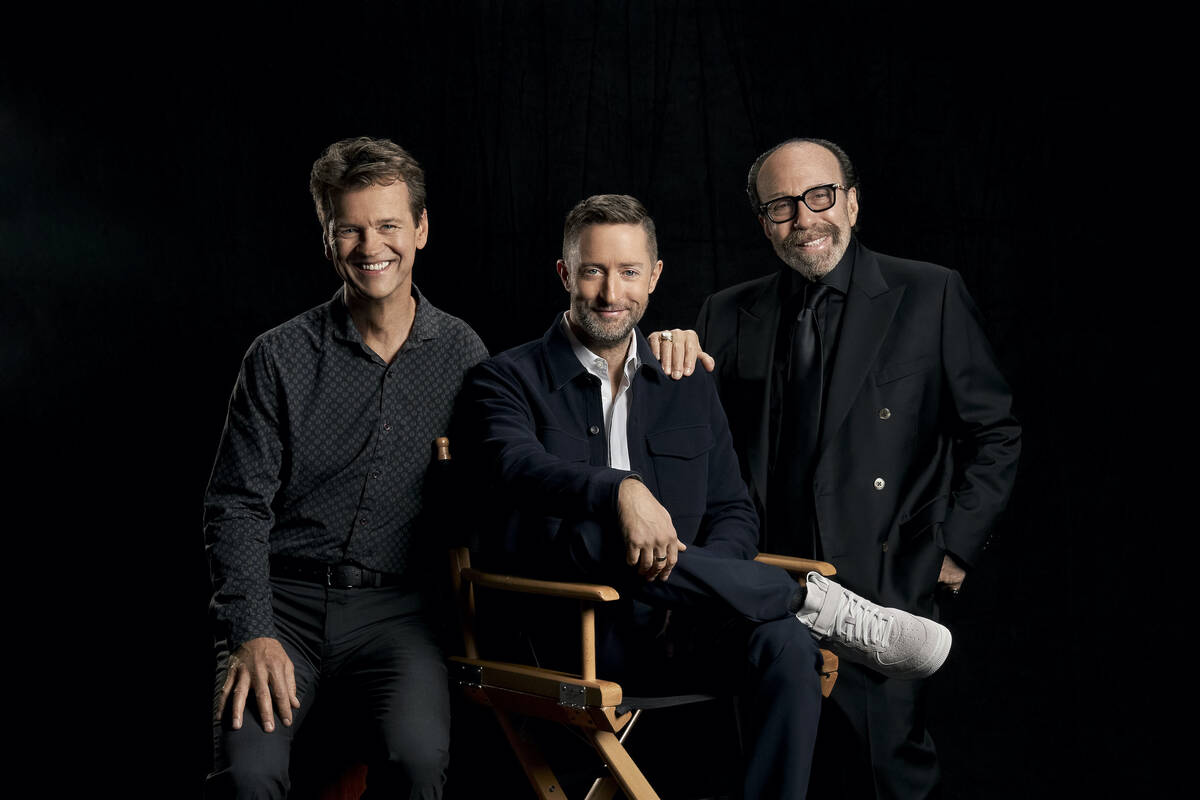 "Awakening" is what happens after the dream, after a pandemic shutdown, and at the dawn of a new era of entertainment at Wynn Las Vegas.
The show replacing "Le Reve" opens Nov. 7 at Wynn's new Awakening Theater. Showtimes are 7 and 9:30 p.m. Tuesdays through Saturdays (tickets start at $125, available at AwakeningLasVegas.com). The hotel announced the show, previously reported in this space Sept. 20, on Tuesday morning.
Lavish, ambitious and adventurous, "Awakening" is a $120 million project, including an overhaul of the "Le Reve" theater, which will remain an in-the-round experience.
The show is conceived and developed by former Siegfried & Roy manager Bernie Yuman, acclaimed producer-director Baz Halpin, and producer-designer Michael Curry. Two-time Oscar-winning actor Sir Anthony Hopkins narrates.
'Awakening' after 'Le Reve'
The show steps in for "Le Reve," which was a critical and commercial success at the hotel for 15 years. That show shut down with the COVID-forced entertainment pause in August 2020. "Awakening," which had been reviewing options dating back five years, saw an opening at the Wynn.
As Halpin explained, the production team first pitched the show for Encore Theater. When "Le Reve" closed, attention turned to that show's venue, with its distinctive dimensions and 360-degree capabilities.
Hotel officials were ready for a change, regardless of how it shook out.
"Every so often, the bar for spectacle in Las Vegas is raised," Craig Billings, CEO of Wynn Resorts, said in a statement. "State of the art lighting, sound, and stage technology, coupled with intricate storytelling, glamorous costumes, and large-scale puppetry will make 'Awakening' and the Awakening Theater stand out as true innovation in theatrical entertainment and raise that bar for Las Vegas, once again. I am deeply proud of the team that has so carefully crafted this one-of-a-kind experience."
The experience is not entirely foreign to Las Vegas audiences.
The initial promo clip recalls the best acts of Cirque du Soleil, and also the show "Awakening" is replacing, "Le Reve." The latter show's theater build-out alone was $75 million. Cirque's "Ka" cost $165 million, total. But "Awakening's" creative team says it will be beyond even those landmark productions.
As illusion designer Paul Kieve says, "It surely must be the most technically advanced show on the planet."
A fast-paced story
The show's cast numbers about 60 performers. A cutting-edge audio setup with 3D sound is being installed. This system is being integrated into each of the 1,600 seats.
Curry promises the costumes designs, more than 300 in the show, are not just for the production but can be used as fashion inspirations, (how about pairing a pop-up boutique with this show?).
Curry — who, along with Julie Taymor, designed the puppets and masks for "The Lion King" on Broadway — will bring live-action puppetry to the show. The production's puppets were also presented in "Disney's The Lion King" at Mandalay Bay, which from 2010-2011.
A new soundscape is being developed for "Awakening," composed by Brian Tyler (who scored "Transformers: Prime," "Eagle Eye," "The Expendables," "Iron Man 3" and "Avengers, Age of Ultron" alongside Danny Elfman). Several international dance styles are being interwoven (the show auditioned for contemporary, Street Style, Acro, Contortion, Vogue and Flamenco).
New LED screens, a 60-foot prismatic stage, and an actual scripted story are planned.
"There are characters and it's visual storytelling, in a dancing spectacle, but the actual meat of the dialogue is told by Anthony Hopkins," Halpin said at a pre-announcement breakfast session with Las Vegas media types at the Wynn.
The main characters, Light and Darkness, fall in love, though they are unalike (Light is debonair; Darkness is skittish). Then they fall out of love, through jealousy and envy. Their companions set on a journey to reunite the two wayward, ex-lovers. Pay attention, because the story is tied up in a 70-minute sprint.
As Halpin says, "The show is a quest, to reunite these two."
Halpin's introduction to Vegas was with the Cher production at the Colosseum at Caesars Palace in 2007-2008. His most recent big-fly show in town is Katy Perry's "Play" at The Theatre at Resorts World. He is used to fancy, costumed, choreographed storytelling, even if the audience didn't necessarily buy a ticket for a story show.
"You look at that 'Play,' and see how big it is and how much personality there is, and you wouldn't think of it as a storytelling show," says Halpin, who has spent the last year in town. "But there is a story, and it is unique to Las Vegas. We are bringing the type of artistry you can only see here."
Yuman's the man
Longtime Las Vegas entertainment fans, and fans of entertainment generally, will recognize Yuman's name in the production. For 25 years he helped helm Siegfried & Roy's record-breaking residency on the Strip. Yuman also had a hand in Muhammad Ali's career — and still does, by wearing "Muhammad Ali — The Greatest Athlete " ring on his right hand. Yuman served as a manager for Ali late in the boxing legend's career. He also co-produced the Broadway musical "On Your Feet!" with Gloria and Emilio Estefan.
Framing his assessment of the show by invoking its title, Yuman says, "This show is an awakening for Las Vegas entertainment. We are all awakening, from the pandemic, from the dream. I have always said, you need to show people something in Las Vegas that they can't find at home."
Yuman certainly knows prominent figures in the entertainment culture, including Hopkins. "We have had a relationship for 25 years," Yuman says. This dates to when actor narrated the 1999 documentary "Siegfried & Roy: The Magic Box."
This is not the first "Awakening" for Yuman and Hopkins. Yuman was Hopkins' best man at his wedding to Stella Arroyave in 2003. As is customary, the man has a flair for Vegas theatrics.
Cool Hang Alert
Staying on-property, the dueling pianos are at the center of Encore's Eastside Lounge fro 9:30 p.m.-1:30 a.m. Sundays through Thursdays, and 9:30 p.m.-2:30 a.m. Fridays and Saturdays. Ex "Baz" and "Jersey Boys" keyboardist Chris Lash is the main performer most nights, including Wednesday through Sunday. David James, Scott Nicholson, Bonnie Mason and Brittani Washington are in rotation. No cover. Attire is resort casual; tank tops and swimwear are not permitted. But feel free to call out "Piano Man," and odds are they will play it.
John Katsilometes' column runs daily in the A section. His "PodKats!" podcast can be found at reviewjournal.com/podcasts. Contact him at jkatsilometes@reviewjournal.com. Follow @johnnykats on Twitter, @JohnnyKats1 on Instagram.