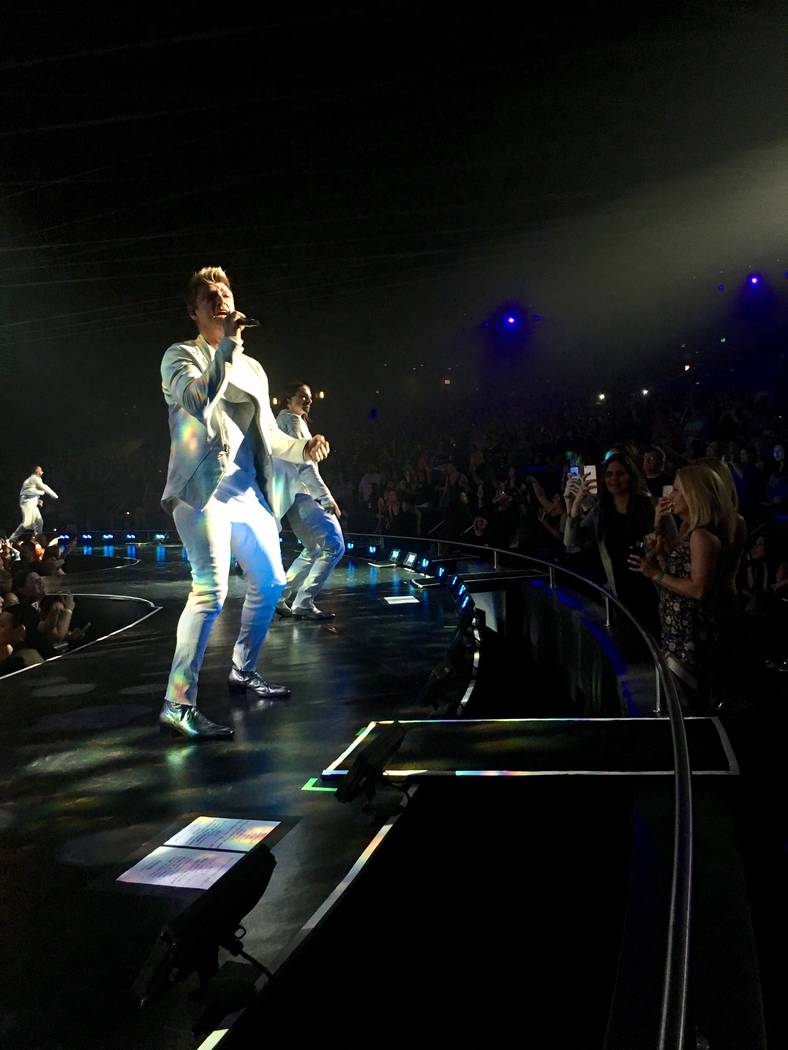 I call it the Cheap Trick Syndrome.
It's the unanticipated performances by a top music act in VegasVille. About eight years ago, I saw Cheap Trick perform a half-dozen times over just a few months. The band performed on the 3rd Street Stage on Fremont Street Experience, at MGM Grand with Def Leppard and Poison, also performed their "Sgt. Pepper" residency show at Paris Las Vegas.
This year, seemingly at every turn, are the Backstreet Boys. The difference between Cheap Trick and Backstreet Boys (well, one of many differences) is I own a lot of Cheap Trick music. I own no Backstreet Boys music.
Yet, since New Year's Eve, I've caught the famously grooving quintet five times. Along with the two shows I've seen in the "Larger Than Life" residency at Axis, BSB has ushered in the new year at Caesars Palace's ballroom party, performed as the "surprise" guests at "One Night for One Drop" at New York-New York, and rocked it, country style, with Florida Georgia Line at the Academy of Country Music Awards show at T-Mobile Arena on April 2.
The trend speaks to BSB's suddenly ubiquitous nature on the Strip, and the fact that the Axis shows have become a very hot experience. Forget the artistic concerns — there is no live band in the theater — the energy generated in this show is undeniable. If you are into Vegas-styled spectacle and intricate, complex choreography, the production is visually fulfilling. The opening erupts in lights and pyro as the performers are displayed in elevated, individual stages. Crimson squares show enormous "XOXOX" signs; a giant disco ball is unveiled at the back of the stage, and the guys ramble up and down a high staircase beneath the ever-present five video panels.
BSB spent eight weeks rehearsing this Vegas residency. As the guys reminded from the stage, Wednesday's performance landed just a night before BSB's 24th anniversary. The original group — A.J. McLean, Howie Dorough, Nick Carter, Brian Littrell and Kevin Richardson — are all toeing middle age, but they still perform with the verve of plucky millennials. There is some credibility achieved just by being able to resurrect the group's 1990s recording and touring pinnacle.
In boxing, they refer to such condition as being in "fighting shape," and the crowd erupted during the succession of long-ago hits: "I Want it That Way," "Get Down," "Larger Than Life," and "Every Time I Close My Eyes."
More impressive, this show was another that filled Axis. The balcony is again being opened to about 6,000 for weekend shows in June, and expect those to sell out, too. Those in the VIP section at the lip of the stage included reps of Live Nation (the residency promoter), Caesars Entertainment and BSB's famed manager, Johnny Wright.
To this crew, the activity around the theater was just as pertinent as what was exploding onstage. Not so long ago, Backstreet Boys had scant affiliation to Las Vegas. Now they are everywhere. I suspect what they've generated at Axis, onstage and at the box office, will lead to a longer commitment on the Strip. I feel it, and they seem to feel it, too.
John Katsilometes' column runs daily in the A section, and Fridays in Neon. He also hosts "Kats! On The Radio" Wednesdays at 8 p.m. on KUNV 91.5-FM and appears Wednesdays at 11 a.m. with Dayna Roselli on KTNV Channel 13. Contact him at jkatsilometes@reviewjournal.com. Follow @johnnykats on Twitter, @JohnnyKats1 on Instagram.