Base gets another shot to keep 'Absinthe' from skating away
August 26, 2016 - 5:15 pm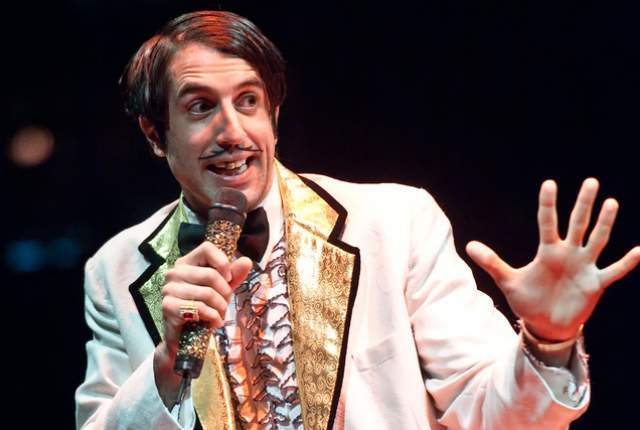 Similar to how Brother Billy grips his sister Emily during the show's wondrous skating act, Base Entertainment is not letting go of "Absinthe."
The show's co-producers have succeeded in at least extending their attempt to halt the production from moving out of the Spiegeltent at Caesars Palace's Roman Plaza to the Rose. Rabbit. Lie. theater at the Cosmopolitan. Issued Tuesday was a ruling by U.S. District Judge James Mahan, stating it has granted Base's motion to move its lawsuit against Spiegelworld founder and "Absinthe" co-producer Ross Mollison to Clark County District Court. No new court date has yet been set.
Previously, Mollison and Spiegelworld have prevailed at the federal level in U.S. District Court. Base has argued, successfully, that the case should be heard in the state jurisdiction, given that the show is staged in this state – in Las Vegas.
What the new ruling does is effectively clear a path for Base to once more present its case to stop "Absinthe" from moving to the Cosmopolitan. Such a move would end the production partnership between Base and Spiegelworld, which has been dicey yet profitable given "Absinthe's" capacity to sell out nearly every show at Caesars. The production opened on the Strip in the spring of 2011.
To refresh: On Aug. 9, Spiegelworld and the Cosmopolitan issued a joint statement stating "Absinthe" would move to the ballroom at Rose. Rabbit. Lie. after the show closes at Caesars on Oct. 21. That's when the lease between Base, Spiegelworld and Caesars Entertainment expires.
In a decision that dates to December, Spiegelworld has opted not to extend that lease and move the show to a new hotel. Base's position is the lease renewal at Caesars is an "automatic rollover" through 2018, and Spiegelworld has no legal right to move the show without the authorization of its co-producers.
Since May 2015, Base and Spiegelworld have parried in court over box-office operations and revenues, with Spiegelworld claiming it is owed more profits than it has received during its partnership with Base in Las Vegas. Base has countered that the revenues in question are from previous Base productions (such as those staged at Planet Hollywood Showroom and the old Planet Hollywood Theater for the Performing Arts) dating several years — before "Absinthe" was ever planned for the Strip.
Base also contends Spiegelworld has actually exceeded its stated operating budget to cover the costs of the show, reportedly using operating money to pay royalties to the characters Gazillionaire and Penny Pibbets. This is of concern to Base, which is the majority equity investor in the show; Spiegelworld owns the intellectual property rights.
Other than referring to the latest ruling, Base officials have offered no further comment on the case. Same with Mollison and reps at the Cosmopolitan. At the moment, "Absinthe" is still planning to move, but it's not going to do so without a fight. Or, more of one.
John Katsilometes' column runs Saturday, Sunday, Tuesday and Thursday and Fridays in Neon. Contact him at jkatsilometes@reviewjournal.com. Follow him on Twitter: @johnnykats