Bash ends for Recycled Percussion at Saxe Theater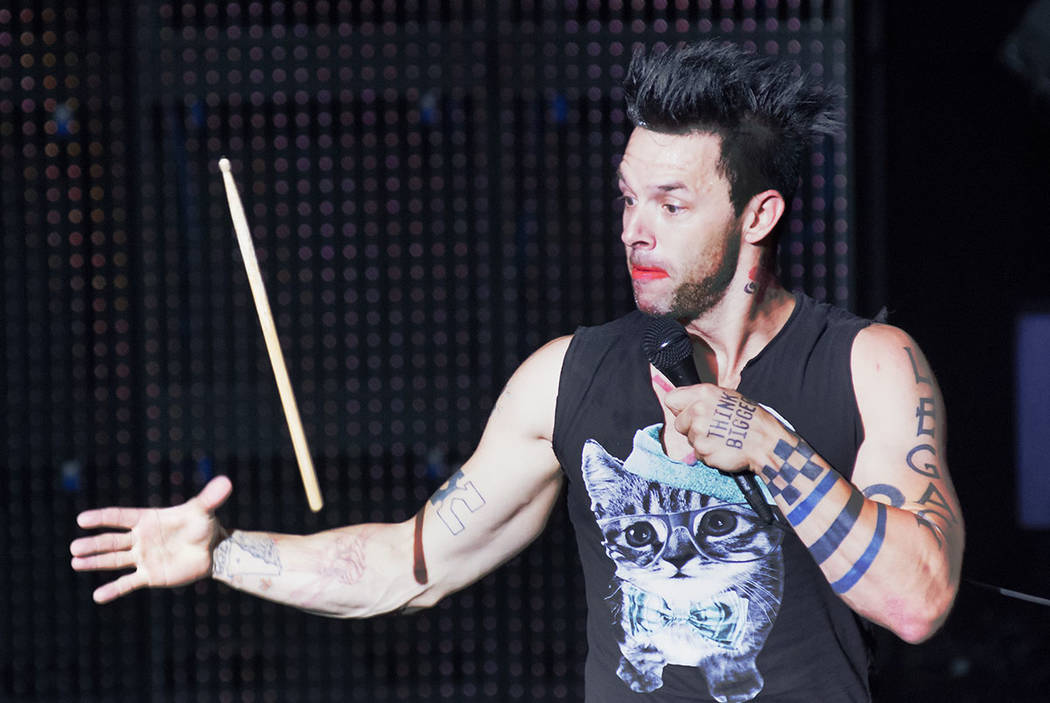 A spin around the scene, starting with the guys who turned a simple trash can into a pot o' gold.
Cycling out
The kinetic quartet Recycled Percussion is finished at Saxe Theater at Miracle Mile Shops at Planet Hollywood. The show notched its final performance April 22. Piloted by founding member Justin Spencer, the act was made up of four guys wearing of red, blue, green and yellow sweatsuits while rhythmically pounding on plastic bins, saucepans and stepladders.
Spencer says for now the act is focusing on its TV show, "Chaos and Kindness," which airs throughout New England and online. He said he is also re-writing the show and has "several offers" for a return to the stage.
R.P., in shorthand, gained national fame on the fourth season of "America's Got Talent" in 2009, reaching the finals in the season topped by famed chicken-chasing singer Kevin Skinner. The production opened at the old Studio 54 at MGM Grand in 2010, and has also performed at the Tropicana and Quad (today the Linq).
The show moved to Saxe Theater in 2015 as a co-production with veteran Las Vegas producer David Saxe, who helped expand the stage show with larger props and more music.
In the meantime, Recycled Percussion also has been busy with road dates, and is set to play Marcus Center for the Performing Arts in Milwaukee on Saturday before a tour of New England — where the act originated —- in June.
But there is no formal word on what is planned, if anything, for Saxe Theater, where "Vegas! The Show" remains the anchor production.
Chappelle's room
Dave Chappelle is expected to sell out Mandalay Bay Events Center, "clean," as a Live Nation official puts it. That's 11,000 seats, in the round, huge sales for a solo stand-up comedian.
As previously noted, Chappelle will not allow cell phones into the show and is directing fans to leave their devices in their vehicles or at home, or have them locked in a special pouch for the duration of the performance. The phones can be unlocked at the end of the show.
Chappelle is also taking issue with more organic means of recording information: Writing into a notepad. Anyone caught jotting notes during his show will likely be asked to leave, according to a representative of concert promoter Live Nation. The concern is the recording of Chappelle's material for any publication, or possibly copping jokes for another comic's act.
But we are permitted to direct you to Chappelle's two new Netflix concert specials: "The Age of Spin: Dave Chappelle Live at the Hollywood Palladium" and "Deep In the Heart of Texas: Dave Chappelle Live at Austin City Limits" They are wicked funny, available for any Netflix subscriber for the laughs and the note-taking.
House of Hedwig
The Las Vegas production of "Hedwig & The Angry Inch" has been extended at Crossroads at House of Blues. Starring Enoch Augustus Scott of "Zombie Burlesque" as Hedwig and Anne Martinez of "Baz," "The World's Greatest Rock Show," and "Fantasy," the show premiered April 27-29. The new dates are Thursdays, Fridays and Saturdays through May 27 (dark May 12). Doors are at 10:30 p.m., show at 11:30, with a new menu offered. The show is a partnership between the hotel and Vegas production company MNI Entertainment.
Vanity spared
Expected to be completed by the fall, the closing and overhaul of Vanity at Hard Rock Hotel is now under review. The venue has long been rumored to be the home of "The Voice" live production. That show is now reportedly (but not officially) targeting a 2018 opening at HRH — but not at Vanity.
Thompson's tune
Keith Thompson dropped a hint at The Composers Showcase of Las Vegas at Cabaret Jazz on Wednesday night. "This is song for a show with showgirls in Las Vegas, should there be another show about showgirls in Las Vegas." The number, "There Is No Girl Like a Showgirl," was sung by former "Jubilee" vocalist Ron Remke. His wife, Alexandra Remke, also a "Jubilee" cast member, danced in full costume during the number.
The song would fit well with oft-discussed "Jubilee 2.0" show long planned for Jubilee Theater at Bally's. If that show ever finds an investor with deep pockets — $10 million is one informed pre-production estimate — Thompson's song might be in the mix.
John Katsilometes' column runs daily in the A section. Contact him at jkatsilometes@reviewjournal.com. Follow @johnnykats on Twitter, @JohnnyKats1 on Instagram.