Bettman's trip to the Strip was a boos-filled celebration
November 23, 2016 - 8:07 pm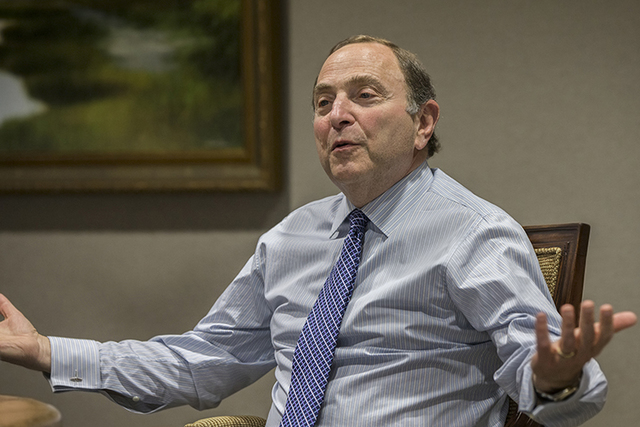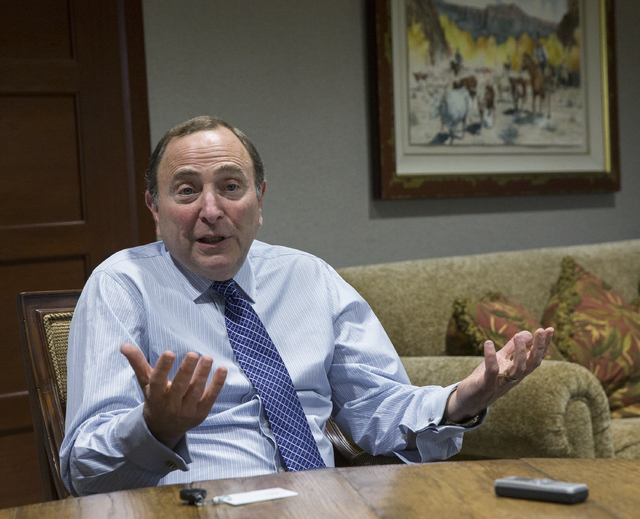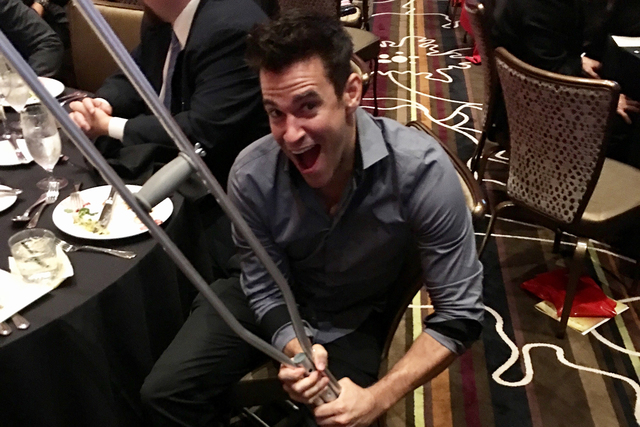 A Thanksgiving Day wheel around VegasVille, the city for which I am eternally thankful:
A RECEPTION ON ICE
When NHL Commissioner Gary Bettman was introduced to the thousands of hockey fans Tuesday at Toshiba Square at T-Mobile Arena, he was hit with a mix of boos and … more boos.
At this, a friend of mine turned and asked, "And why are we booing him?"
"Can't say," I said. "Maybe they're still mad about the NHL lockout a few years ago?"
"There was a lockout?" my friend said.
The 2012-'13 work stoppage might have been reason enough for some fans wearing the jerseys of the Chicago Blackhawks and Detroit Red Wings to chastise Bettman. Regardless, the man who heads the league that has welcomed Las Vegas as a true major-league sports city was booed repeatedly during the night's festivities.
And he loved it.
"I thought it was great," a curiously beaming Bettman said soon after the name Vegas Golden Knights and new logo were unveiled to the masses. "In the final analysis, it shows there is a passionate fan base here, and that's what matters, you know?"
I asked, "But why are we booing a person largely responsible for bringing the NHL to Las Vegas?"
"It actually makes the point that people here understand the relationship fans have with league executives, or even politicians … everybody in a suit gets booed," Bettman answered. "They're just expressing themselves with passion. If I went out there and it was quiet, then we would have had a problem."
MORE JUGGLING FOR JEFF
Jeff Civillico's Win-Win Entertainment Foundation is branching out. Founded in 2011 by the juggling acrobat at Flamingo Las Vegas, Win-Win is opening outposts in Salt Lake City and Minneapolis in January.
Civillico announced this expansion at Friday night's fifth annual Win-Win Entertainment "Headliners Bash" at the Rio. The organization helps entertainers connect with charities and philanthropic efforts.
A pair of Civillico's buddies in the entertainment field are taking the lead at the new Win-Win headquarters: Popular corporate keynote speaker Jason Hewlett has been tapped to lead the Salt Lake City operation, while magician Tim Gabrielson (who has been featured in Civillico's show and also with Mac King at Harrah's) is leading the effort in Minneapolis.
Civillico also is starting a monthly performance schedule at St. Jude's Ranch for Children in Boulder City in January, just for the kids at the ranch. Meanwhile, Civillico still is recovering from knee surgery (and there is no shortage of photos of him on social media as he wields his crutches) and is due back onstage at Bugsy's Cabaret in February.
GEHRY-VEGAS-MEDAL CONNECTION
A link between Las Vegas and the lineup of Presidential Medal of Freedom honorees Tuesday at the White House: Renowned architect Frank Gehry, who designed the Cleveland Clinic Lou Ruvo Center for Brain Health in Symphony Park in Downtown Las Vegas.
EARLY APPLICANT
The first public request to sing the national anthem at the Vegas Golden Knights' home opener in 2017 has been issued by noted patriot and spoons player Frankie Scinta. The founding member of "The Scintas" at the Plaza cropped up on my Twitter feed moments after the name was announced. His unambiguous post: "I wanna sing the Anthem @ the first game." Bring your spoons, Sir, and make some anthem history …
ON THE MARK
A man whose creative curtailment is becoming more evident by the moment, Mark Shunock hosted the final Mondays Dark show at Vinyl at Hard Rock Hotel this week. The latest show was a benefit for the Las Vegas youth arts company Broadway in the Hood, and, as always, packed the venue.
Up next for Mondays Dark is its third anniversary show Dec. 19 at the Joint, then a move to Shunock's in-development performance venue, The Space. Shunock has been increasingly magnanimous and verbose during his Mondays Dark appearances since he left "Rock of Ages" in April; there is a feeling he might find his way back to the stage in a Vegas production show early next year.
Not a Baz — I mean, bad — idea.
John Katsilometes' column runs Saturday, Sunday, Tuesday and Thursday in the A section, and Fridays in Neon. He also hosts "Kats! On The Radio" Wednesdays at 8 p.m. on KUNV 91.5-FM and appears Wednesdays at 11 a.m. with Dayna Roselli on KTNV Channel 13. Contact him at jkatsilometes@reviewjournal.com. Follow @johnnykats on Twitter, @JohnnyKats1 on Instagram.